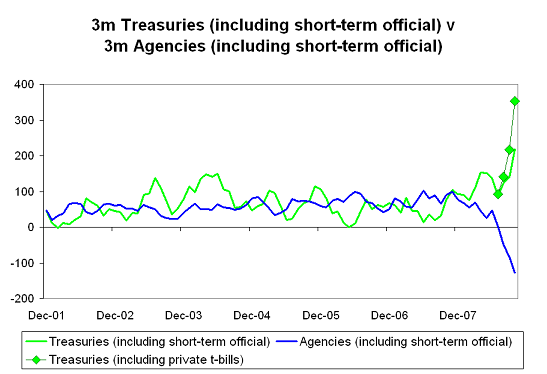 At least a crisis marked by a run out of risky US assets and into safe US assets. Right now Agency bonds -- think Freddie and Fannie -- are considered risky assets while Treasuries are not.
A run out of all US assets and the dollar would look very different.
The October TIC data tells a striking story -- one marked by a massive surge in demand by both private and official investors for "safe" assets. Foreign investors bought $182 billion of Treasuries -- including $147.4 billion of short-term Treasury bills. There is no real mystery why bill yields dropped so low even as the supply of bills surged. And foreigners added $207 billion to dollar bank accounts.
Sum that up and it works out to close to $400 billion in demand for safe dollar denominated assets. If that kind of monthly inflow is annualized it is a shockingly large number.
It isn't hard to figure out why the dollar rallied.
$400 billion in a month is far more than the US needs to cover its trade deficit. It allowed foreigners to reduce their holdings of Agencies by close to $75 billion (including a $25 billion fall in short-term Agencies), their holdings of long-term corporate bonds by $13 billion and their holdings of US equities by $6 billion without causing any strain on the dollar.
Indeed, the fall in foreign holdings of US corporate bonds and US equities (though not the outflow from the Agencies) could have been financed by the sale of $36 billion of foreign assets by US residents ...
Usually I argue that the TIC data understates official flows. And this month's data may well do so.
Some of the $35 billion in long-term Treasury bonds bought by UK investors were probably bought by central banks, and selling by central banks could have contributed to the $13.8b in net sales of long-term Agencies. But in broad terms I don't doubt that private demand for "safe" US assets soared as a result of the crisis -- and much of the inflow came from private investors seeking to increase their holdings of the most liquid dollar assets.
In October, China was about the only central bank adding to its reserves (I suspect, it hasn't formally released its reserves data). Most central banks were selling. That shows up in the US TIC data. South Korea, Brazil, Mexico, Russia and Ukraine were all net sellers of long-term US Treasury bonds ...
The big central bank flow was a reallocation away from Agencies toward Treasuries. And specifically toward short-term Treasury bills.
China increased its holdings of short-term Treasury bills by a stunning $56 billion while also buying $10 billion of long-term Treasuries. That flow alone would have been enough to cover the trade deficit in the absence of any offsetting outflows. Russia cut its holdings of short-term Agencies by a little over $22 billion while increasing its holdings of short-term Treasuries by almost $12 billion.
So much for talk that central banks are always a stabilizing presence the market. They clearly have destabilized the Agency market. The fall in demand for Agencies over the past three months -- and most Agency demand has come from central banks until recently -- has been sharper than than the fall in demand for US corporate bonds (think securitized subprime mortgages, the category "corporate bonds" in the BoP data includes asset-backed securities) after the crisis of last August.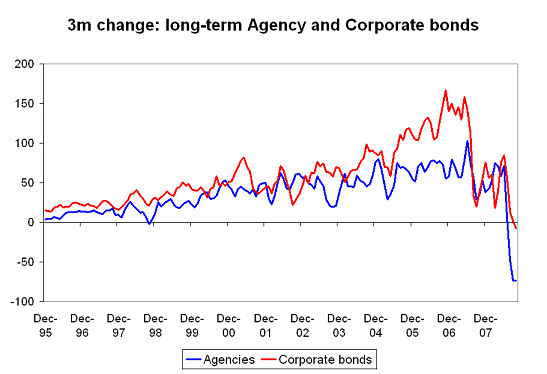 The fall in demand for corporate bonds (the redline) is what generated a rather scary graph after the initial crisis last August. Things haven't gotten any better since ...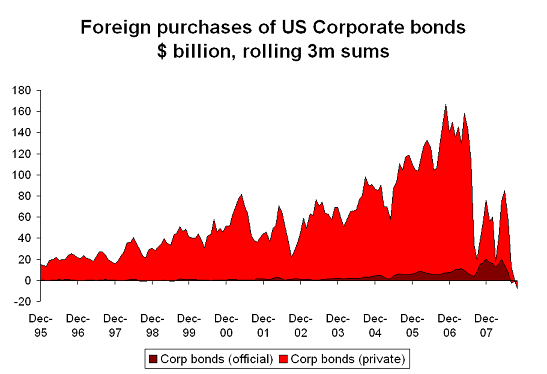 The Agency market is a rather important market. Increased lending by the Agencies offset the fall in demand for "private" mortgage-backed securities after the crisis last August. More recently, the absence of a "central bank bid" has kept Agency spreads wide even after the US Treasury bailout of Freddie and Fannie. And that in turn has pushed the US to adopt other measures to bring down long-term mortgage rates. The Fed and the Treasury are literally now buying the Agencies that foreign central banks are selling. Action, reaction ...