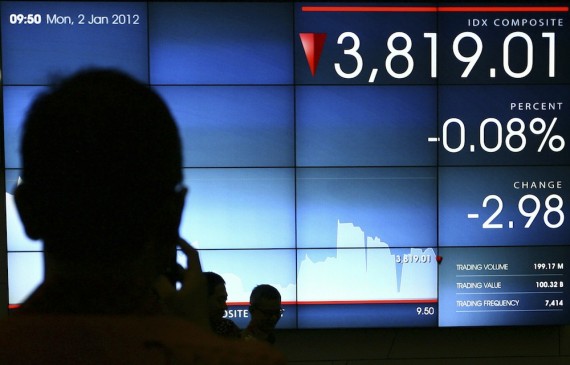 It's been a fascinating year for Asia. The region has continued to consolidate its role as the essential player driving global recovery. Developing Asia, including China, India, and the major ASEAN economies, maintained robust growth, in contrast to the advanced economies' collective anemic growth over the same period.
But 2012 promises to be more fraught as domestic politics take command amid new challenges to growth.
Here are twelve trends I see coming for Asia in 2012—risks, opportunities, and emerging patterns that will shape Asia during the next twelve months, and beyond.
1.         New Political Risks
It's often said that, in Asia, economics is in command. But one lesson of Europe's current struggles is that politics (and especially German domestic politics) matters deeply to choices about the EU's economic and financial future. Asia isn't Europe, of course, but in Asia too politics will matter greatly in 2012. Electoral outcomes and succession arrangements are likely to roil markets, bring to power governments more (or, in some cases, less) committed to institutional, regulatory, and trade-related reforms, and possibly yield greater international tension. Three elections—in the United States, South Korea, and Taiwan—will feature candidates and parties with distinct policies and priorities. China will complete a scheduled, if unelected, leadership change. And North Korea's elite, whose members aim above all to preserve themselves in power, must now navigate an earlier-than-expected transition that could yet produce infighting and vast new challenges for Pyongyang's neighbors. Thailand bears watching too, as former Prime Minister Thaksin Shinawatra looks to return from exile. And such political risks will likely intensify well into 2014, when India and Indonesia hold elections. A possible return to Golkar rule in Indonesia, in particular, could slow institutional and policy reforms there.
2.         A Coming Asian Slowdown?
Asia has sustained robust growth amid austerity in Europe and sluggish growth in the United States. But despite decent December data, new challenges are emerging for Asia's most export-dependent economies. The Asian Development Bank predicts "much greater downside risks" in 2012 because the threat of recession in the U.S. and Europe remains, as does the prospect of destabilizing capital flows. Who's most vulnerable? The markets will watch China especially closely because the world economy can hardly afford to have its three principal growth engines facing a crisis simultaneously. Beijing's landmark 12th Five Year Plan deliberately aims to get slower but more balanced growth. But such structural adjustments will come only gradually, and, in the meantime, China's economy continues to rely on exports and investment in fixed assets. That's one reason the Chinese economy has slowed for four consecutive quarters. My friend Damien Ma has noted a big contradiction in the market's view of China: Market participants have long hoped for a more sustainable growth trajectory (and, inevitably, more "sustainable" growth will mean slower growth); but now, with the world economy facing a slowdown, market participants have mostly reversed themselves: they no longer want slower but "sustainable" Chinese growth but rather even faster growth to bolster the world economy. Meanwhile, others, such as South Korea, will also be vulnerable in 2012. They have relied, in part, on Chinese demand to power their economies, so even a modest slowdown in China would have contagion effects elsewhere in Asia.
3.         Model vs. Model
Preferential trade agreements (PTA) have proliferated in Asia. And the U.S. (finally!) entered the trade fray in 2011 by more fully embracing the Trans-Pacific Partnership (TPP), a once-modest effort among some members of the Asia Pacific Economic Cooperation (APEC) forum to move beyond consensus decision-making. In my view, TPP has considerable potential. But critics, like Jagdish Bhagwati, charge that TPP "includes numerous agendas unrelated to trade, such as labor standards and restraints on the use of capital-account controls" that would, among other things, preclude China's membership. Beijing has in essence, criticized TPP as part of a U.S. strategy to "contain" China. Yet Beijing has promoted its own brand of PTAs across the region—with ASEAN, Pakistan, Singapore, and others. The Doha round is going nowhere fast, so debates will intensify in 2012 about what types of agreements make sense as global trade negotiations continue to stall.
4.         Can the United States Get its Act Together?
So much was made in 2011 of Washington's supposed strategic "pivot" to Asia. But the reality is that the "pivot," such as it is, mostly reflects longstanding U.S. policies in Asia and is anchored in strategic and policy pillars that date back decades. A bigger issue for Washington's partners in Asia is that the United States, for all its inherent strengths, still doesn't have its economic act together. Thus the principal strategic issue for most in Asia is whether America restores its economy and addresses its fiscal deficit and growth outlook. Dealing vigorously with debt, entitlement and tax reform, questions of business competitiveness, and energy and education policies, among others, will loom ever larger as Asians contemplate America. The weaker America's fiscal and economic position becomes in 2012, the less relevant the United States will be to Asia's future.
5.        More Gloom About India
India will grow robustly, but more slowly in 2012. And that's one of many sources of gloom about India's prospects. Tax, pension, and FDI reforms have stalled. Parliamentary business has been tied up in knots as the leading national and regional parties squabble. Mumbai's SENSEX stock index was the world's worst major performer in 2011, declining from 20,561.05 on January 3 to 15,175.08 on December 19. Will India's politicians become bolder in 2012? It's unlikely. Bellwether state elections, especially in Uttar Pradesh, are almost certain to make the major parties more cautious still. With a few exceptions, the markets (and many in India's own political class) will express more gloom, and ask even tougher questions, about India's trajectory in 2012. This piece from Tarun Das is a terrific example.
6.         A Farewell to Reform?
But India won't be the only country to face intensified scrutiny of its reform trajectory in 2012. In Vietnam and Indonesia, too, FDI, regulatory, or financial reforms have largely stalled and show little sign of revival. And by far the biggest question mark about reform is China. Some in Beijing, for example, argue that China now has "reform fatigue," made worse by a sensitive political transition. But resistance to reform is also anchored in interest group politics and, thus, is more endemic and likely to be stubborn. Chinese leaders, as cautious technocrats, tend to split the difference between competing groups in China's increasingly pluralistic polity. And the result has been a strong bias toward incremental policy change rather than bold reforms. One bright spot in 2012 may be Malaysia, which has begun to shed elements of its 1970s era "New Economic Policy."
7.         ASEAN's Burma Opportunity
Are political reforms in Burma for real? We will learn much more in 2012 as the regime weighs further prisoner releases, the future of the now legalized National League for Democracy, and Aung San Suu Kyi's own desire to run for office. But another question mark will be ASEAN's response to this change. Balancing the role of great powers to the north—China and Japan—has long provided an impetus to ASEAN community building. And concern about China, in particular, helped drive the transformation of ASEAN after the end of the Vietnam War. ASEAN's founding members wanted all ten countries joined as a cohesive force to help balance China. But their timing in expanding ASEAN's membership was poor: unlike Vietnam, Burma, which joined in 1997 (two years after Hanoi) has stubbornly resisted ASEAN ways. So with Burma now scheduled to assume the ASEAN chairmanship in 2014, regional heavyweights, like Indonesia, will face tough decisions about how hard to push the regime. And they must weigh how to assimilate Burma to ASEAN ways as the date of Naypyidaw's stewardship approaches.
8.         China Inc. … Coming West
Beijing is sitting on over $3 trillion in foreign exchange reserves (much of it in U.S. dollars), with billions more in the hands of corporations eager to invest in U.S. and European markets. The U.S. and Europe will press Beijing harder on currency values, intellectual property, and market opening in 2012. But for its part, China is certain to press harder for more openness to direct investment from China Inc., including its state-owned companies. That will yield intense political debate, especially in the U.S. Some have argued that Chinese investments, especially from non-state companies, would be on a sounder political footing if they created jobs through greenfield investments rather than the portfolio investment and corporate mergers and acquisitions that Chinese companies have tended to prefer. The fact is, the level of job-creating Chinese investment remains very small. In 2010, Chinese FDI stock in the United States was $5.9 billion—just about one-tenth of the $50 billion of U.S. FDI stock in China. And while FDI from all countries has created 5.6 million U.S. jobs, including over 2 million in manufacturing, affiliates of Chinese firms in the U.S. employed barely more than 4,000 Americans in 2009.
9.      The Big Hedge Gets Thornier
This central strategic reality of Asia will remain in 2012: Asian countries are deepening defense and political coordination with the United States (and each other) as a hedge against Beijing's growing strategic weight; but, even against that backdrop, slack global demand means that China will continue to power the growth of nearly every major economy in Asia. Put simply, economics and security are increasingly in collision. So one reason Washington's best friends are rooting so hard for U.S. recovery in 2012 is precisely because they fear this balancing act cannot prove sustainable forever. The United States continues to provide Asia's principal security-related public goods through its forward-deployed military presence and role as a strategic balancer. But Asian economies will increasingly provide one another with their principal economic-related public good—namely, the demand that can provide a pathway to sustained economic growth. This collision between economics and security may well intensify in 2012.
10.       More Trade Conflict
Protectionist pressures will rise in 2012. But, just as important, so too will the tolerance for trade conflict, particularly in Washington and Beijing. China has grown more comfortable with the World Trade Organization's dispute-resolution procedures. And, having learned to leverage the system to its own advantage, Beijing is vigorously fighting U.S. suits in many areas. It has investigated numerous anti-dumping cases brought by Chinese producers, lent its ear to a proliferation of Chinese business lobbies, and recently slapped countervailing duties on U.S. auto exports in response to a U.S. case on chicken parts. For their part, U.S. political and business elites are certain to complain ever more loudly about Chinese currency, intellectual property, procurement, and cyber-related practices. Most in Asia will watch warily, fearing greater protectionism. But some will jump on the bandwagon: India has already initiated 149 anti-dumping cases against China.
11.        Learning from Asia
Robert Zoellick, the World Bank president, has argued that the economic models now being emulated in Africa and beyond will come increasingly from outside the advanced G7 economies. The rich world, Zoellick argues, cannot patronize developing nations with aid conditions and policy guidance when its own recent performance has been so dismal. In 2012, others will continue to look to Asia in this way. Zoellick noted two examples in a recent speech: India's model for information technology services, copied by Ghana, Kenya, Nigeria, and others; and Singapore's combination of "open economy, services cluster, anti-corruption, and relentless adaptation to changing conditions."
12.       State Building or Economic Disintegration in Continental Asia?
Finally, 2012 should be another rough year for Afghanistan, Central Asia, and Pakistan. War, terrorism, narcotics, and weak political institutions steal headlines, of course. But the region's future will depend as much on whether governments improve their poor macro- and microeconomic fundamentals and expand opportunity—for example by improving trade and transit regimes. Central Asia suffers from a poisonous combination of landlocked geography and especially bad economic policies. Major initiatives, including from the international financial institutions, seek to change this. In its own way, so does infrastructure construction by China. But the sad reality is that enthusiasm for cooperation remains far greater outside the region than among the states themselves. Economic change will remain elusive unless these states better cooperate in 2012. Meanwhile, Pakistan's economy has considerable potential. But the country lacks a credible growth strategy. And Islamabad will remain burdened by a high debt-to-GDP ratio that crossed 60 percent in 2010, painful debt service obligations to its creditors, a large fiscal deficit, double-digit inflation, a depreciating rupee, and a trade deficit worsened by high global commodity prices. These economic realities will compound intensifying political risks in Pakistan.