What Happens After Thailand's Referendum?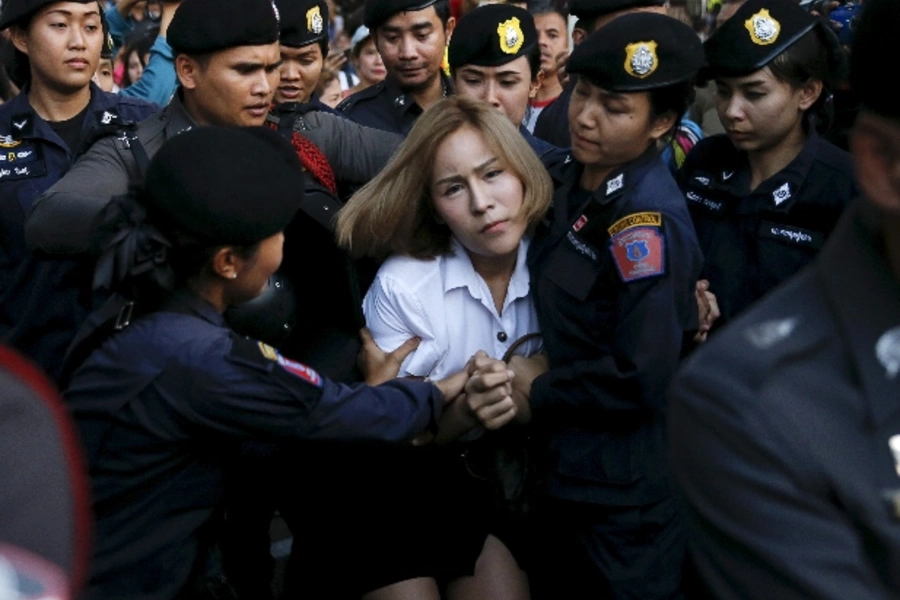 On August 7, Thais hold a national referendum on a new charter. As I noted in my previous blog post, Thailand has had twenty different constitutions since the end of the absolute monarchy in 1932. Constitutions have been shredded by military governments after coups, rewritten during times of political upheaval, and even (as in the mid-1990s) written with thought and considerable public input and implemented under elected governments. Now, the junta, which took power in May 2014, has stage managed the drafting of a new proposed charter. The charter was written by a military-appointed committee. As I noted in my previous post, the new proposed constitution would significantly undermine Thailand's democratic future, as it would weaken political parties and likely lead to weak leadership in parliament, with larger parties having to form unwieldy coalitions with many smaller and medium-sized parties. It also would entrench the long-term power of the armed forces to meddle in politics, which have, of course, returned to the center of politics. After a period, between 1992 and 2006, during which Thailand had no coups and the military appeared to have actually withdrawn to the barracks, the army has staged two coups in the past decade.
The military government has gone all-out to get a yes vote on the constitution, banning public criticism of the charter and deploying army cadets and other groups of volunteers to urge Thais to vote yes. Last month, the junta charged a group of eight-year-old girls with "obstructing the referendum process" for supposedly tearing pieces of paper that voter lists were printed on. The regime has set up monitoring centers across the country to watch citizens' actions in the run-up to August 7, and has arrested at least fifty people (not including the girls) for supposedly trying to hold rallies or other events to criticize the charter.
But as I noted in my previous posting, dissatisfaction with the junta could potentially lead to a no vote. There is no accurate public polling available on how Thais will vote, but anecdotal evidence suggests that the millions of Thais who supported the previous, elected government are dissatisfied with junta rule. (Polls that have been released showing voters' intentions are hard to take seriously, since they are being conducted in an authoritarian state and in a period of intense repression.)
There are many reasons to think that, if Thais vote no to the constitution, the junta government will continue in power—perhaps until King Bhumibol Adulyadej passes from the scene and a royal succession takes place. Although the king is eighty-eight and reportedly very unwell, this succession still could take years; the king normally lives in a hospital wing and receives some of the finest medical care in the country. Junta leader Prayuth Chan-ocha has publicly stated that he will not step down if Thais vote no on the charter, even though leaders of both of the kingdom's largest political parties oppose the charter, and the biggest party, Puea Thai, has called on Prayuth to step down if the referendum fails.
Instead, if Thais vote no, expect Prayuth and the junta government to set an indefinite timeline for the junta's continued rule.  In the worst case scenario, the army could wind up ruling into the next decade, operating without a new charter and continuing to rely on military courts and new laws they announce by fiat. There would likely be no progress on any type of political decentralization, which is critical to resolving some of Thailand's regional divides, and no progress in combating the insurgency in the south. Prayuth and other junta leaders have taken a hard line on talks with southern insurgents. Perhaps only when the king passed from the scene and the crown prince seemed ensconced, stably, in power, would the military allow the writing of another draft charter and then a process toward a new election.
And if Thais vote yes on a charter that many elected politicians and civil society leaders see as highly flawed? There will probably be an election next year, even though the charter does not guarantee that; Prayuth and other army leaders have promised an election next year. Thais will wind up with a wider range of parties in parliament, including many smaller and medium-sized parties, and will be unlikely to have any prime minister as powerful as those of the past fifteen years. The Senate, which will be unelected, will have a greater role in policymaking, and could play a central role in choosing the prime minister if there is a deadlock in the lower house. Continued policy paralysis will not only add to Thailand's lack of progress on critical economic and education issues but also will anger the rural Thais who support Puea Thai en masse, and will believe that their voices are now unheard. Overall, either a yes or no vote could well lead to chaos in Thailand.