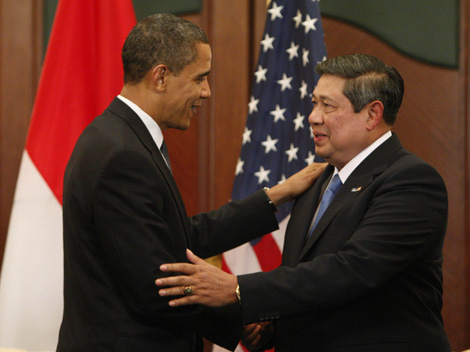 In the wake of President Obama's canceled trip to Indonesia – his third cancellation in less than a year – officials on both sides are urging calm. The White House has vowed to add Jakarta to Obama's Asia trip in November, while Indonesian officials reportedly assured their American counterparts that President Susilo Bambang Yudhoyono did not take offense and understands that Obama had to stay in the United States to manage the fallout from the massive BP oil spill.
But even if everyone tries to make nice, the White House's ambitions for the relationship with Indonesia will at least be damaged. The hope had been not simply that Indonesia would be one of many important Asian relationships, worthy of a visit as part of a longer regional swing, but that Indonesia would be for Obama what India was for George W. Bush – a country where he could take credit for vastly upgrading relations.
This type of partnership, however, requires one-on-one bilateral visits that would appeal to a broad range of Indonesian policy makers, and, more importantly, to the general public there, which is already inclined to support Obama. In India, for example, though successive governments have pushed for much closer ties to the United States, a legacy of popular distrust of the United States, particularly pronounced among older Indians who remember frosty relations during the Cold War, has hindered progress in the relationship and made the U.S.-India nuclear deal controversial there.
Though President Yudhoyono likely would deny it, Obama's repeated cancellations have also hurt Yudhoyono's standing in Jakarta.  The Indonesian president, for all his flaws of sloth and indecisiveness, has tried to move Jakarta closer to Washington, which is a gamble in Indonesian politics. SBY's decision is a major shift from the early 2000s, when the vice president in Megawati Sukarnoputri's government, Hamzah Haz, celebrated the 9/11 attacks as a means to "cleanse America of its sins," and Megawati seemed utterly indecisive as to whether she wanted closer ties to the United States.
But many Indonesian political figures – Islamists, old school figures from the Suharto era, and urban leftists -- remain suspicious of Washington and highly skeptical that the United States can deliver on the economic, military, and strategic promises that would come with upgraded bilateral ties. Repeated failures to come through on a presidential visit, which also would have provided the best opportunity to announce all the specific details of the new comprehensive partnership, only strengthen these doubters, making it seem like Yudhoyono was naïve to put such trust in relations with the United States. At a time when retrograde elements like Golkar Party chairman Aburizal Bakrie are already making headway again in Jakarta, putting reformers on the defensive, Washington can hardly afford to give these doubters any more ammunition.