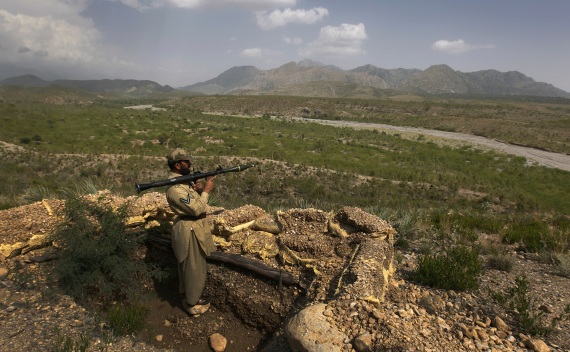 In his 2006 autobiography, Pakistani President Pervez Musharraf claimed that after 9/11, Deputy Secretary of State Richard Armitage warned Musharraf's intelligence chief that if his country did not cooperate in fighting Al Qaeda, the United States would bomb Pakistan "back to the stone age." Armitage denied that he ever made such a coercive threat, however, and an account of the meeting made by a State Department staffer reportedly confirmed his version of events.
Nevertheless, successive U.S. military and intelligence officials have visited Islamabad to convey similar warnings. In May 2010, Faisal Shahzad, a 30-year old Pakistani-born American citizen failed in his attempt to detonate a crude car bomb in Times Square. Under questioning, Shahzad admitted that he had received explosives training in an Al Qaeda-affiliated Pakistani terror camp.
Two weeks after the failed Times Square plot, national security adviser, General James Jones, and director of central intelligence, Leon Panetta, were dispatched to Islamabad to deliver a message from President Obama to Pakistan's army chief, General Ashfaq Parvez Kayani. According to the account revealed in the new book by New York Times journalists, Eric Schmitt and Thom Shanker, Counterstrike: The Untold Story of America's Secret Campaign Against Al Qaeda:
"Obama's warning to Kayani that his military that he needed to clamp down on the Islamic fighters, who were using safe havens inside his country, or pay the price of devastating American air strikes, was yet another example of how the U.S. government was adopting classic Cold War notions of deterrence to protect the United States against terrorists. The message was clear: If we are attacked, you will be attacked."
Despite the reported recent killing of Al Qaeda's second ranking official, Atiyah Abd al-Rahman, by a CIA drone strike, Pakistan's tribal areas (and Yemen) remain a potential origin for a mass-casualty terrorist attack on the U.S. homeland. The latest State Department Country Reports on Terrorism: 2010 report, released on August 21, states:
"Despite efforts by Pakistani security forces, al-Qa'ida (AQ) terrorists, Afghan militants, foreign insurgents, and Pakistani militants continued to find safe haven in portions of Pakistan's Federally Administered Tribal Areas (FATA), Khyber Paktunkhwa (KPK), and Baluchistan. AQ and other groups such as the Haqqani Network used Pakistani safe havens to launch attacks in Afghanistan, plan operations worldwide, train, recruit, and disseminate propaganda."
I highly recommend reading a new Center for Preventive Action Contingency Planning Memorandum by Stephen Tankel, "A Pakistan-based Terrorist Attack on the U.S. Homeland," which assesses the policy tools the U.S. officials should employ to prevent such an attack, as well as mitigate the consequences if one were to occur.
Tankel proposes that Obama administration officials increase efforts to build counterterrorism capacity among Pakistan's civilian law enforcement and intelligence agencies, restructure how the United States provides aid and reimbursements to the Pakistan's military, and develop a campaign plan that accounts for a range of responses in the event of an attack on the U.S. homeland. In a time of increasingly strained relations between the U.S. and Pakistan, the Obama administration should be prepared for all contingencies.