Why China Should be Concerned About Zika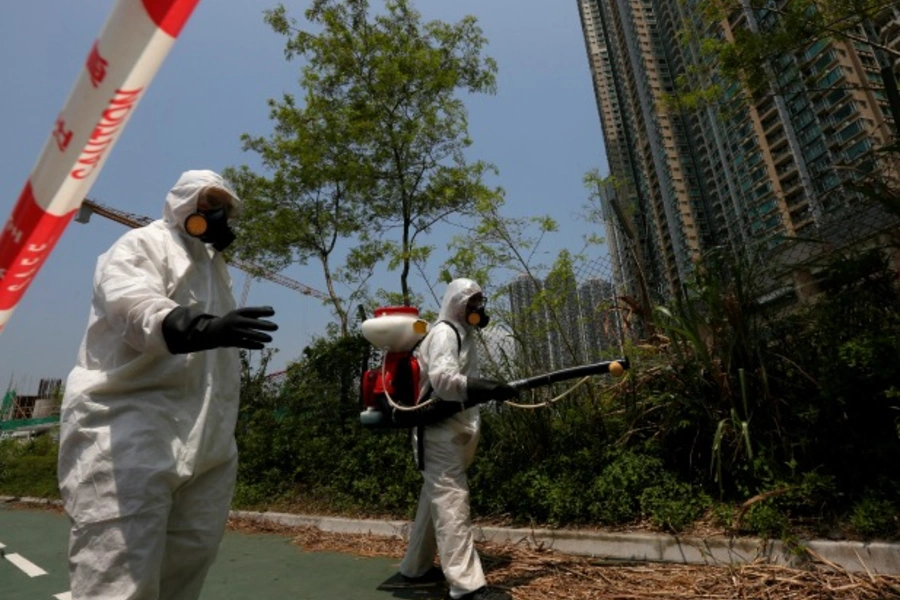 Zika, a mosquito-borne virus that was first discovered in 1947 in Uganda, has resurged, spreading rapidly across the world.  There were only thirteen countries with evidence of local Zika infections in or before 2015.  Since then, more than seventy countries and territories have reported evidence of Zika virus transmission.  In February 2016, the World Health Organization declared Zika a public health emergency of international concern (PHEIC).  Thus far, most cases have been clustered in Latin America (with Brazil reporting the largest number of cases), but they are increasingly being identified in North America, Asia, Africa, and the South Pacific. On September 10, fourteen new cases of locally transmitted Zika were confirmed by Singapore's health authorities, bringing the total number of confirmed cases to 318, making the city-state house the largest cluster of the disease in Asia.
For most people, Zika appears to be no big deal.  The virus is rarely fatal. A majority (80 percent) of those who are infected show no symptoms. Of the 20 percent who are sick, the symptoms are usually mild, lasting for several days to one week.  The problem is that there is still much we do not know about the virus. While Zika is primarily transmitted through mosquito bites, it can be passed from a pregnant mother to her fetus. The virus can also spread through sexual contact and blood transfusion.  New evidence has found that the virus is present in semen for longer than previously thought, and can be transmitted from asymptomatic males to their female partners and a symptomatic female to her male partner.  A more recent study also raises the possibility that Zika could be spread through patients' tears.  All this makes the virus worrisome due to the strong link between Zika and microcephaly (a birth defect resulting in an abnormally small head that can lead to developmental problems among babies) and Guillain-Barré syndrome (an uncommon neurological disorder in adults that causes muscle weakness, and sometimes, paralysis).
Worse, there is currently no cure for the Zika virus, although two companies in June received FDA approval to start human trials for their vaccines. The health implications of Zika potentially exacerbate the fear factor in human response to the virus.  Panic over Zika in Rio led 240 scientists, doctors, and public health experts to sign an open letter urging the International Olympic Committee to postpone or relocate the 2016 Olympics.  Already, Singapore's tourism has been hurt as some countries (e.g., Australia, South Korea, and the United Kingdom) have issued travel advisories against the country following the Zika outbreak there.
Zika poses a unique risk to China, which confirmed its first case of Zika virus in February.  By September 5, twenty-two cases—none of them locally acquired—were reported in China and all the patients had recovered.  As the temperature in the Northern Hemisphere drops and mosquitoes that carry the virus retreat into their dormant status, the likelihood of a large-scale immediate spread of the Zika virus across China does not seem very high.
Nevertheless, there is genuine cause for concern.  China faces an increased risk of imported Zika cases, especially from Southeast Asia.  Indeed, thirty of the 275 Zika cases reported in Singapore by September 7 were among Chinese citizens.  As summer heat waves begin to hit the Southern Hemisphere, mosquitoes carrying the virus will be emerging from hibernation.  This, in conjunction with China's close proximity to Southeast Asia, increases the risk of China's exposure to imported Zika cases.
The likelihood of a large-scale Zika outbreak can be increased even further if we take into account the climate conditions and the regional distribution of Zika-carrying mosquitoes in China.  There are two vectors of the Zika virus, Aedes aegypti and Aedes albopictus.  A. aegypti is mainly distributed in southern China, especially Hainan, Guangdong, and Yuannan Provinces. Because the virus can spread in tropical and subtropical regions, it can cause infections year-round.  A. albopictus, on the other hand, is widely distributed in the south of Hebei, Shanxi, and Shaanxi provinces.  That also means southern China is subject to the impact of both vectors of the Zika virus. Also known as the Asian tiger mosquito, A. albopictus is not only able to survive in cold weather by hibernating, but is also highly aggressive, allowing the Zika virus to spread even further and affect larger numbers of people in China.  The weather effects of El Niño may further increase breeding grounds for mosquitoes spreading the Zika virus.  Based on monthly flows of airline travelers from endemic areas in the Americas, climatic models of the Asia-Pacific region, population size estimates, and estimated healthcare expenditure per capita, the Lancet Infectious Diseases journal recently identified China along with India, the Philippines, Thailand, and Indonesia as high-risk countries in terms of the occurrence of large-scale Zika epidemics.
Meanwhile, the adverse consequences of Zika can be made more serious with the relaxation of the family planning policy.  One Chinese demographer estimates that the abandoning of the one-child policy will result in up to six million additional births annually. Survey data also reveals that couples in Central and South China are more likely to take full advantage of the new policy to have a second child.  Provided that between 1 and 13 percent of pregnant women infected with Zika will have babies with birth defects, hundreds of thousands of babies could suffer the devastating health effects of Zika should the virus become endemic in China.
Thus far, the government has instituted swift measures to reduce the risk of Zika infection and spread. These measures include a contingency plan on Zika prevention and control, setting travel alerts to and from Zika-hit countries, and tightening inspections to prevent the entry of the Zika virus.  However, these measures may need to be modified to reflect the growing knowledge about the virus and the increasing risk it poses to China.