Will Abe's Legacy Be Constitutional Revision?
Following the assassination of Shinzo Abe, Japanese went to the polls to vote in the Upper House election.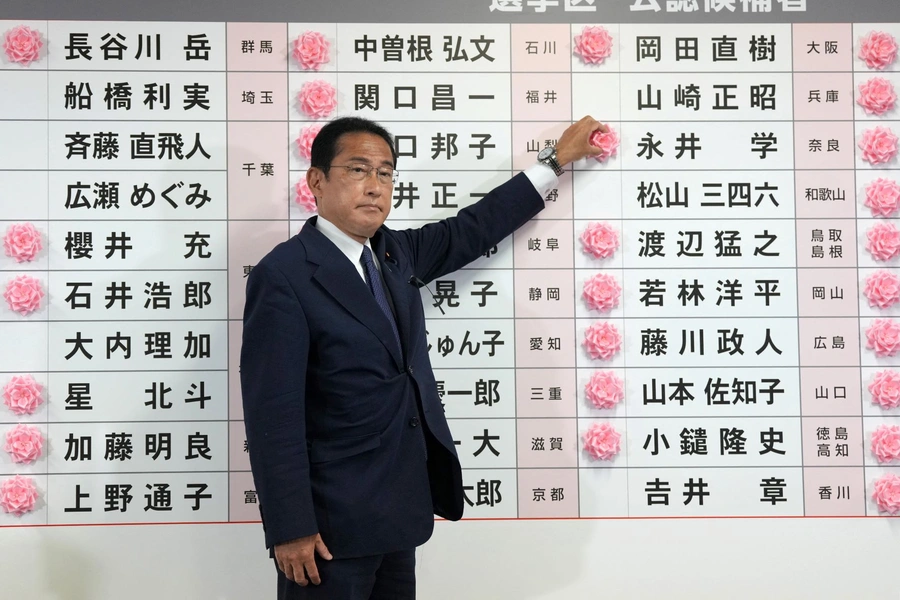 Japanese went to the polls on Sunday to vote in the Upper House election.  Just two days earlier, former Prime Minister Shinzo Abe was assassinated while campaigning in Nara City for a Liberal Democratic Party (LDP) candidate.  In the wake of Abe's death, Prime Minister Fumio Kishida urged Japan's citizens to not allow this "brutality" on the eve of an election to interfere with Japanese democracy. 
Japan's voters did turn up at the polls and gave the Kishida government its anticipated victory.  Of the 125 seats up for grabs in the 248-seat Upper House, the LDP won 63, 8 more than the previous election.  Its coalition partner, the Komeito, won 13 for a total of 76 seats for the ruling coalition.  Japan's opposition did not fare well, with the largest of them, the Constitutional Democratic Party of Japan, suffering the biggest setback. 
But can this result be attributed solely to the shock of Abe's death?  It does not seem so.  Voter turnout was estimated at around 52 percent, only 3 percentage points higher than in the all-time low turnout for previous Upper House election in 2019.  In polling conducted by the national broadcaster, NHK, prior to Abe's shooting, 54 percent of Japanese said they intended to vote in this Upper House election, citing the importance of Japan's economic and defense policy challenges.  Moreover, the LDP has long had a structural advantage in Japan's elections; in this election that advantage was amplified by the fact that the smaller opposition parties did not come together in a united front.  Separated and able to compete only in niche sectors of the electorate, Japan's opposition had little chance of gains this election.
To be sure, the tragedy of Abe's murder loomed large. On the day of his assassination, all political parties canceled their campaigning, and even the most ardent opponents spoke of their shock and sadness.  After the election, it  was a conspicuously solemn victory for the LDP.  Prior to announcing their win, senior party members took a moment of silence out of respect for their former prime minister.  Individual candidates who had been close to Abe noted his support as critical to their careers and their electoral success. 
Abe's legacy could be invoked for longer term goals. In the aftermath of the LDP victory, Prime Minister Kishida noted that the Upper House win had produced an opening for deliberations on Constitutional revision, a goal advocated by the former prime minister.  Article 96 of the Japanese Constitution requires a two-thirds majority in both houses of the Diet, Japan's parliament, to recommend amendments to the public, who will then decide in a national referendum if they approve.  Sunday's Upper House results produced a sufficient number of seats for the ruling coalition and two other parties interested in Constitutional debate to put forward their ideas. 
While Kishida may want to honor Abe, revision will not be imminent.  Two factors suggest caution.  First, as Kishida noted, while this electoral victory creates the necessary condition of the two-thirds majority in both houses, it remains insufficient to guarantee revision. Those open to amending Japan's constitution must come to an agreement over what it is they want to amend. 
Under Prime Minister Abe, the LDP floated four possible changes.  The first, and perhaps closest to Abe's heart, was to add a sentence to Article 9, the no war clause, that stated clearly that the Self Defense Force was recognized under the Constitution.  Second, and a favored issue for the Komeito, would be to include an expansion of government funding for education.  Third, and somewhat more contentious across the political spectrum, an amendment that would allow the prime minister to claim emergency powers in case of a national crisis has been discussed since the 2011 Great East Japan Earthquake.  At the moment, the Diet must be in session for a prime minister to declare a national emergency and to act upon it. The desired amendment would allow the executive branch to act without formal parliamentary approval should the Diet not be in session.  Finally, an amendment to ensure equity in electoral representation has also been proposed.  This is in keeping with several Supreme Court decisions on previous election outcomes that have concluded that rural districts have a far greater voice in Japan's elections, to the detriment of urban voters. 
Whether the right coalition can be created to put forward a slate of amendments remains to be seen, but Kishida's invocation of Abe's memory does suggest that he wants Japan's legislators once again to consider whether they are ready to propose a national referendum to the Japanese people.  Public opinion polling in Japan reveals an appetite for debating this issue, but skepticism remains over what would be the first ever amendment of the document so central to Japanese postwar identity.  Gauging if the public is ready will undoubtedly shape Kishida's calculations of how to proceed. 
The second cautionary factor is the complex policy agenda currently confronting the Kishida Cabinet.  After victory was declared, Kishida took to the airwaves to emphasize that his focus would be first and foremost on the Japanese economy.  Polling suggested that the bulk of Japanese voters thought this ought to be their government's priority.  (An NHK exit poll on election day revealed 45 percent of voters felt this way, and only 5 percent were motivated by constitutional revision.). Concerns about inflation, and rising food and energy prices as a result of the Russian invasion of Ukraine, are high in Japan even though inflation remains at just over 2 percent. The rise in coronavirus cases in recent weeks is a worry as well. 
This fall, the Kishida Cabinet will also complete a strategic review begun late last year.  A new National Security Strategy and a ten-year defense plan are being drafted, and the prime minister has committed Japan to a significant increase in defense spending as well as a thorough review of options for enhancing deterrence, including consideration of a long-range conventional strike option. 
The LDP will have time to build a cross-party coalition, if one is to be had, for Constitution revision.  No election is anticipated in Japan for the next three years, giving Kishida time to pursue his policy goals while his party explores with like-minded parties if consensus might exist to move the process forward.  Dedicating this effort to the fallen former prime minister may help but it may not be sufficient to persuade the Japanese people that this is a national priority.
If Kishida wants to pursue revision, he will also need to keep his party's goals well within what Japanese will see as an acceptable effort to improve rather than undermine Japan's democracy.  A far less ideological advocate than Abe, Kishida could perhaps have a better chance of presiding over his party's longstanding aim of amending the postwar Constitution, but only if the Japanese people see a tangible benefit to change.