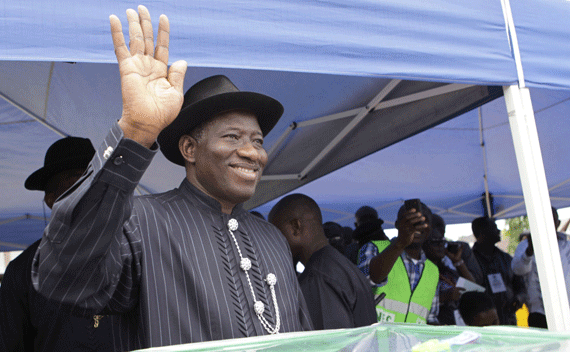 The World Next Week podcast is up. Bob McMahon and I discussed the upcoming UN Security Council debate on Libya; the inauguration of Nigerian President Goodluck Jonathan this weekend; the United States's effort to assess the need for food aid in North Korea; and the French Open, already underway in Paris.
[audio: http://www.cfr.org/content/publications/media/podcast/2011/20110526_TWN…]
The highlights:
President Barack Obama and British Prime Minister David Cameron say that NATO "should be turning up the heat in Libya," but Obama so far has refused to supply NATO with the A-10 and AC-130 gunships that Britain and France say are needed to increase the pressure on Qaddafi's forces.

President Jonathan takes the oath of office in Abuja this weekend with much of northern Nigeria questioning his legitimacy. He would have his hands full even if Nigeria didn't face a whole host of development challenges. Nigeria's 150 million people come from more than 250 different ethnic groups, and the Muslim North and the Christian-animist South eye each other warily.

Ambassador Robert King, the U.S. special envoy for North Korean human rights, is in North Korea to evaluate whether the United States should resume food aid to the impoverished country. Among the questions being debated are whether Pyongyang is manipulating the food crisis for political gain and whether Washington should let China take the lead in dealing with a potential North Korean famine.

Bob knows a lot about tennis at Roland Garros. I would prefer to watch the Stanley Cup finals, which this year will pit a Canadian team, the Vancouver Canucks, against an American team to be named later (either the Boston Bruins or the Tampa Bay Lightning).

Bob's Figure of the Week was Muammar al-Qaddafi. Mine was 1,343,812. To learn why, you have to listen to the podcast.
Bob and I aren't the only analysts previewing next week's news. Afrique en Ligne covers Jonathan's announcement that he will appoint a cabinet within two weeks of his inauguration, and Agence France Presse reports on UN Secretary General Ban Ki-moon's recent meetings with Jonathan. The Telegraph discusses surprising new developments in the diplomatic efforts to secure Qaddafi's departure and an end to violence. Closer to home, the New York Times weighs in on the discord over the U.S. operations in Libya. Reuters asks questions about North Korea's claims that it is in desperate need of food aid, and on a lighter note, Foreign Policy's "Passport" pokes fun at Kim Jong Il's reported food preferences. To stay on top of the French Open news, follow the New York Times's "Straight Sets" blog. If like me you prefer to watch a hard black rubber puck whiz across the ice rather than a fuzzy yellow ball going back and forth over a net, check out NHL.com or ESPN's hockey page for all the action.