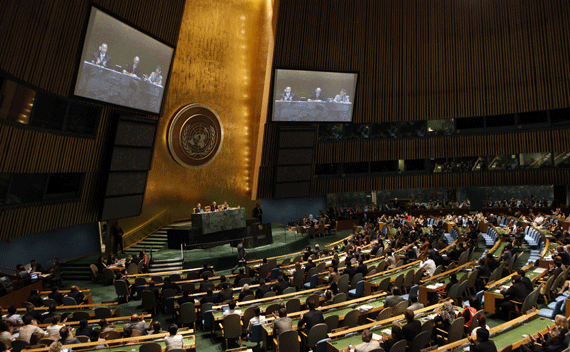 The World Next Week podcast is up. Bob McMahon and I sat down to talk about the sixty-sixth UN General Assembly meeting next week, including the Palestinian drive for statehood and the High-Level Meeting on Noncommunicable Diseases; and the International Monetary Fund-World Bank annual meeting.
[audio: http://www.cfr.org/content/publications/media/podcast/2011/20110915_TWN…]
The highlights:
The Palestinian Authority looks like it will ask the UN General Assembly to make it a full UN member. The effort has put the Palestinian leadership on a collision course with the United States. The Security Council must ratify any General Assembly vote, and the Obama administration has vowed to veto the effort. Meanwhile, congressional leaders from both parties have said they will cut off aid to the Palestinian Authority if it presses forward with the effort for UN membership.

The UN hosts its first ever High-Level Meeting on Noncommunicable Diseases (NCDs) next week. The goal of the two-day summit is to discuss strategies to prevent and control NCDs such as cancer, heart disease, and diabetes. Whereas NCDs were once just a problem for wealthy countries, they are fast becoming a problem for poor countries as their populations age and their citizens increasingly adopt a Western lifestyle.

The International Monetary Fund (IMF) and the World Bank hold their fall meetings in Washington, D.C. The Eurozone debt crisis tops their agenda. The IMF and World Bank can urge their members to move quickly to address the financial problems at the root of the crisis, but it is up to national governments to take those steps. And so far they are doing so only hesitantly.

Bob's Figure of the Week is Mahmoud Ahmadinejad. Mine is $454 billion. As always, listen to the podcast to find out why.
The New York Times covers American efforts to avoid seeing the issue of Palestinian statehood coming to a vote (and likely U.S. veto) at the UN, and BBC News discusses Turkish Prime Minister Erdogan's vocal support of the Palestinian initiative. For more background on NCDs, check out my post compiling great CFR resources on the topic; in addition, a TWE reader recommended a post by Pan-American Health Organization Director Dr. Mirta Roses. News Ahead previews the IMF-World Bank meeting, and the Wall Street Journal brings up the possibility that the BRICS nations may help bail out ailing European economies.