The World Next Week: The Palestinians Press for Statehood
September 22, 2011
Blog Post

Blog posts represent the views of CFR fellows and staff and not those of CFR, which takes no institutional positions.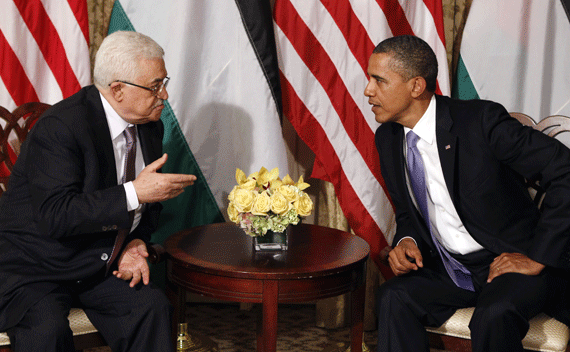 The World Next Week podcast is up. Bob McMahon and I sat down to discuss the Palestinian bid for UN statehood recognition; Turkey's efforts to assert itself in the Middle East, and the upcoming UN Security Council debate on Afghanistan.
[audio: http://www.cfr.org/content/publications/media/podcast/2011/20110922_TWN…]
The highlights:
The diplomatic showdown over Palestinian statehood is going down to the wire at the United Nations. All the major players have reason to want to avoid a diplomatic train wreck. That does not mean they will.

Turkey is attempting to establish itself as a regional leader in the Middle East. Its once heralded relationship with Israel is a victim of the change in strategy. But while Ankara's shift is winning some applause on the Arab street, it is also creating potential friction with Egypt, which has similar regional ambitions.

The assassination of former Afghan president Burhanuddi Rabbani highlights the continued vulnerability of the Afghan government and raises critical questions about whether the United States will succeed in its effort to create a stable Afghan government.

Bob's Figure of the Week is $72.6 billion. My Figure of the Week is Ahmad Shuja Pasha. As always, listen to the podcast to find out why.
The Washington Post evaluates public opinion data on the question of Palestinian statehood, and Haaretz presents a contrarian Israeli viewpoint on the U.S. role in blocking Palestinian ambitions. Reuters has the details on President Obama and Turkish Prime Minister Erdogan's meeting on Tuesday in New York, and the Economist looks into the increasingly turbulent relationship between American allies including Turkey in the Middle East. The New York Times evaluates the damage done to the Afghan peace process by the assassination of former president Burhanuddin Rabbani; and the New Yorker concurs with the New York Times' grave assessment.