The World Next Week: South Sudan and the Birth of a Nation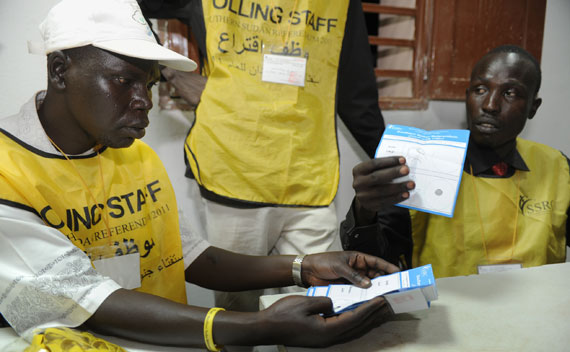 The podcast for The World Next Week is up. Bob McMahon and I went a bit long today as we discussed the pending announcement of the referendum results in South Sudan; the continued international efforts to resolve the standoff in Ivory Coast; Brazil's February presidency of the UN Security Council; the upcoming meeting of the Quartet for the Middle East during the Munich Security Conference; and, on a lighter note, the Screen Actors Guild awards show this Sunday night in Los Angeles.
[audio: http://www.cfr.org/content/publications/media/podcast/2011/20110127_TWN…]
The highlights:
South Sudan's divorce from Sudan could get ugly, especially over the question of which side gets the border region of Abyei.

The United States and other Western powers all say that Laurent Gbagbo lost his bid to win reelection as president of Ivory Coast (or Côte d'Ivoire if you prefer), but so far they do not look inclined to back up their demands that he step down from office with significant action.

The inability of the great powers to agree to a plan for revamping the UN Security Council to make emerging powers such as Brazil and India permanent members is one reason why the more nimble G-20 is growing in influence.

The White House would like to restart peace talks between the Israelis and the Palestinians just as growing political turmoil in the region presents it with a whole new set of policy dilemmas.

Films awards are about much more than fancy dresses and sleek tuxedos; movies are one of America's biggest exports and a source of some of its soft power.
Bob and I aren't the only commentators previewing next week's news. Reuters reports on President Bashir's response to the completion of the referendum, and the National discusses the myriad challenges that may lie ahead for an independent South Sudan. The New York Times covers Laurent Gbagbo's attempt to seize local bank branches, and Bloomberg Businessweek discusses the African Union's sanctions plans. The Financial Times provides background on Brazil's bid for a permanent seat on the UN Security Council, and the Wall Street Journal covers President Obama's plans to visit Brazil in March. To learn more about the Munich Security Conference, read the release on the conference website, and look into Al Jazeera's "Palestine Papers" for new insight into the history of the Israeli-Palestinian negotiations. Finally, read E!online to find out who earned nominations for this year's Screen Actors Guild Awards.