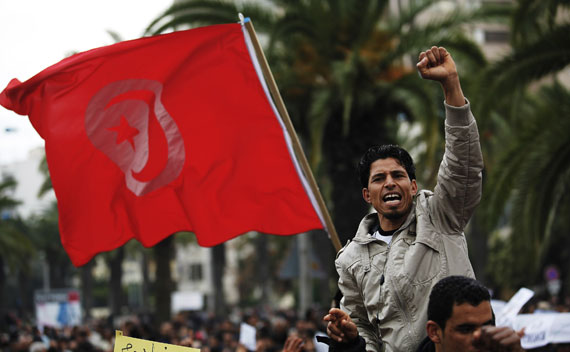 The podcast for The World Next Week is up. Bob McMahon and I sat down to discuss expectations for President Obama's 2011 State of the Union address; the Russian Duma's upcoming vote on the New START Treaty; the continued upheaval in Tunisia; and the World Economic Forum next week in Davos.
[audio: http://www.cfr.org/content/publications/media/podcast/2011/20110120_TWN…]
The highlights:
President Obama will use the State of the Union Address to recast himself as a business friendly man-in-the-political-center who is looking to create jobs and shrink the federal budget deficit.

The prospects for further bilateral reductions in U.S.-Russian nuclear weapons are dim. Moscow wants any new round of talks to go beyond nuclear weapons to include missile defenses and to involve China. Any agreement that constrains missile defense will be DOA on Capitol Hill, and Beijing is looking to expand its nuclear forces and not shrink them.

Events in Tunisia are sending shocks waves throughout the Middle East and once again highlighting how social media can undermine autocratic governments.

Talk of how to sustain the global economic recovery will dominate the conversation at Davos.
Bob and I aren't the only commentators weighing in on these issues. The Washington Post covers Obama's expected remarks on deficit-reduction and CBS News reports on the response to Sen. Mark Udall's effort to change the congressional seating arrangement for the address. Reuters discusses the approval and amendment process of the New START Treaty in the Russian Duma. The Economist offers an overview of the changes in Tunisia's government, and PBS questions the relevance of the Tunisian revolution for Iranian domestic politics. To learn more about the upcoming meeting in Davos, read Bloomberg's preview of the summit, and Reuters's analysis of the summit in the context of the global economic recovery.