Alice K. Ross, "Leaked official document records 330 drone strikes in Pakistan," Bureau of Investigative Journalism, January 29, 2014.
The Bureau is today publishing a leaked official document that records details of over 300 drone strikes, including their locations and an assessment of how many people died in each incident…
The Bureau estimates that at least 2,371 people died in the time covered by the document (excluding 2007, which is missing from the record), while it records 2,217 deaths in total…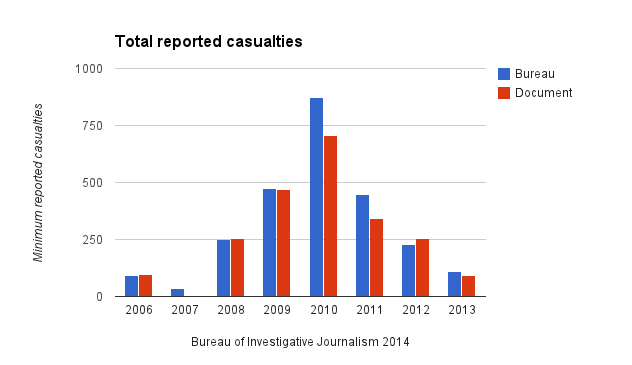 (3PA: In a recent blog post, I tracked the differences in reporting of all U.S. targeted killings and fatalities through 2013 by comparing estimates from three NGOs.)
---
Brian Knowlton, "McCain Calls China a 'Rising Threat' in Baucus Confirmation Hearing," New York Times, January 29, 2014.
McCain went on: "This is a matter of a rising threat or challenge to peace and security in Asia because of the profound belief in the Chinese leadership that China must, and will, regain the dominant role that they had for a couple of thousand years in Asia."
---
Mark Hosenball, "Congress secretly approves U.S. weapons flow to 'moderate' Syrian rebels," Reuters, January 27, 2014.
Light arms supplied by the United States are flowing to "moderate" Syrian rebel factions in the south of the country and U.S. funding for months of further deliveries has been approved by Congress, according to U.S. and European security officials.
The weapons, most of which are moving to non-Islamist Syrian rebels via Jordan, include a variety of small arms, as well as some more powerful weapons, such as anti-tank rockets.
---
"Deficit Reduction Declines as Policy Priority," Pew Research, January 27, 2014.
The Pew Research Center's annual survey of policy priorities, conducted Jan. 15-19 among 1,504 adults, finds that the public's agenda continues to be dominated by the economy (80% top priority), jobs (74%) and terrorism (73%). As in past years, the lowest-rated priorities are dealing with global warming (29%) and dealing with global trade (28%).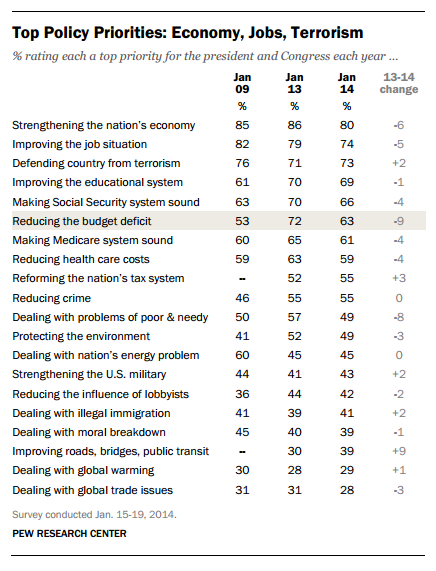 (3PA: You will note the bottom three priorities for Americans are often the top three demands for foreign policy columnists, such as Tom Friedman.)
---
David S. Cloud, "Top general to ask Obama to keep more troops in Afghanistan," Los Angeles Times, January 24, 2014.
The U.S. commander in Afghanistan is planning to go to the White House on Monday to argue for keeping about 10,000 troops in the country after this year, a subject that has exposed a fissure between some of President Obama's top advisors and the Pentagon. Marine Corps Gen. Joseph F. Dunford Jr., who commands all international forces in Afghanistan, is recommending that U.S. troops stay to help train Afghan forces and conduct counter-terrorism operations against Taliban insurgents and Al Qaeda-linked militants. All other U.S. troops will be withdrawn this year.
To make the deployment more attractive to a skeptical White House, Dunford says the 10,000 should pull out by 2017, when Obama leaves office, according to two officials, who confirmed a Wall Street Journal report. The Pentagon previously had favored deploying the troops for a decade.
But Vice President Joe Biden and other key White House aides favor leaving only 1,000 to 2,000 troops, said the officials, who spoke anonymously to discuss internal deliberations…
---
"Contractor Support of U.S. Operations in the USCENTCOM Area of Responsibility to Include Iraq and Afghanistan," U.S. Department of Defense, January 2014.
In 1st quarter FY 2014, USCENTCOM reported approximately 99,057 contractor personnel working for the DoD in the USCENTCOM AOR.  This total reflects a significant decrease from the previous quarter.  The numbers of contractors in other USCENTCOM locations make up about 17.9% of the total contractor population in the USCENTCOM AOR.  A breakdown of DoD contractor personnel is provided below: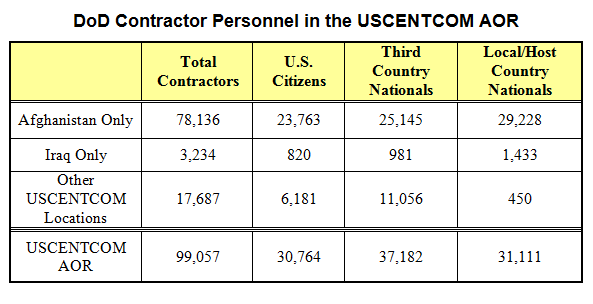 (3PA: This is the first decrease in the number of U.S. citizen contractors in Afghanistan since 2010, when there were 10,016. In 2011, there were 19,381. This rose to 25,287 in 2012, and reached a peak in 2013 at 33,444.)