You Might Have Missed: National Security Threats, Terrorism, and Gun Violence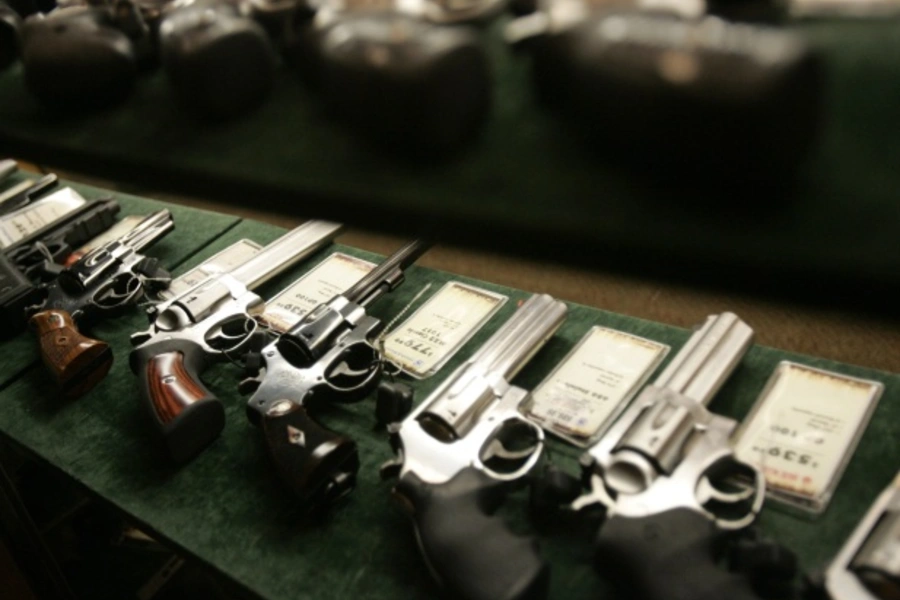 Saxby Chambliss, "The Threat From Within to Our National Security," Macon Telegraph, August 3, 2012.
Our nation and our military are about to confront one of the biggest threats since World War II. It does not come in the form of a shadowy terrorist organization or a well-armed foreign foe. Instead, it is looming in the form of indiscriminate budget cuts that will strike on Jan. 1, 2013.
(3PA: Defense sequestration would cut roughly $40 billion (or 7%) a year from the Pentagon's $553 billion budget. The notion that this would be "one of the biggest threats since World War II" is preposterous. In the late 1980s, the Soviet Union had 2,000 long-range missiles pointed at the United States, which collectively held some 6,000 nuclear warheads. That's a real national security threat.)
Cameron McWhirter, "Protesters Break Into Nuclear Complex," Wall Street Journal, August 1, 2012.
The U.S. government stores weapons-grade uranium at a complex in Oak Ridge, Tenn., considered to be one of the most secure sites in the world.
But last weekend, three aging peace activists—two men and an 82-year-old nun—cut through fences and eluded guards to throw human blood on the building where enriched uranium is stored. The protesters also hoisted banners, recited prayers and read from the Bible.
The security breach prompted the facility, the Y-12 National Security Complex, to stop all nuclear activity Wednesday and go on "security stand down" for the first time since the Sept. 11, 2001, terrorist attacks, while investigators try to figure out how the protesters got past supposedly impenetrable defenses. The temporary stoppage was expected to end by next week.
---
Daniel L. Byman, "Breaking the Bonds Between Al-Qa'ida and its Affiliate Organizations," Brookings Institution, August 2012.
---
Associated Press, "Top U.S. General: Venezuela Not a National Security Threat," July 31, 2012.
Fraser was asked if he thought Venezuela's newly announced development of unmanned aerial vehicles and continued purchase of billions of dollars' worth of weaponry, including anti-aircraft missiles from Russia and other nations, did not present a danger to his country.
"From my standpoint, no, I don't see it that way," he told The Associated Press in a phone interview. "I don't see them as a national security threat."
---
Hearing of the Senate Foreign Relations Committee on Nominations, July 31, 2012
SENATOR MENENDEZ:  All I hear is about the Pakistanis seeking an end to the drone attacks that have been the one successful effort in turning it over to them. You know if we're going to be providing billions of dollars, then what is the commitment to the concurrent commitment here?
MR. RICHARD OLSON:  On the question of drones, Senator, as you well know, the president has said that we will go after extremists and those who threaten us wherever we find them. It's beyond the level of classification for this hearing to discuss those programs in any great detail, but I will if confirmed continue to follow the president's direction on the question of defending our national interests.
(3PA: In January, President Obama acknowledged that the United States conducts drone strikes in Pakistan when he stated: "Obviously a lot of these strikes have been in the FATA [Federally Administered Tribal Areas of Pakistan] going after al-Qaeda suspects." It is disappointing that in his confirmation hearing to become the next U.S. ambassador to Pakistan, Richard Olson was unwilling to discuss the use of drones at all.)
---
U.S. Department of State, Country Reports on Terrorism 2011, July 31, 2012.
---
Government Accountability Office, "Changes in the Nuclear Weapons Targeting Process Since 1991," July 31, 2012.
The fundamental objectives of U.S. nuclear deterrence policy have remained largely consistent since 1991, even as the threat environment and the size of the nuclear weapons stockpile have changed. The current process for developing nuclear targeting and employment guidance has remained consistent. However, the structure of the nuclear war plan, and the categories and number of targets in the plan, have changed. DOD continues to exercise civilian oversight of the targeting process. The indirect relationship between the targeting process and DOD's determination of requirements for nuclear weapons and delivery systems also continues.
---
Greg Miller, "Anti-Leak Measure Targets Background Briefings," Washington Post, July 30, 2012.
An anti-leak measure approved by a key Senate committee would all but eliminate a long-standing practice in Washington in which senior intelligence analysts occasionally provide what are known as background briefings for reporters.
Sen. Dianne Feinstein (D-Calif.), the chairman of the Senate Intelligence Committee, said Monday that the provision represents an attempt to "try to bring some order" to what many lawmakers regard as a disturbing lack of discipline in handling the nation's secrets.
"What we're trying to do is just add responsibility to the chain of command within the government to try to be sure that information is not given out that is either compartmented or classified," Feinstein said in an interview.
Feinstein acknowledged that she knew of no evidence tying those leaks or others to background sessions, which generally deal broadly with analysts' interpretations of developments overseas and avoid discussions of the operations of the CIA or other spy services.
---
Jay Dickey and Mark Rosenberg, "We Won't Know the Cause of Gun Violence Until We Look for It," Washington Post, July 27, 2012.
From 1986 to 1996, the U.S. Centers for Disease Control and Prevention (CDC) sponsored high-quality, peer-reviewed research into the underlying causes of gun violence. People who kept guns in their homes did not — despite their hopes — gain protection, according to research published in the New England Journal of Medicine. Instead, residents in homes with a gun faced a 2.7-fold greater risk of homicide and a 4.8-fold greater risk of suicide. The National Rifle Association moved to suppress the dissemination of these results and to block funding of future government research into the causes of firearm injuries.
(3PA: Read the short study by the New England Journal of Medicine.)