You Might Have Missed: Ukraine, Rep. Mike Rogers, and Drones
Jeanne Whalen and Alan Cullison, "Ukraine Battles to Rebuild a Depleted Military," Wall Street Journal, March 25, 2014.
In recent weeks Mr. Yarema has turned to Washington and NATO for help, but with little luck so far. Ukraine's military lacks much of an air force, and if fighting breaks out he expects that Russia would be able to pound Ukrainian ground troops with impunity. In meetings with U.S. senators and Western diplomats, he says he asked for help establishing a no-fly zone over Ukraine's 15 nuclear reactors so that his troops could at least count on some zones of safety...
(3PA: When a foreign government or opposition group wants low-risk U.S. military involvement, the no-fly zone has become the default request. Revisit my piece in the Atlantic for more on this trend.)
---
"Concluding observations on the fourth report of the United States of America," UN Human Rights Committee, March 2014.
Targeted killings using unmanned aerial vehicles (drones)
The Committee is concerned about the State party's practice of targeted killings in extraterritorial counter-terrorism operations using unmanned aerial vehicles (UAV) also known as 'drones', the lack of transparency regarding the criteria for drone strikes, including the legal justification for specific attacks, and the lack of accountability for the loss of life resulting from such attacks. The Committee notes the State party's position that drone strikes are conducted in the course of its armed conflict with Al- Qaida, the Taliban, and associated forces and in accordance with its inherent right of national self-defense and are governed by international humanitarian law, as well as by the Presidential Policy Guidance that sets out standards for the use of lethal force outside areas of active hostilities. Nevertheless, the Committee remains concerned about the State party's very broad approach to the definition and the geographical scope of an armed conflict, including the end of hostilities, the unclear interpretation of what constitutes an "imminent threat" and who is a combatant or civilian taking a direct part in hostilities, the unclear position on the nexus that should exist between any particular use of lethal force and any specific theatre of hostilities, as well as the precautionary measures taken to avoid civilian casualties in practice (arts. 2, 6, and 14).
The State party should revisit its position regarding legal justifications for the use of deadly force through drone attacks. It should: (a) ensure that any use of armed drones complies fully with its obligations under article 6 of the Covenant, including in particular with respect to the principles of precaution, distinction and proportionality in the context of an armed conflict; (b) subject to operational security, disclose the criteria for drone strikes, including the legal basis for specific attacks, the process of target identification and the circumstances in which drones are used; (c) provide for independent supervision and oversight over the specific implementation of regulations governing the use of drone strikes; (d) in armed conflict situations, take all feasible measures to ensure the protection of civilians in specific drone attacks and to track  5 and assess civilian casualties, as well as all necessary precautionary measures in order to avoid such casualties; (e) conduct independent, impartial, prompt and effective investigations of allegations of violations of the right to life and bring to justice those responsible; (f) provide victims or their families with an effective remedy where there has been a violation, including adequate compensation, and establish accountability mechanisms for victims of allegedly unlawful drone attacks who are not compensated by their home governments...
---
"Death Sentences and Executions 2013," Amnesty International, 2014.
Executions were recorded in 22 countries during 2013, one more than in the previous year.
As in 2012, it could not be confirmed if judicial executions took place in Egypt or Syria. The overall number of reported executions worldwide was 778, an increase of almost 15% compared with 2012. As in previous years, this figure does not include the thousands of people executed in China; with the death penalty treated as a state secret the lack of reliable data does not allow Amnesty International to publish credible minimum figures for China...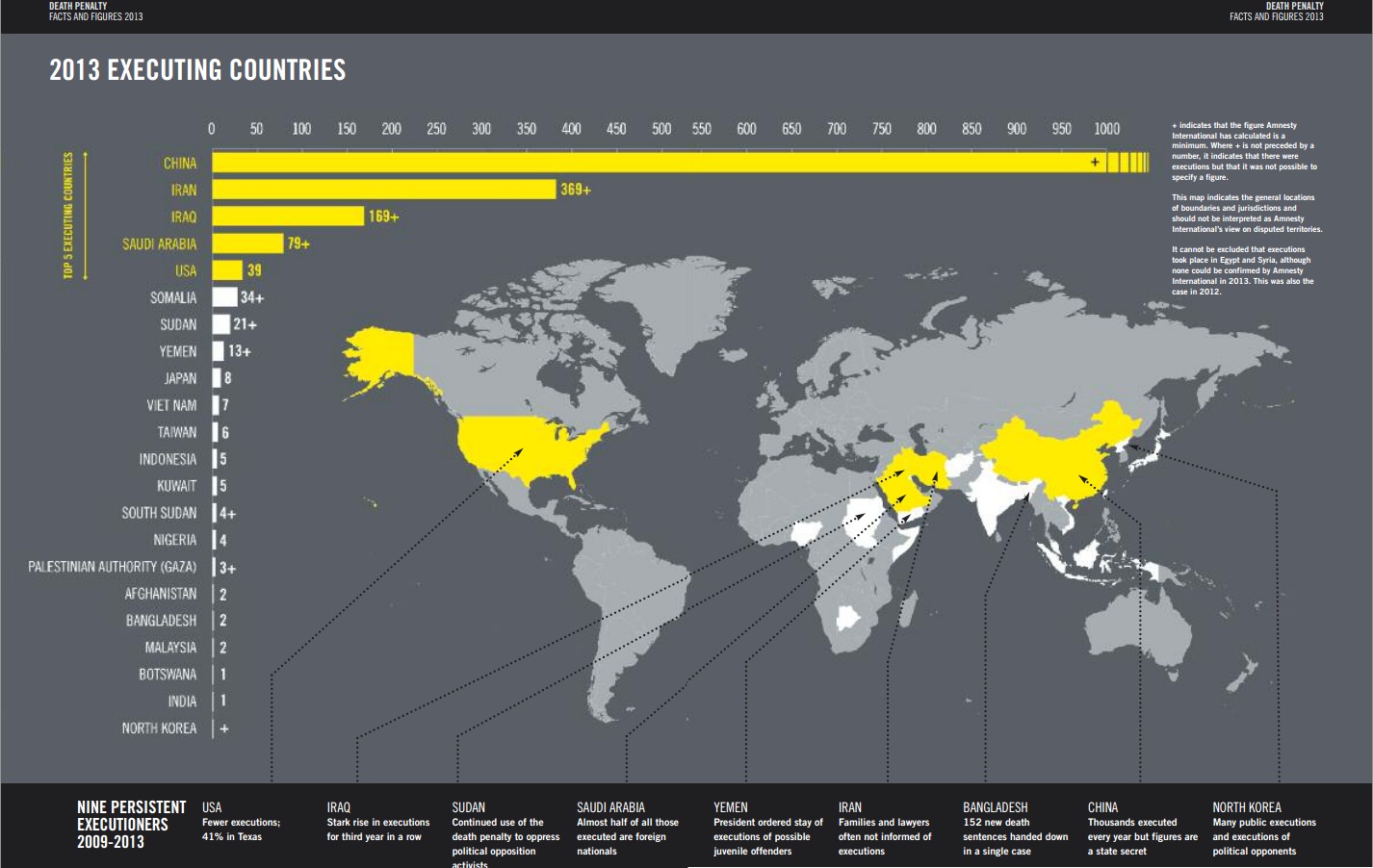 ---
Rep. Michael Rogers, "A Special Message from Rep. Rogers," March 27, 2014.
What other job on earth could take you from sitting in the CIA Director's office helping to plan the operation to kill Osama bin Laden one week, to traveling to the far reaches of the tribal areas of Pakistan where few Americans have ever been the next, to meeting with a protester in Ukraine who had his ear cut off standing up to Vladimir Putin's goons the next?...
(3PA: Why would the House Intelligence Committee Chair help to plan the operation that killed Bin Laden? And who oversaw his planning activities? A few more of Rogers' notable statements include:
"I think the Chinese got everything they needed they need out of Snowden. The Russians have now gotten everything they need out of Snowden. And the next I think — chapter in this book is somewhere in the Latin America one of these countries who is antagonistic to the United States, who is an adversary to the United States, using this as a public relations tool." (CNN, July 7, 2013)
"We did this in the 1930s. We turned it off–1929 the Secretary of State, at that time, where we were collecting information to protect America said you know we should do this. This is unseemly. Turned it off. So that led to a whole bunch of misunderstandings that led to World War II that killed millions and millions of people." (CBS, November 3, 2013)
"Everybody agrees that Iran is pursuing a nuclear weapons program." (Business Week, March 17, 2013)
"China is a rational actor…Iran is not a rational actor." (New York Times, March 3, 2013).)