Zimbabwe Update: #ThisFlag and War Veterans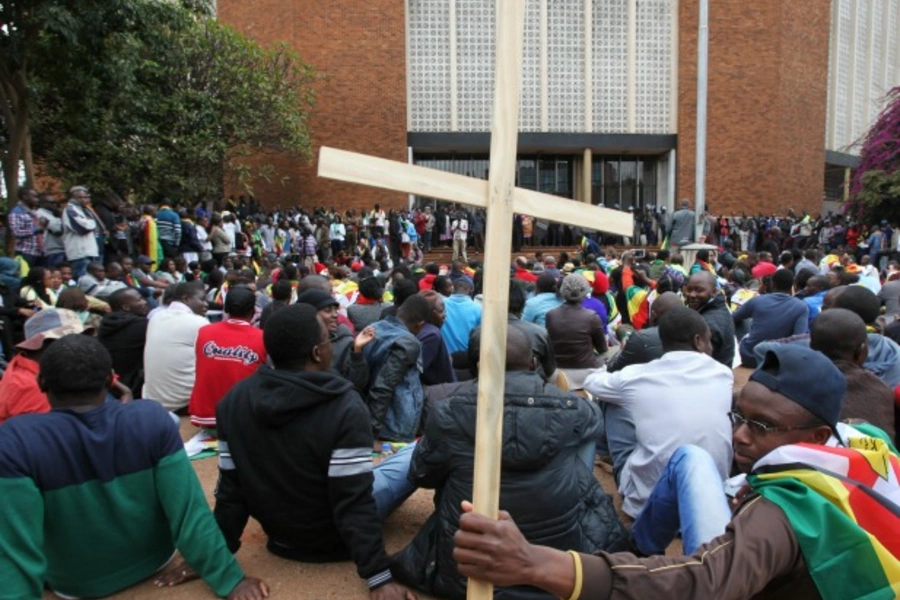 The Mugabe regime appears to be continuing to unravel. After the regime arrested Evan Mawarire, a Christian pastor who has emerged as a leader of the protest movement #ThisFlag, judges in an unusual show of independence, ordered his release. Mawarire has now gone to South Africa, but denies he is seeking asylum, according to media. The media also reports that President Robert Mugabe has now referred to Mawarire by name, accusing him of organizing "violent" protests: "So beware these men of cloth, not all of them are true preachers of the Bible. I don't know whether they are serving God. They spell God in reverse." The Mugabe regime is also accusing "Western embassies" of supporting the #ThisFlag movement, especially the American and French ambassadors. Protests organized by #ThisFlag have been non-violent. However, there has been violence associated with the official security services.
For its part #ThisFlag makes no reference to "regime change" in its social media postings, thereby depriving Mugabe of an excuse for a crackdown. Instead, it says it is mobilizing citizens to hold the government accountable for the "poverty, corruption, and injustice."
Reuters is reporting that the Zimbabwe National Liberation War Veterans Association has issued a public statement that Mugabe's "leadership has presided over unbridled corruption and downright mismanagement of the economy." The war veterans also said they would no longer Support Mugabe's political campaigns. In the past, Mugabe used the war veterans as thugs against his enemies.
Meanwhile, the media is reporting that civil servants are concerned that they will again be paid late, as Zimbabwe has delayed paying its soldiers for the second month in a row. According to the media, soldiers were paid two weeks late last month. The media is reporting that the military will be paid the last week in July, while school teachers will be paid in August.
When a regime is unraveling, it is dangerous not to pay soldiers which it relies on for protection.