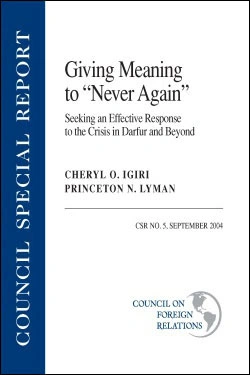 Giving Meaning to 'Never Again'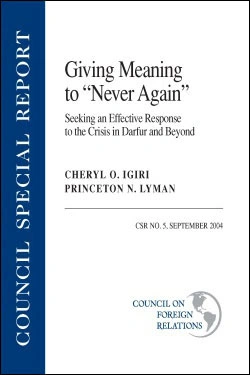 Council Special Report

Concise policy briefs that provide timely responses to developing crises or contributions to current policy dilemmas.
Overview
Ten years after the Rwandan genocide, the tragically slow global response to the unrest in Sudan's Darfur region shows that the international community still lacks the capacity to deal effectively with humanitarian crises.
Looking at Darfur in the context of lessons learned from Rwanda, the report recommends ways to end the Darfur crisis and avoid future ones. In the short term, peacekeepers can be deployed to protect camps, as the African Union is offering to do in the Darfur context. The United Nations will have to assume responsibility for the costs of such deployments. Proposals for a large U.N. peacekeeping force to disarm the militia and pacify the region are unrealistic and could lead to further turmoil. Simultaneously, "every effort must be made to re-engage the parties in political negotiations. It may be necessary to broaden the discussions, to include representatives of other regions in Sudan and a broader set of political parties, because the issues are so fundamental to the future of the Sudanese state itself."
In the long term, and to avoid new Darfurs, the report urges the creation of "a new entity that can assemble the relevant reports of an impending crisis--from governments, NGOs [nongovernmental organizations], and international agencies--and . . . bring [its findings] to the attention of the international community as a credible and virtually unassailable report." That entity, as independent as the U.N. inspector-general, might also be authorized to convene the parties to the Convention on the Prevention and Punishment of Genocide to deal with an emerging crisis and take early, preventive action on the basis of the information assembled.