Biden's Tricky UN Message to a Troubled World
Biden faces a dual challenge at the UN General Assembly. He must convince the world that the U.S. is committed to multilateralism while persuading the American public that the UN can be an indispensable institution.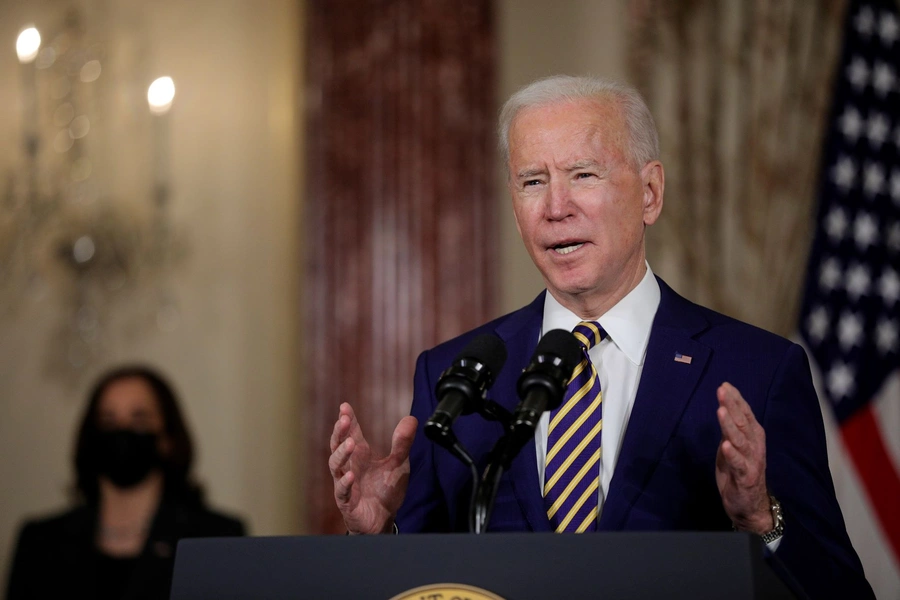 When U.S. President Joe Biden takes the podium on Tuesday for the opening of the UN General Assembly, the contrast with his predecessor will be stark. Unlike Donald Trump, a diehard sovereigntist committed to pursuing an independent, nationalist path in world affairs, Biden is an instinctive internationalist, dedicated to promoting multilateral institutions and the international rule of law. The vast majority of UN member states as well as most Americans will welcome this new tone and direction.
Beyond these atmospherics, however, the president faces a tricky, dual challenge. He must convince his global audience that America's commitment to multilateralism will endure, while persuading his domestic audience that the United Nations is up to the task of addressing an unprecedented confluence of global crises, including the COVID-19 pandemic, climate change, the global retreat of democracy, and the fallout from the U.S. withdrawal from Afghanistan.
For the second straight year, world leaders are assembling—some in person, most virtually—in the midst of a global pandemic that has exposed the limits of global solidarity. Inequitable access to vaccines is a glaring case in point. To date, 80 percent of doses have been administered in high and upper-middle-income countries, while fewer than 2 percent of people in low-income countries have received at least one shot. Such selfishness is not only unjust but self-defeating, facilitating the evolution of new variants of the virus that prolong the pandemic and delay global recovery.
In a welcome if belated assertion of U.S. global leadership, Biden plans to convene a virtual summit on September 22, where he will press global leaders to endorse the goal of vaccinating 70 percent of the population "in all country income categories" over the next twelve months. The president will also seek international approval for a new leaders-level Global Health Threats Council, mirroring a recommendation from the Independent Panel for Pandemic Preparedness and Response.
Biden's second task is to persuade the world to make swifter, deeper cuts in greenhouse gas emissions, on the heels of the latest ominous assessment report from the Intergovernmental Panel on Climate Change and in advance of November's pivotal climate change conference in Glasgow. The president, echoing UN Secretary-General Antonio Guterres, calls the accelerating pace of climate change a "code red" for the planet. Expect Biden's speech to tout his administration's pledges to reduce U.S. emissions 50 percent from 2005 levels by 2030 and achieve net-zero by 2050, in part by transforming the U.S. electricity grid and accelerating the transition to electric vehicles. His challenge, as so often in world politics, will be to convince foreign governments that these national commitments are credible, particularly given the uncertain legislative fates of the administration's $1 trillion infrastructure and $3.5 trillion budget reconciliation bills central to this low-carbon agenda.
The third main theme of Biden's address, according to U.S. officials, will be a defense of universal human rights and freedoms against authoritarian powers abroad and antidemocratic forces at home. The president will announce the U.S. intention to run for a seat on the UN Human Rights Council in October, in the hopes of making that flawed body as useful as possible, and to host a Summit for Democracy at the end of the year. The president will presumably adopt a pose of humility, acknowledging that American democracy remains a work in progress and that the United States still struggles, after two and a half centuries, to forge a more perfect union.
As he has in the past, the president will likely frame the global contest between democracy and autocracy as the defining clash of our age, calling out China and Russia for their brazen efforts to undermine freedom and open societies around the world. The quandary for his speechwriters will be to balance this vigorous defense of universal principles with the practical need to work with those same authoritarian powers on pandemics, climate change, nuclear proliferation, and the other shared problems of interdependence. Beijing's apparent determination to condition climate change cooperation with the United States on a more pliable U.S. stance on sensitive political and geopolitical matters only sharpens this dilemma.
Beyond these health, environmental, and political themes, the president's speech cannot avoid the topic of Afghanistan and the role of the United Nations there following the Taliban's victory. The Biden administration's overriding strategic concern is to prevent Afghanistan from once again exporting terrorism, but Washington's diplomatic leverage is obviously limited following the chaotic withdrawal of U.S. military forces and civilian personnel. President Biden will presumably argue that the impending collapse of the Afghan economy and the near certainty of continued Afghan political instability make a sustained UN involvement in that country imperative. Indeed, the United Nations is already proving its worth: Last week, a UN-sponsored conference in Geneva mobilized $1 billion in pledges to meet immediate humanitarian needs in the country, where half of the population requires emergency assistance and one million children are at risk of starvation. On Friday, September 17, the UN Security Council voted to renew the mandate of the UN assistance mission, which will be critical to monitoring the Taliban's respect for and violations of human rights.
Biden's more daunting challenge will be to persuade regional powers—including America's frenemy Pakistan, partner India, adversary Iran, and geopolitical rivals China and Russia—that they have a common interest in a stable Afghanistan that does not threaten international security. The president should use his General Assembly address to make that case.
After four long years under Donald Trump, Joe Biden's victory in the November 2020 presidential election heartened American internationalists, offering evidence that the United States had recovered its sanity. Linda Thomas-Greenfield, now U.S. ambassador to the United Nations, jubilantly declared: "America is back. Multilateralism is back. Diplomacy is back."
Foreigners have earned a right to be skeptical, however, given the abrupt oscillations in U.S. foreign policy since 2016. Trump's continued stranglehold over the Republican Party suggests that official U.S. attitudes towards multilateral cooperation—and the United Nations—could turn on a dime again depending on the outcome of the 2024 presidential election. Despite Biden's assurances, even friends of the United States may want to hedge their bets.
Over the long term, the U.S. commitment to multilateralism will depend on whether the Biden administration (and its successors) can persuade U.S. citizens that international cooperation is the best way to advance their concrete interests in a complex and dangerous world. In proclaiming a "foreign policy for the middle class," Biden has cleverly reframed the foundations of U.S. internationalism, depicting it as a prerequisite for realizing U.S. objectives. He has repudiated Trump's "America First" bombast, while still promising to put Americans first.
Trump's great error was in abandoning the United Nations, rather than remaining engaged so that it could defend U.S. interests there. Biden is determined to avoid this mistake, having apparently taken to heart the Woody Allen doctrine that eighty percent of success in life is "showing up." As Thomas-Greenfield testified to the House Committee on Foreign Affairs in June, "The Biden-Harris administration believes that when America shows up—when we are consistent and persistent—when we influence in accordance with our values—the United Nations can be an indispensable institution for advancing peace, security, and our collective well-being." The coming months and years will reveal whether these convictions are warranted.