In an ever-changing world, CFR's work as a nonpartisan resource for information and ideas is more important than ever. At CFR, you will do work that matters with smart and dedicated colleagues in a diverse and inclusive environment. We offer opportunities for people at all levels of their careers, from recent graduates interested in pursuing a career in foreign policy, to experienced professionals in areas such as digital or global communications. We also offer paid internships for college and graduate students.
Opportunities
We have opportunities ranging from research and program support, to editing, to digital and technology.
CFR offers incredible paid learning opportunities for college and graduate students who are interested in international relations; as well as those interested in a range of areas such as editorial, digital, and communications. Internships are offered on a hybrid basis as well as fully remote and allow student to gain valuable experience through exposure to leading foreign policy experts.
The Fellowship Program offers unique opportunities for qualified professionals with a demonstrated interest in foreign policy to spend up to a year at CFR, in an academic setting, or at a U.S. government agency or international institution. Eligibility criteria for individual fellowships vary, and some are by nomination or invitation only. Please click each fellowship for more information.
CFR Culture
CFR is a collaborative, diverse, and inclusive workplace. We value enthusiasm, ideas, and drive. Committed to a healthy work/life balance, many positions allow for hybrid work. CFR also offers a wide variety of staff events ranging from lunches with policy experts, professional development opportunities, summer Fridays, and events through our award-winning health and wellness initiative.
Diversity, Equity, and Inclusion at CFR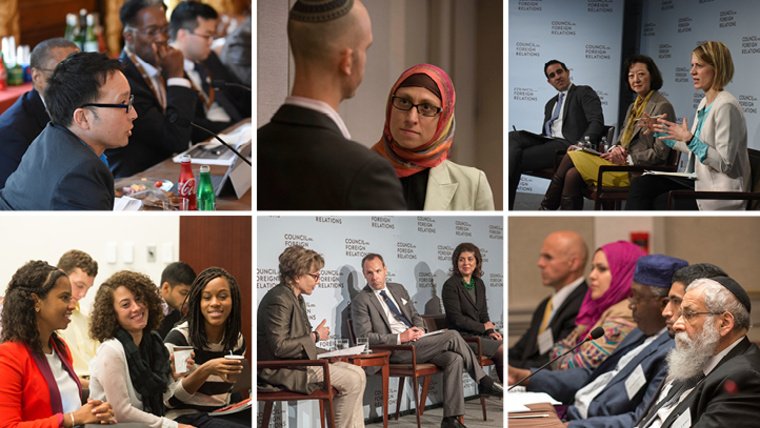 CFR is committed to fostering a foreign policy community in the United States that is more representative of American society as a whole. CFR advances this goal throughout its work and workplace by building a diverse membership and staff, as well as through outreach activities to various academic and religious institutions, hosting events on relevant topics, and collaborating with other organizations working toward the same mission.
Benefits
CFR offers a comprehensive benefit package that is among the best offered by nonprofits today. It includes an award-winning health and wellness program, comprehensive medical, dental, and vision benefits, generous time-off, onsite skills-based training, and tuition reimbursement assistance.
Medical, Dental, and Vision
Comprehensive medical, dental, and vision plans for eligible employees and their dependents
Health and Wellness
Award-winning program includes annual day off for preventive care, onsite gym, and a health fair
Paid Leave Benefits
Generous vacation, sick, and family leave, as well as a "summer Friday" schedule
Retirement Plan
Retirement plan options, including an 8% employer contribution
Professional Development
Tuition reimbursement benefit for classes and foreign language instruction
Pre-Tax Benefits
Flexible spending account for medical and dependent care, and pre-tax transit and parking program
Life and Disability Plans
Generous life and disability insurance coverage
Voluntary Insurance Options
For some, pets are also members of the family! Discounted pet insurance program
Employee Events
On-site and hybrid foreign policy brown bag lunches, employee resource group discussions, and more