Women this Week: First Woman Leader of the WTO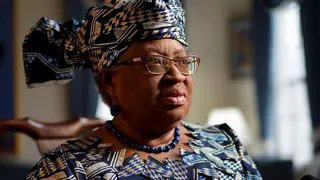 Welcome to "Women Around the World: This Week," a series that highlights noteworthy news related to women and U.S. foreign policy. This week's post covers February 12 to February 19.
February 19, 2021 6:52 pm (EST)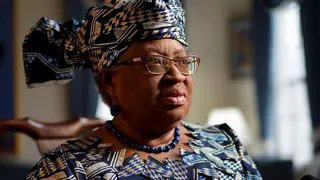 Article

Current political and economic issues succinctly explained.
This week's post was compiled by Elena Ortiz, intern with the Women and Foreign Policy program at the Council on Foreign Relations. 
Nigeria's Okonjo-Iweala Becomes First Woman and African to Lead the World Trade Organization (WTO)
On Monday, Nigeria's Ngozi Okonjo-Iweala was confirmed as the new director-general of the WTO, becoming the first woman and African to hold the position. Months after the Trump administration rejected her candidacy, the WTO's 164 members unanimously selected her to lead the organization. Okonjo-Iweala's long career in development economics includes her service as finance minister of Nigeria and managing director of the World Bank. At the top of her WTO policy agenda is addressing the COVID-19 pandemic by promoting a more equitable distribution of vaccine resources worldwide. The Biden administration expressed enthusiasm for Okonjo-Iweala's appointment, stating that the WTO can count on the United States as a "constructive partner."
Saudi Arabia Releases Women's Rights Defender Loujain al-Hathloul
After spending over one thousand days in prison for alleged espionage, terrorism, and conspiracy against the Saudi government for promoting women's rights, Loujain al-Hathloul was finally released earlier this week. Alongside other women activists in Saudi Arabia, al-Hathloul fought for women's freedom, including the right to drive and an end to the country's system of male guardianship. While her release puts an end to the alleged torture and sexual assault she was subjected to in prison, al-Hathloul is still banned from traveling and engaging in any form of activism. The U.S. government has condemned Saudi Arabia's suppression of women's rights and detention of activists. President Biden's National Security Advisor Jake Sullivan and representatives from the State Department  praised her release and called on the Saudi government to respect the rights of women and all people in the country.
​Nepal Proposes to Restrict Women's Ability to Travel. 
Nepal's Department of Immigration has proposed a new policy that would require women under the age of forty to obtain written permission from a family member and local government officials to travel internationally, under the guise of protecting women from human trafficking. The proposed restraints on women's mobility and agency triggered mass protests in Kathmandu, with demonstrators calling the proposal unconstitutional. In the past, the Nepali government banned women under thirty from working in Gulf states and prohibited citizens from engaging in domestic work abroad, an occupation that is disproportionately female. The new proposal has been sent to Nepal's Ministry of Home Affairs and awaits approval.