Assessing Fifteen Years of the Women, Peace, and Security Agenda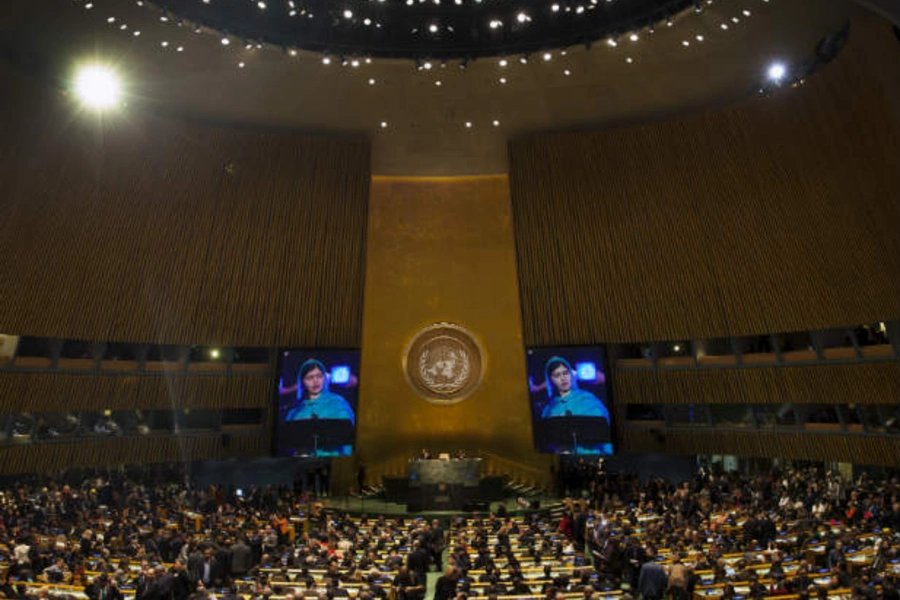 Voices from the Field features contributions from scholars and practitioners highlighting new research, thinking, and approaches to the advancement of women and U.S. foreign policy interests. This article is from Melissa Guinan, a 2014-15 Fulbright scholar researching women, peace, and security. Guinan is now special assistant to the president of the Council on Foreign Relations.
In October 2000, the UN Security Council passed Resolution 1325 on women, peace, and security, which sought to promote women's participation in all aspects of conflict prevention, peacebuilding, and post-conflict reconstruction. In October of this year, government officials and civil society representatives came together at the United Nations to mark the fifteenth anniversary of the resolution with a packed slate of events, including the release of a Global Study, numerous civil society and academic events, and an open debate on October 13, 2015 that included the passing of a new resolution on women, peace, and security (WPS).
Resolution 2242, passed unanimously, reaffirmed many of the goals that resolution 1325 laid out fifteen years earlier---promoting women's participation in formal international peace and security processes, respecting human rights and humanitarian law, supporting local women's groups, and incorporating a gender perspective into peacekeeping operations—and it proposed new areas of work.
In the past, activists have harshly criticized deficient levels of funding and minimal consultation with civil society as symptomatic of actors' lack of commitment to the WPS agenda. Resolution 2242 promotes two important new tools in these funding and consultation areas. One new tool is the Global Acceleration Instrument, developed under the initiative of civil society organizations and announced in the open debate by UN Women Executive Director Phumzile Mlambo-Ngcuka. The resolution recognized the instrument as an "avenue to attract resources, coordinate responses and accelerate implementation." The Global Acceleration Instrument will direct funding to women's organizations working on WPS and has received initial pledges from member states.
Resolution 2242 advances a second tool: a new ability for the Security Council to convene meetings of relevant experts as part of an Informal Experts Group on Women, Peace, and Security, a measure recommended in the Global Study. Chloé White of the Georgetown Institute for Women, Peace, and Security argues that the Informal Experts Group "will be an integral part of ensuring" that the incorporation of WPS concerns across all country-specific issues on the Security Council's agenda "is meaningful and effective."
Despite the seemingly clear progression of the policy agenda from UNSCR 1325 to UNSCR 2242, the latter is not the second resolution on WPS—it is the eighth. Between 2008 and 2013, the Security Council passed six other resolutions, often called "follow-on resolutions." Four of these address sexual violence in conflict, a sub-theme of the WPS policy area that has received the most sustained high-level attention, if unfortunately not transformative funding, commitment, or action. The other two, plus Resolution 2242, focus on furthering the broader goals originally stated in resolution 1325. The resolutions build on each other, ostensibly pushing the agenda forward, hypothetically requiring indicators and reports, and amplifying the parallel development in many countries of national action plans to implement resolution 1325.
Diplomatic actions like these resolutions can refocus high-level debate, provide political momentum, and attract media attention. Just as the development of a national action plan can catalyze a process of internal review and commitment to the WPS agenda on the national level, the negotiation process that leads to a resolution can offer an important stocktaking of the progress on WPS. Security Council resolutions, importantly, can provide backing and legitimacy to activists on the ground and can set international norms, but they still are not an end in themselves.
Women remain underrepresented in peace processes and in politics, and with each successive resolution on WPS, the concern over slow progress becomes more obvious. Furthermore, member states disagree on the priorities within the agenda, as evidenced in the open debate statements immediately following the passage of the latest resolution. Divides between the global north and global south on how to approach WPS create challenges in an under-resourced policy area. For example, as the Global Study suggests, states in the European Union focus heavily on representation of women in the security sector and prevention of sexual violence in external conflicts, while countries in the global south prioritize economic empowerment and local and community-level needs. So while new resolutions and concrete policy innovations like the Global Acceleration Instrument and the Informal Experts Group are welcome additions to the stockpile of tools to address WPS issues, member state governments should back their verbal commitments with concrete actions — or eight more resolutions will pass and remain only words.