Bombings in Myanmar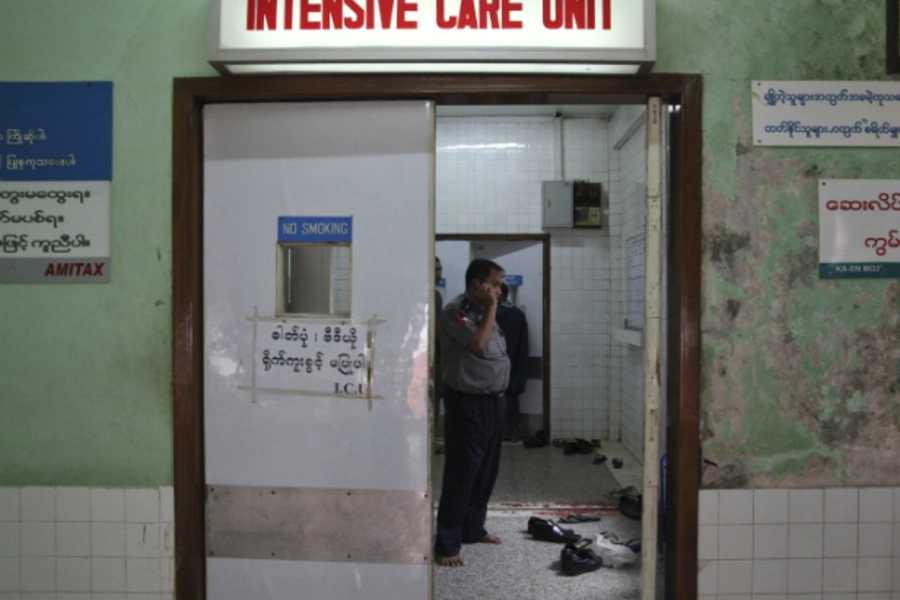 Over the past week, a string of unexplained bombings across Myanmar has received considerable media attention, featured prominently in the New York Times, the Guardian, and many Western news wires. In part, this coverage came because one of the devices apparently exploded at the Traders Hotel, a high-end business hotel in the center of Yangon where many Westerners (including myself) often stay, since even during the years of military rule, the Traders always had reliable electricity and comforts. One American apparently was injured in the Traders bombing, and there were bomb blasts, which appeared to be from crude homemade bombs, at many other sites around Yangon. There also this week were several similar explosions in Mandalay. Today, more bombs exploded in northeastern Myanmar, killing at least one person, according to Global Post.
Many Yangon residents almost immediately blamed the bombings on Myanmar radical Muslim groups, acting in response for two years of attacks by Buddhists on Muslims in western Myanmar and, increasingly, in Yangon and other cities in central Myanmar.  (No one has claimed responsibility for the bombings, as of yet.) It is possible that extremist Muslim groups are behind these bombings. One of the most vocal and notorious anti-Muslim Buddhist monks, Wirathu, escaped a bombing this summer that was likely intended for him. The Myanmar security forces have said that the bombings are the work of a terrorist group targeting tourist sites, although some of the places where bombs have exploded are hardly common places for visitors.
But I'm not sure I buy this prevailing theory. Since 2012, few Myanmar Muslims have retaliated for what has already been nearly two years of violent attacks, which have displaced over 100,000 people and destroyed Muslim sections of many towns across Myanmar. Many Myanmar Muslims also still see outside actors, including the UN, Persian Gulf states, and the United States as possible saviors, even though evidence suggests none of these actors are likely to do much to stop Myanmar's inter-religious violence. Still, this perception remains, making it less likely that Muslim groups would be attacking the Traders Hotel.  The attacks also seem designed simply to stir up trouble and cause panic, without even specifically targeting Buddhist nationalist groups.  In addition, these current attacks bear many similarities to small bombs that often went off across Myanmar before the end of military rule three years ago. Those bombings usually were the result of splits in the military, tensions between the army and ethnic militias, or attempts by the military to foster havoc to create a reason for its existence. My bet is that this new wave of bombs has more to do with the security forces than with Muslim extremist groups.