Campaign 2016 Weekly Foreign Policy Roundup: Bernie Sanders Raises Questions About His Grasp of Foreign Policy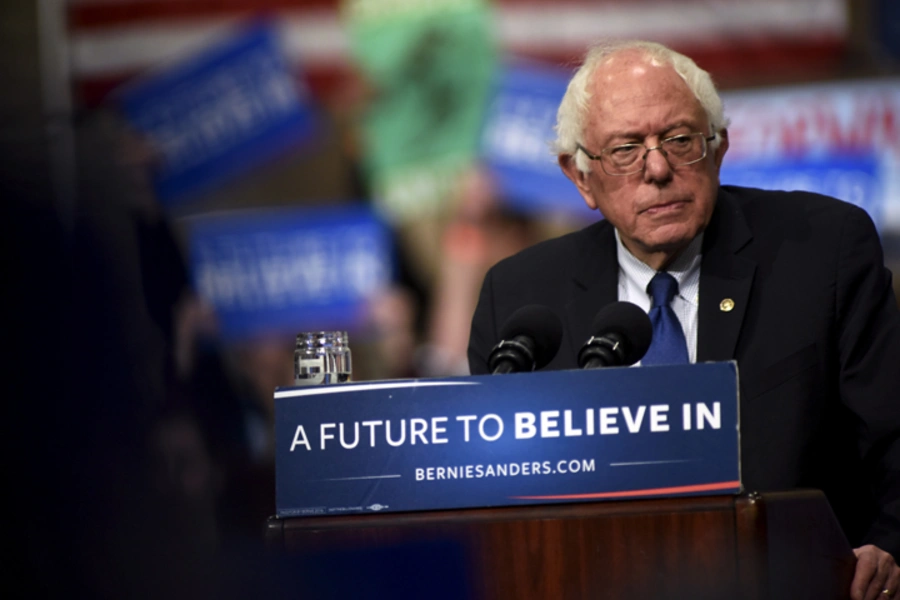 Last week it was Donald Trump. This week it is Bernie Sanders who has people questioning his command of foreign policy issues.
Speaking with the editorial board of the New York Daily News, the Vermont senator struggled with specifics. When asked what Israel needed to do to satisfy his call for a pullback in Israeli settlements, Sanders answered:
Well, again, you're asking me a very fair question, and if I had some paper in front of me, I would give you a better answer.
When asked how Israel should have handled its 2014 clash with Hamas given that he has argued that the Israeli military responded disproportionately, he said:
You're asking me now to make not only decisions for the Israeli government but for the Israeli military, and I don't quite think I'm qualified to make decisions.
Sanders also couldn't explain why he opposed the Palestine Authority's bid to turn to the International Criminal Court, insisted that more than 10,000 civilians died in fighting in Gaza in 2014 when the actual number was between 2,100 and 2,300, and said "I haven't thought about it a whole lot" about what he would do if the United States captured a high-level ISIS commander.
Not surprisingly, Hillary Clinton jumped on Sanders's remarks, which included similarly vague statements about how he would rein in Wall Street, saying that "I think the interview raised a lot of really serious questions." Clinton wasn't alone. The Atlantic, the Washington Post, and Yahoo were just a few of the outlets running pieces questioning Sanders's grasp of foreign policy.
Perhaps Sanders just had a bad day, though the thinness of his previous foreign policy comments suggests otherwise. Either way, he can expect to be asked to demonstrate his command of foreign policy when he squares off against Clinton in Brooklyn in two weeks in what will likely be their final campaign debate.
In Case You Missed It
Sanders linked the "Panama Papers" scandal to Clinton's support for the U.S. free-trade agreement with Panama. John Kasich announced General Michael Hayden had joined his National Security Advisory Group.
Donald Trump discussed his view of the country, including his beefs with America's free-trade agreements, with the Washington Post's Bob Woodward and Robert Costa. Trump also defended his claim that Japan and South Korea should have their own nuclear weapons and issued a two-page memo explaining how he would force Mexico to pay for a wall along the U.S.-Mexico border. Trump's campaign announced that he will begin giving policy speeches on the campaign trail.
The New Yorker's John Cassidy wrote that "Trump doesn't do details" regarding "his foreign policy [or] his trade policy." Cassidy's fellow New Yorker staffer, Steve Coll, complained that "Trumpism is a posture, not a coherent platform." Former Secretary of Homeland Security Tom Ridge argued that Ted Cruz's and Donald Trump's "clueless Muslim rhetoric" will cost America its "constitutionally protected value system." The Atlantic Council's Robert Manning contended that Trump has a "Sopranos" worldview and is trying to shake our allies down for protection. The Washington Post reported that Mexico is beginning to stand up to Trump. Danny Vinik of Politico worried that the wall Trump wants to build on the Mexican border could actually increase crime in the United States. Political science research suggests that Trump has it wrong in thinking that nuclear proliferation is inevitable and will leave the United States better off.
Looking Ahead
Wyoming Democrats caucus tomorrow. Eighteen delegates are at stake. Tomorrow will also see Colorado Republicans hold their state convention to allocate their 37 delegates. The next nominating event after that is a big one—the New York primary on April 19th. The Empire State's voters will select 95 Republican and 291 Democratic delegates.
The Republican National Convention opens in another 101 days at the Quicken Loans Arena in Cleveland on July 18. The Democratic National Convention starts seven days later at the Wells Fargo Center in Philadelphia on July 25. Here are where things stand with the delegate count: (The Democratic count includes super delegates, elected Democratic officials and members of the Democratic National Committee who can vote for the nominee but who aren't selected by voters or bound by what they want).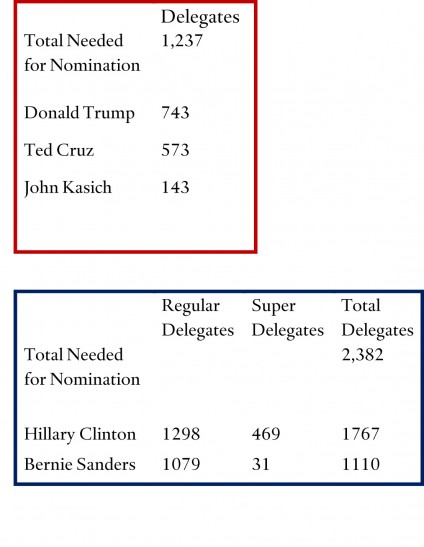 Election Day is 214 days away.
This post was prepared with the assistance of Brett Ekberg and Olivia Bethea.