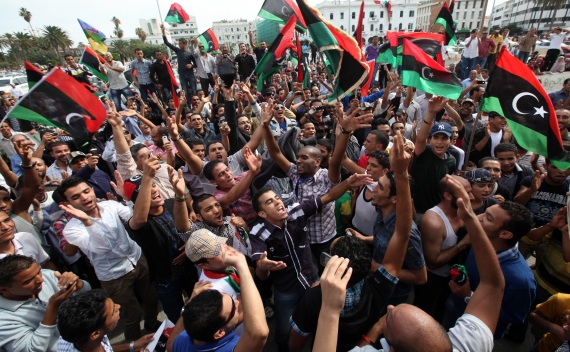 On the second evening of the NATO-led intervention into Libya, British cruise missiles were launched, striking Muammar Qaddafi's Bab al-Azizia compound in Tripoli. Although the stated military objective of the attack was to disrupt the "command and control" of loyalist forces, the intention was to kill Qaddafi in an attempt to quickly resolve the civil war. The day prior, British defense minister Liam Fox was asked if Qaddafi was a "legitimate target," to which he responded vaguely that attacking the Libyan leader would "potentially be a possibility."
Over the course of the conflict, allied cruise missiles and aircraft unsuccessfully attempted to kill Qaddafi dozens of times. Earlier today, however, in the violent, culminating moment of the protracted civil war, he was finally struck down in the loyalist holdout of Sirte. According to French Defense Minister Gérard Longuet, Qaddafi was killed in a convoy of vehicles attempting to flee Sirte after the city was overtaken by rebel forces. A U.S. Predator drone allegedly fired on the convoy, after which rebel fighters on the ground captured the vehicle carrying Qaddafi. (Even in the face of overwhelming evidence to the contrary, a NATO spokesperson stated: "It is important to stress that Nato does not target individuals.") A video reportedly taken from Sirte shows what appears to be a wounded Qaddafi under the control of armed men, which suggests that he was captured alive and summarily executed.
If nothing else, Qaddafi's death—presumably by the unidentified armed men—reconfirms the difficulty of killing leaders with stand-off airpower. The United States tried to kill Osama Bin Laden in August 1998 with cruise missiles; he died by a bullet to the head in May 2011. The United States fired cruise missiles into the bedroom of Serbian President Slobodan Milosevic's personal residence in Belgrade in April 1999; he died in a jail cell seven years later from a heart attack. On March 19, 2003, American F-117s dropped four 2,000-pound bombs on the Dora Farms complex where Saddam Hussein was believed to be hiding; he died by a noose in December 2006.
The death of the world's longest serving dictator could serve as a turning point for the establishment of a unified political order in Libya by unequivocally ending the uncertainty that Qaddafi could ever return to power. For the many victims of his brutal reign in Libya and acts of international terrorism, perhaps his death will provide a sense of justice and retribution.
For the United States and NATO, they have finally achieved the intended, if unidentified strategic objective from the outset of the intervention: Qaddafi's death.