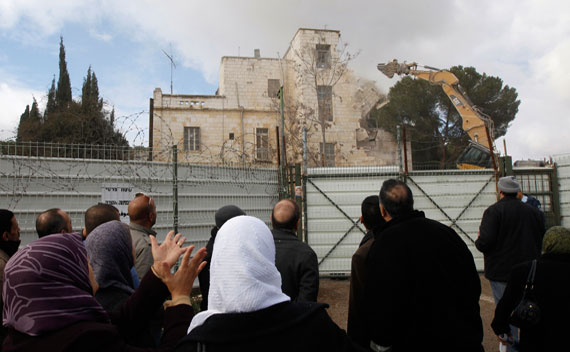 Guest post today.  My colleague, Robert Danin, offers his take on the Shepherd Hotel situation.   For those of you who don't know Robert, you should.  He is one of the world's leading experts on all things Arab-Israeli.  Enjoy.
The Shepherd Hotel, partially bulldozed yesterday by private Israeli builders, is located just a few hundred yards from what had been my Jerusalem office until a few   months ago.  For the past several years, while I was based there working for the Quartet, I would pass the fenced off property daily thinking that the slightly dilapidated structure, built in the 1930s, must have once been elegant and grand.  It has been fenced off and unused while its fate was being fought out in the Israeli judicial system.
This is not just any building.  It is of highly charged significance.  To many Palestinians, it is property belonging to the Husseini family, one of the oldest families from Jerusalem's Palestinian nobility.  It had been built for the then Grand Mufti, Haj Amin al Husseini, a religious leader who had then openly aligned himself with Hitler during World War II.  For some Israelis, that association makes the hotel a just target today.
I regularly spoke to Israeli and Palestinian lawyers involved in the case, and spoke to several of them today.  They explained that even as the bulldozers moved yesterday, a final determination over ownership had not yet been made by the Israeli judiciary.   So once the building began to be destroyed, the Israeli courts issued a temporary injunction against further moves on the ground.  Its fate now rests there.
The fundamental question is not whether this is legal (I leave that to the lawyers, though I note that the Attorney General could intervene and hold this up if directed by the government), but whether it is smart policy for Jerusalem.
In the face of immediate international condemnation—including a statement by Secretary of State Clinton—Prime Minister Netanyahu's office put out a statement today.  It stated that the Israeli government was not involved in the issue and that "just as Arab residents of Jerusalem can buy or rent property in predominantly Jewish neighborhoods in Jerusalem, Jews can buy or rent property in predominantly Arab neighborhoods in Jerusalem."
The Israeli government should become involved.  Will having Israelis and Palestinians integrate on both sides of Jerusalem help lead  to a two state solution?  Increasingly, East Jerusalemites are seeking housing in the city's Jewish west side for lack of housing opportunities in the east.  Meanwhile, in the case of the Shepherd Hotel, Israelis will wind up living in the heart of a largely Palestinian neighborhood.  They will not likely be greeted with cakes and cookies when they move in, nor are they likely to advance the cause of good neighborliness.  Meanwhile, Jerusalem's mayor, Nir Barakat, has encouraged Israelis and Palestinians not to live intermingled throughout the city by supporting the development of separate neighborhoods for secular Israelis and ultra-Orthodox Jews.
If you believe that Israelis and Palestinians should integrate and have Jerusalem and indeed all the land between the Jordan River and the Mediterranean serve as one  polity, then perhaps this is all fine.  However, if you follow the logic, first articulated by the Peel Commission in 1937, reiterated by the UN in 1947 as the basis for Israel's (and Palestine's) creation, and most recently articulated by Presidents Bush and Obama: that the land should be partitioned into two states, then these developments can hardly be seen as steps in the right direction.