This is a guest post by Ashlyn Anderson, research associate for India, Pakistan, and South Asia at the Council on Foreign Relations.
India recently hosted a milestone summit attended by delegations from all fifty-four African countries. Confronting similar development challenges, India and the nations of Africa charted plans to deepen ties and unite to address shared global concerns. India is one of many countries keen to participate in Africa's rise, and the third India-Africa Forum Summit signaled an alignment of interests and the potential for a closer relationship.
Following the summit, the group released the Delhi Declaration 2015 along with the India-Africa Framework for Strategic Cooperation that outline their shared vision. The countries cited a common priority of inclusive economic growth, and strategies to address such development challenges as climate change, gender inequality, poverty alleviation, and terrorism.
India and Africa share a long history most recently derived from their colonial experiences. India's Jawaharlal Nehru, Egypt's Gamal Abdel Nasser, Ghana's Kwame Nkrumah, and the leaders of Indonesia and Yugoslavia founded the Non-Aligned Movement in 1960 based on the principles laid out at the Bandung Asian-African Conference in 1955. Since the end of the Cold War, in an era of increased globalization, the group has turned toward the issue of inequality in the international economic order. But the heyday of the movement has largely passed, and the convening of the first India-Africa Forum Summit in 2008 demonstrated the desire to take India's relationship with the African continent forward using a different venue.
Along with political ties, India and the African continent share many social links. A 2010 report from the Indian Ministry of Overseas Indian Affairs reported the Indian diaspora in Africa surpassing two million in 2001 with the largest concentrations in South Africa (1,000,000), Mauritius (715,756), and Kenya (102,500). Africans increasingly migrate to India for employment and education. India offered 50,000 additional scholarships at the 2015 summit to encourage Africans to study in India.
India-Africa trade currently stands at nearly $72 billion, twice as much as five years ago but still small in comparison to the value of the China-Africa trade, over $200 billion. However, the resurgence of India's economy and Prime Minister Modi's diplomatic activism has positioned India as a rising economic power capable of rivaling China's economic heft in Africa.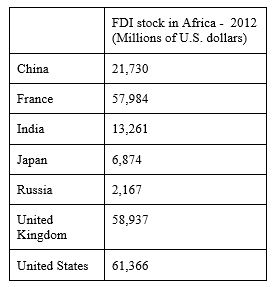 India's total foreign direct investment (FDI) in Africa places it among the continent's top investors. However, Indian investment in Africa has not been without obstacles and a disproportionate amount of India's Africa FDI stock is in Mauritius, an island strategically located in the Indian Ocean. A sample of Africa's top investors below shows how emerging investors such as China, India, and Japan, stack up against some of Africa's traditional investors. As Western countries adjust to slower economic growth and China reacts to its recent downturn and steps up its engagement with other areas such as Latin America, India has an opportunity to play a much larger role than in the past.
India does not yet eclipse the presence of countries such as China or the United States in Africa, but the 2015 summit effectively elevates India-Africa ties. Invoking shared history and ideals, India and the nations of Africa will increasingly have the economic capacity and influence to advance a common agenda. At this year's summit, India announced $10 billion in lines of credit would be extended to African nations over the next five years in addition to another $7.4 billion pledged in 2008. The announcements of $600 million in grant assistance along with a $100 million India-Africa development fund and a $10 million India-Africa health fund demonstrates India's transition to a more active development donor and partner.