Millions at Risk of Gender-Based Violence if COVID-19 Pandemic is Prolonged
Voices from the Field features contributions from scholars and practitioners highlighting new research, thinking, and approaches to development, diplomacy and security challenges. This post is authored by Dr. Natalia Kanem, Executive Director of the United Nations Population Fund (UNFPA).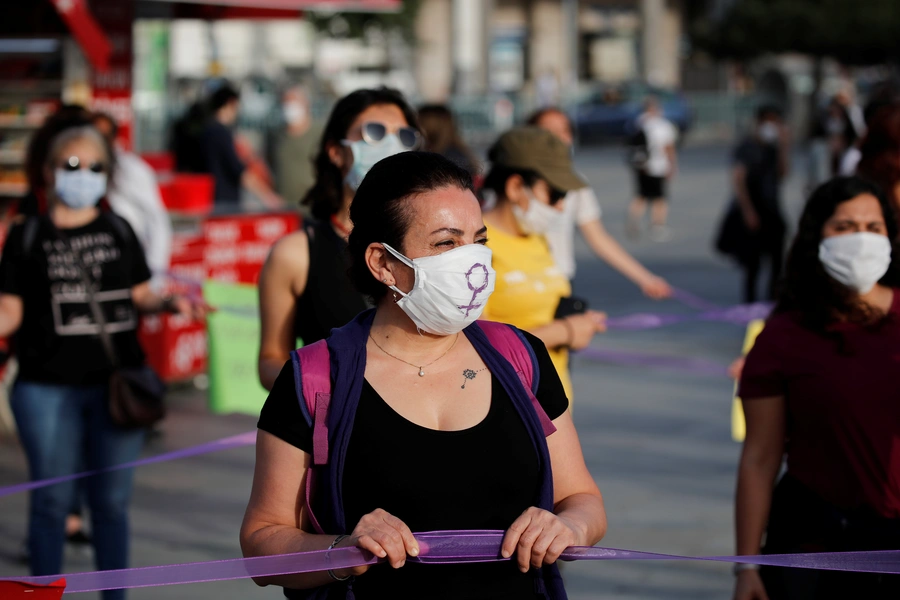 Voices from the Field features contributions from scholars and practitioners highlighting new research, thinking, and approaches to development, diplomacy and security challenges. This post is authored by Dr. Natalia Kanem, Executive Director of the United Nations Population Fund (UNFPA).
Even before the arrival of the COVID-19 pandemic, gender-based violence was a problem of epidemic proportions, with one in three women worldwide experiencing physical or sexual abuse in her lifetime. Now, as measures to stop the spread of the coronavirus have put unprecedented numbers of people into lockdown, women subjected to violence are even more isolated and at risk.
In many countries, reports of domestic abuse and intimate partner violence have risen dramatically – just as prevention and response services are under strain. In humanitarian settings, the ripple effects of the pandemic stand to impose a new level of suffering and hardship on some of the world's most vulnerable women. Already, they face significant barriers to information and services, insufficient financial resources, and a lack of autonomy over their own sexual and reproductive health, leaving them particularly susceptible to exploitation and abuse.
Those of us in the international development community have seen firsthand how epidemics can deepen inequalities and break down health and social protection systems. The parallels between the COVID-19 crisis and the 2014 Ebola epidemic are particularly striking. The economic effects of the Ebola outbreak and its attendant stresses led to a spike in domestic violence and exacerbated sexual exploitation. Today, as families face heightened tensions and financial uncertainties, women face similar risks, but on a potentially exponential scale.
Catastrophic impact on women and girls
In April, UNFPA, the United Nations sexual and reproductive health agency, released new research projecting an additional 31 million cases of gender-based violence if efforts to contain the virus limit people's movements for at least six months. For every three months the lockdown continues, an additional 15 million cases are expected. The study was carried out jointly with Johns Hopkins University, Victoria University (Australia), and Avenir Health.
The data shows the catastrophic impact that the pandemic response could soon have on women and girls globally, as millions lose the ability to safeguard their bodies and health. According to the research, the projected increase in cases of gender-based violence would stem from the economic, psychological, and family stressors associated with the pandemic as well as the scaling back or closure of violence prevention and response programs and services.
Stemming the tide
To forestall this catastrophe, UNFPA is working with governments and partners to prioritize the health and safety of women and respond to some of the most urgent challenges on the ground. As the lead United Nations agency responding to gender-based violence in emergencies, we are prioritizing the availability and accessibility of crucial resources and services – working with local partners to reimagine existing violence-prevention and survivor-support programs. UNFPA is supporting new hotlines for women in a number of countries, including Iraq, Jordan, Lebanon, Libya, Sudan, Thailand, Ukraine, and Yemen.
In the Azraq refugee camp in Jordan, counselors who had worked directly with clients in a UNFPA safe space run in partnership with the International Rescue Committee now provide support by telephone. Since many women lack the privacy needed to speak on the phone about sensitive issues, counselors have adopted strict protocols when reaching out to these women to ensure their safety. Other staff also provide assistance via text message and WhatsApp.
Meanwhile in Kosovo, UNFPA and partner organizations are providing support to shelters experiencing an increase in those seeking refuge from abuse. Since the pandemic began, the Ministry of Justice has seen a 17 per cent increase in reported cases of gender-based violence, with one city recording a 100 per cent climb. To raise awareness of the heightened risks of gender-based violence during the pandemic, UNFPA is working with faith-based organizations and religious leaders to share messages via social media and other channels about women's rights, ending violence and supporting survivors.
Our response to gender-based violence aims to leave no one behind, including women and girls with disabilities – a group nearly three times more likely to experience sexual violence. In Pakistan's Punjab Province, UNFPA is helping to upgrade the Women Safety smart app, an initiative of the Punjab Safe Cities Authority, which helps women report violence and their location coordinates to the police via emergency helpline or WhatsApp message. As part of the upgrade, UNFPA and local authorities are engaging people with disabilities to ensure the app accommodates their needs and responds to their concerns.
As we take steps to protect women from violence during the pandemic, we must also help heal the healers – the women who keep prevention and survivor-support services in operation. Along with reports of increased call volume to domestic-violence hotlines, we are also learning of a surge in attacks on women health-care workers – just as they are overwhelmed and struggling to cope with demand, including for services related to gender-based violence. Service providers must adapt too, so that health-care workers are also protected from harm. Their well-being is essential to the sustainability of services in these challenging times.
Ending gender-based violence is one of UNFPA's three strategic priorities, and we work towards this goal every day, supporting governments to make good on their commitments under the Sustainable Development Goals and at last year's Nairobi Summit on ICPD25.
While the outlook for women during the COVID-19 pandemic is sobering, we can and must rise to this unprecedented challenge. Working with United Nations development partners, governments can put women and girls at the center of their response efforts and take the steps needed to ensure continued access to life-saving care. At this time of great need, we should not lose sight of the most vulnerable. Together, we must safeguard the health, rights, and dignity of all women at all costs. In doing so, we will emerge stronger and deliver a better future for everyone.