The Nobel Committee's #MeToo Moment
The Norwegian Nobel Committee had its #MeToo moment last week, awarding its peace prize to two courageous leaders in the fight against sexual violence in armed conflict.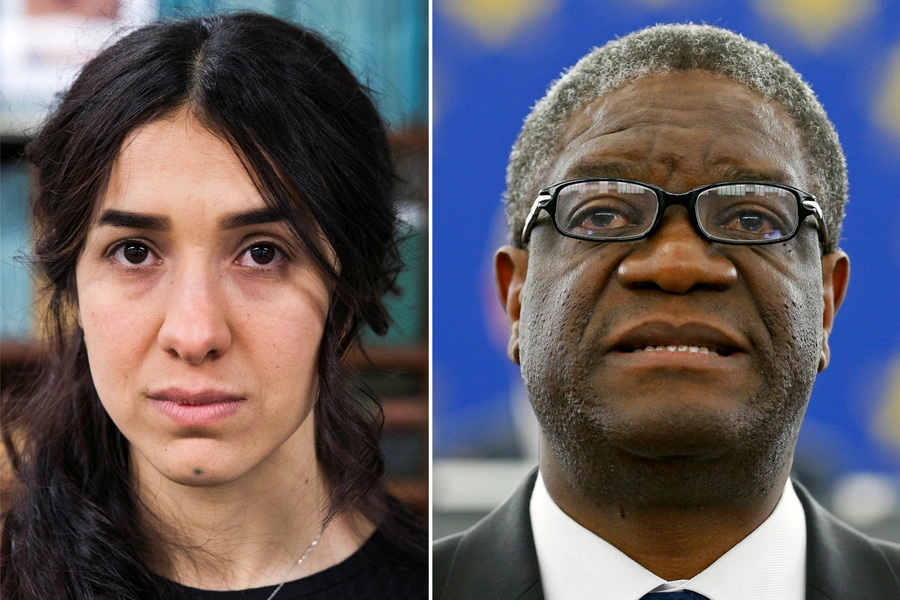 The Norwegian Nobel Committee had its #MeToo moment this month, awarding its peace prize to two courageous leaders in the fight against sexual violence in armed conflict. 
The first, Nadia Murad, is a Yazidi survivor of sexual slavery and one of the thousands of women kidnapped by the Islamic State, who bravely shared her story in a campaign to end such abuses as the UN's first Goodwill Ambassador for the Dignity of Survivors of Human Trafficking. She witnessed firsthand how the brutality of rape in wartime, as well as the shame and stigma suffered by survivors, is integral to the logic behind sexual violence as a tactic of war and terror. 
The second, Dr. Denis Mukwege, is a gynecological surgeon in the Democratic Republic of Congo—a conflict-ridden country once referred to as the "rape capital of the world"—who has dedicated his career to treating victims of sexual violence, hundreds of thousands of whom suffered at the hands of various rebel groups and the Congolese army during twenty years of conflict. 
In the middle of a global reckoning on harassment and violence against women, it was only fitting that the Nobel Committee—which recently postponed its literature prize due to its own sexual assault scandal—chose to acknowledge the abuse of women and commend those who speak out about and address sexual violence. But, importantly, rape in wartime is more than a gross violation of human rights—it is also a security challenge deserving of global attention.
A significant body of social science research demonstrates that conflict-related sexual violence is a security threat that destabilizes countries for generations. From Guatemala to Iraq to Myanmar, wartime rape drives families to flee their homes, depriving them of their livelihoods, property, and access to health and educational services, thereby fueling instability and undermining economic and social recovery even after the conflict ends.
Sexual violence committed by troops often represents a lack of discipline associated with weak command and troop control, which undermines broader security imperatives. Military and police units that prevent sexual violence and more broadly respect human rights are more effective at promoting security than those who do not.
Conflict-related sexual violence also heightens insecurity by demonstrating a government's inability or unwillingness to protect its citizens—particularly when this crime is perpetrated widely with impunity. The lower citizens' level of trust in the state, the more difficult it becomes for a government to execute economic or political reforms, thereby limiting their capacity to end a conflict or rebuild after a war has ended.
If sexual violence in conflict imperils security, what can be done to combat it?  Some may throw up their hands, resigned to the belief that rape in wartime is inevitable.  After all, sexual violence in conflict is not a new phenomenon; throughout history, armies considered rape to be one of the legitimate spoils of war, and this crime was tacitly accepted as unavoidable through the early twentieth century. In recent decades, however, successive legal rulings have outlawed sexual violence and recognized it as a war crime. And research shows that while some conflicts are characterized by widespread sexual violence, not all are; variation in prevalence is driven in part by leaders of armed organizations who alternatively may order, tolerate, or prohibit rape by their soldiers.
Evidence also suggests that sexual violence in conflict can be prevented—even in conflict-stricken places like South Sudan, where peacekeeping teams last year rescued over fifty internally displaced people from attempted abduction, prevented the harassment of women and children, and defended a refugee camp from an attack. Accountability is possible too: the Congolese government has convicted several high-ranking military commanders, and mobile courts try rape cases across the country, bringing traveling judges, prosecutors, and defense counsel to remote areas in order to resolve disputes and dispense justice. Efforts like these can work—but more are needed.
Over the past two decades, the United States has taken steps to elevate the issue of conflict-related sexual violence on the security agenda. A series of UN Security Council resolutions introduced by the United States under the George W. Bush and Barack Obama administrations condemned the use of rape as a tool of war, established a special representative to the UN secretary-general on sexual violence in armed conflict, and created a reporting mechanism to increase accountability. But most U.S. efforts to address this threat have remained detached from broader security-sector initiatives and investment in this area has been limited to small grants or stand-alone programs.
The United States can and should do more to address this security threat. Prior to conflict, all U.S. security cooperation efforts should include training on preventing conflict-related sexual violence. During conflict, the U.S. government should lead the effort to improve the performance of peacekeeping forces to protect civilians from sexual violence, including by increasing the proportion of peacekeepers who are women, whose contributions evidence shows boosts peacekeeping operations' effectiveness.
After conflict, the U.S. government should lead a coalition of partners to impose greater accountability for this crime, such as targeted sanctions and visa bans on political and military leaders who order or tolerate rape. Countries should also model their policies on the existing U.S. prohibition of assistance or weapon transfers to units of foreign militaries that have committed gross violations of human rights, including sexual violence. And finally, to strengthen the U.S. military and lead by example, the Department of Defense should increase its efforts to prevent and respond to sexual assault within the U.S. armed forces, and increase the proportion of women in the U.S. military and across law enforcement.
"A more peaceful world can only be achieved if women and their fundamental rights and security are recognized and protected in war," reflected the Nobel Committee when announcing the inspiring Mukwege and Murad as the Peace Prize recipients. Preventing and responding to sexual violence in wartime is not just the right thing to do. It is a strategic imperative to advance stability—and one that merits a higher place on the U.S. national security agenda.