Pakistan at Seventy-One: the Search for a New Pakistan
On Pakistan's seventy-first independence day, the country faces an economic crisis and a terrorism crisis. Whether prime minister–designate Imran Khan can deliver on his promise of a "naya Pakistan" hinges on whether he can address each.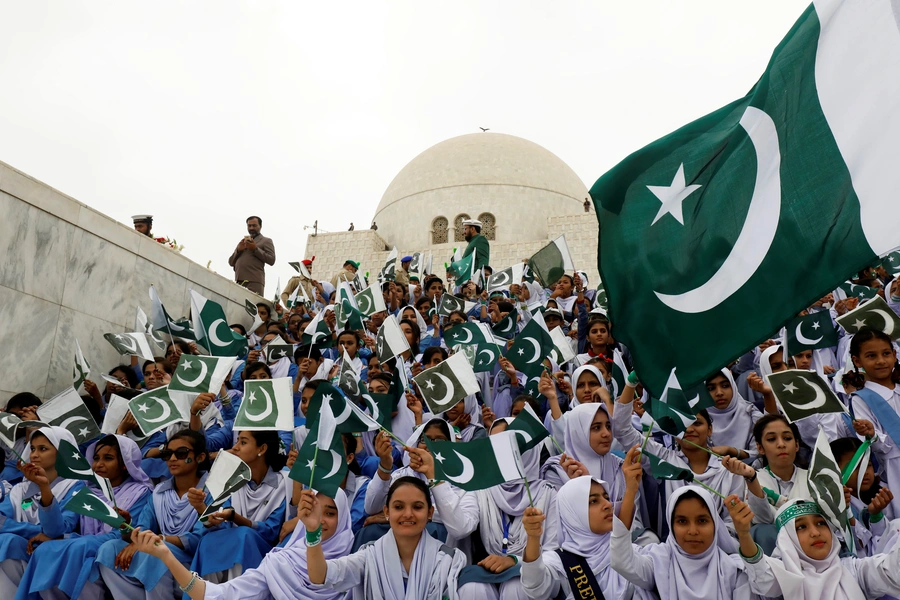 Today is Pakistan's seventy-first independence day. The newly elected members of the National Assembly have been sworn in, and the new prime minister–designate, Imran Khan, will take his oath of office on August 18. Last month's national election took place amid great controversy. Opposition leaders and independent observers made considerable allegations of tampering and malfeasance, bombings marred the run-up to the election and the day of voting, and there were widespread reports of the army tilting the playing field in advance in favor of Khan, casting a shadow over the results. Even so, government formation trundles along.
Prime minister–designate Imran Khan spoke during his campaign about his vision for a "naya Pakistan," a "new Pakistan." As the new Pakistani government assumes office, it confronts the same old problems that stymied its predecessors: a looming economic crisis, tensions with each neighbor, internal civil-military issues, challenging human development and governance concerns, and of course the decades-long problem of terrorism. Two of these problems in particular present immediate headaches for the new Pakistani government: the economic crisis and terrorism.
I want all Pakistanis to celebrate 14th August, our Independence Day, with full fervour - especially as we are now moving towards Naya Pakistan & reclaiming Jinnah's vision InshaAllah.

— Imran Khan (@ImranKhanPTI) August 10, 2018
The economic crisis is already preoccupying Pakistan's incoming finance minister, and estimates of Pakistan's financing needs are tipping upward from a reported $8–10 billion bailout on July 22, to "more than" $12 billion by August 2. Should Pakistan approach the International Monetary Fund (IMF) for a bailout, it would be its thirteenth and largest ever. But the geopolitics of this economic crisis are now different than they were in the past, since the advent of the China-Pakistan Economic Corridor has created a massive $62 billion initiative with unclear debt obligations to China. U.S. Secretary of State Mike Pompeo said publicly that there is "no rationale" for IMF "tax dollars" to "bail out Chinese bondholders or China itself." Watch this space.
Equally troubling in a different way is the terrorism crisis, and by extension the state of U.S.-Pakistan ties. Relations between Washington and Islamabad were deteriorating already by the end of the Barack Obama administration—and as I have written before, it was former Secretary of Defense Ashton Carter who, in 2016, was unable to certify that Pakistan had taken sufficient actions against the Haqqani network and therefore withheld a third of the coalition support funds security assistance that year. (These are funds the United States gives Pakistan as reimbursement for its support to the war in Afghanistan.) Secretary of Defense Jim Mattis faced the same situation in 2017. By January of 2018 the Donald J. Trump administration chose to suspend security assistance to Pakistan. The Financial Action Task Force (FATF), an anti–money laundering and counter–terrorist finance watchdog group, placed Pakistan on a "gray list" in June, citing the country's need to improve its financial controls to end flows to terrorist groups. And last Friday reports emerged that the security assistance suspension will now also prevent participation of Pakistani military officers in the long-running International Military Education and Training (IMET) program.
Against this backdrop, it is hard to see at the moment how things might improve. Despite the FATF designation, candidates affiliated with designated terrorist groups stood for election in Pakistan in July. As a FATF team visited the country to review Pakistan's implementation plan, the individually designated terrorist Hafiz Saeed, head of a group long listed under UN and U.S. terrorism designations and held responsible for the Mumbai attacks of 2008 (Lashkar-e-Taiba aka Jamaat-ud-Dawa), offered up a speech on YouTube for Pakistan's independence day. The lack of limitations on, let alone prosecution of, this organization even at a time of heightened scrutiny defies logic.
Pakistan's new government has its work cut out for it. Whether Imran Khan and his government can deliver a "naya Pakistan" will hinge significantly on how they address these two urgent problems on their long list of challenges.
My book about India's rise on the world stage, Our Time Has Come: How India Is Making Its Place in the World, was just published by Oxford University Press in January. Follow me on Twitter: @AyresAlyssa. Or like me on Facebook (fb.me/ayresalyssa) or Instagram (instagr.am/ayresalyssa).