PM Kishida Joins Effort to Dissuade Russia From War
As the possibility of military conflict looms over Europe, Japan joins the global diplomatic effort to dissuade Russia.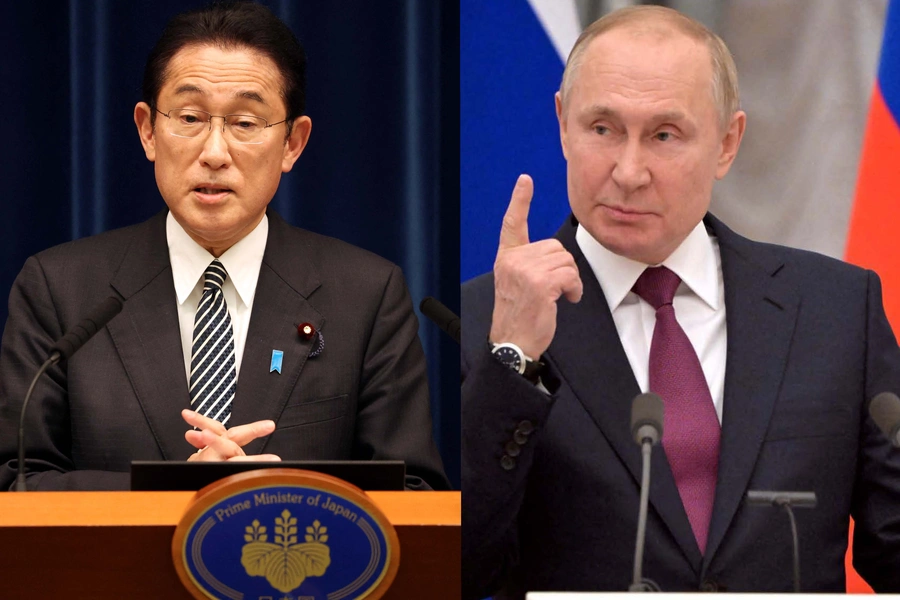 Russia's massive military build-up along its border with Ukraine has pitted the Biden Administration against President Vladimir Putin and prompted a global diplomatic effort to persuade Putin that Russia would suffer greatly should it invade Ukraine.  Japan's prime minister, Fumio Kishida, joined that effort this week as the possibility of military conflict looms over Europe.
On Tuesday, Prime Minister Fumio Kishida spoke on the phone with Ukrainian President Zelenskyy to assure him of Japan's support for Ukrainian sovereignty and territorial integrity.  He also put $100 million in loans on the table should Kyiv need Japan's help.
Yesterday, Kishida also spoke with Russia's President Vladimir Putin, urging him to find a diplomatic solution "acceptable" to all countries concerned.  The 25-minute call offered Japan's prime minister the opportunity to convey that he opposes the use of force to change the status quo and had "grave concerns" about the situation at the border of Ukraine.
Japan's prime minister has clearly aligned himself with the G-7 and the international community in condemning any attempt by Russia to use force against Ukraine.  Japan has also assured European Commission president Ursula von der Leyen that Japan will work closely with European nations in dealing with the threat to Ukraine. With tensions rising in Ukraine's eastern Donetsk region and reports of the violations of the ceasefire between Russian-backed separatists and Ukrainian forces, the Japanese government issued a warning to its citizens to avoid travel to Ukraine and set up a facility in the western part of the country to assist evacuees. 
Russian ambitions have struck a different chord in Tokyo than they did in 2014 when Putin annexed Crimea. In 2014, when President Putin seized control over Ukrainian territory, Japan joined in the G-7's condemnation of Russia, but only half-heartedly embraced the group's sanctions. Japan had its own diplomatic aims with Russia. Prime Minister Shinzo Abe invested considerable effort in building a relationship with Putin to settle their sovereignty dispute over the Northern Territories, or southern Kuriles, a lingering barrier to formal peace between the two Far Eastern powers.  Despite that investment by Abe, Putin did not budge.  Prime Minister Kishida was Abe's foreign minister at the time, and thus has considerable experience with the complexity of balancing Japan's interests in standing up against aggression and avoiding antagonism with its northern neighbor. 
Today, Japan's concerns about Russia's massing of military force in Europe reflect its growing sense of alarm about the potential for similar aggression in the Indo-Pacific. In a press conference after the call with Putin, Kishida pointed out that "the Ukraine situation is extremely tense.  If we allow any change in the status quo by force, it will send a wrong message, not only to Europe but to Asia and the rest of the world."
Japan has more quickly aligned itself with the U.S. and Europe in this Ukrainian crisis and has offered to use new types of leverage. Prime Minister Kishida has already signaled that Japan would impose sanctions should Russia invade Ukraine.  In a call with President Biden on January 21, Kishida stated he would be ready to act in concert with the world to condemn Russian aggression if war broke out in Europe.  Similarly, Japan joined other G-7 members to threaten considerable economic sanctions should Russia invade Ukraine.  Additionally, Japanese government sources have suggested far more robust steps including halting technology exports to Russia and freezing the assets of Russian companies and individuals associated with President Putin. Perhaps most striking, Japan has also committed to providing LNG to Europe to counter potential energy shortfalls due to the stand-off with Russia over Ukraine.  
Once again, Moscow is threatening to retaliate should Japan join in the effort to sanction Russia. On February 1, Mikhail Galuzin, Russian Ambassador in Tokyo, held a press conference to warn Japan not to get involved with the G-7 sanctions, making it clear that the bilateral peace treaty between Russia and Japan would be in jeopardy if they did.
On February 7, with only weeks on the ground in Tokyo, US Ambassador to Japan, Rahm Emanuel, took to the airwaves on Northern Territories Day to restate U.S. support for Japan's sovereignty claim. In that message, Emanuel went on to say that he had already met with Ukraine's Ambassador to Japan, and that there was no doubt which country failed to respect the sovereignty of other states - Russia.  It was provocative but to the point:  the U.S.-Japan alliance would respond should Russia resort to military aggression – anywhere in the world.   Not long after, Japan's defense minister Nobuo Kishi reported "unusual" activity of 24 Russian naval vessels in the Sea of Japan.  
Prime Minister Kishida has defined the Ukrainian crisis as not only Europe's problem but as a challenge to the global order.  The stakes are high, and this time Japan will be asked to invest far more in standing up to aggression. Many in the Indo-Pacific will be watching.