Technology and Youth Represent Nigeria's Path Out of the Woods
The voice of Nigeria's youth was heard at the EndSars protests and through the emergence of Paystack and Flutterwave, which were a breath of fresh air in an otherwise foul news climate around the country.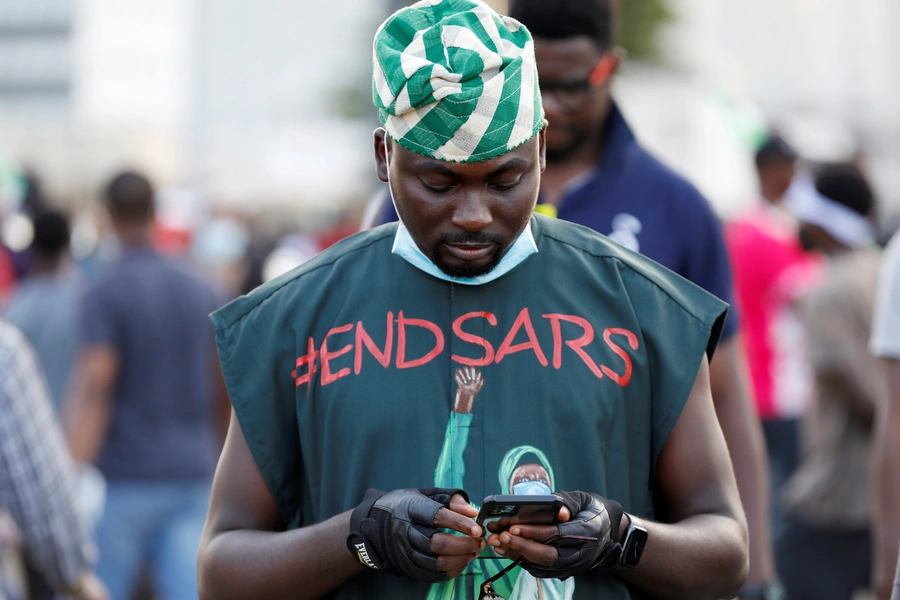 Tunde Okunoye (@TOkunoye) is a fellow with the Berkman Klein Center for Internet and Society at Harvard University (@BKCHarvard). He blogs on Medium @developmentmusings.
In March 2021, Flutterwave, a Nigerian fintech start-up, made global headlines after receiving $170 million in funding and reaching a $1 billion valuation, thus joining the club of corporate unicorns. Several months earlier in October 2020, Paystack, another Nigerian fintech start-up, was acquired by U.S. technology company Stripe for $200 million. These two major announcements signaled the growing importance of the Nigerian technology sector [PDF] to the country's economy. Flutterwave is now valued at a similar level as some of Nigeria's largest banks and the company alone makes up 0.22 percent of Nigeria's GDP ($448 billion).
While these economic indicators are important, they do not tell the whole story. Flutterwave, Paystack, and other Nigerian technology start-ups are founded and led by young people that are challenging Nigeria's political establishment and police brutality. The skills needed to start a technology company—self-organization and challenging corrupt and obsolete regulations—are the same as those displayed in recent political protests such as the anti-police brutality movement EndSars in Nigeria. Similarly, some of the goals of the movement are reflected in the aspirations of Nigeria's tech entrepreneurs, including the founders and staff of Paystack, who have documented their gruesome experiences of police harassment.
In terms of news coming out of Nigeria, the announcements about Flutterwave and Paystack make for a refreshing change. This February, over 200 children were kidnapped from Government Science College, Kagara, in Nigeria's Niger state, continuing an alarming trend of kidnappings in the country. A few days later, at least 300 girls were kidnapped from Government Girls Secondary School in Jangebe, Zamfara state. Since December 2020, over 600 children have been abducted across schools in northwestern Nigeria. Schools across several states in Nigeria's north have been closed in response to the incessant kidnappings of children and the nascent kidnapping-for-ransom industry it has spawned. Another worrying trend is that the death toll from terrorism in Nigeria has exceeded that caused by ISIS in countries like Iraq and Syria.
In mid-March, Nigeria's National Bureau of Statistics released the most recent unemployment figure. At 33 percent, it is the second-highest in a list of eighty-two countries monitored by Bloomberg. Nigeria has the largest number of people living in extreme poverty and the highest number of out-of-school children in the world. One in every five of the world's out-of-school children is in Nigeria.
The frustration of many of Nigeria's young erupted with the EndSars protest in October 2020, coincidentally around the time of the Paystack announcement. SARS (Special Anti-Robbery Squad) had been known for assaulting, detaining, and executing young people who in many instances were wrongly stereotyped as cybercriminals for having flashy digital tools like laptops and high-end phones in their possession. But what initially began as a protest against the brutality of SARS quickly turned into a broader youth movement expressing dissatisfaction against the way the country is run.
The EndSars protests became a clash of generations. A younger generation that was fed up and angry enough to do something about it was making their displeasure known to the older generation in the government who they felt were responsible for the decay in their country. Protestors demanded things beyond police reform, such as electoral reform, an end to government corruption, and better public services. Moreover, their remarkable organization of funds, healthcare, security, and communication during the protests was a refreshing departure from the inertia in public service that has characterized Nigeria.
Among the protestors and SARS victims include young people who have made Nigeria's emerging technology scene their own, very much like those who founded Paystack and Flutterwave. In addition to the staff of Paystack who documented their own story of police harassment, other examples from members of the Nigerian tech community who have suffered police harassment include Nosa Obaseki, a freelance developer, and Adedeji Olowe, the chief executive officer of Trium Networks, a technology venture capital firm in Lagos, who both had nasty encounters with the police in 2015 and 2020 respectively. During the movement, tech entrepreneurs donated funds, supported those injured while protesting, and, in the case of Flutterwave, permitted their platform to be used for the channelling of aid to support protests, even after being summoned by the Central Bank of Nigeria.
The attacks on and closure of schools across northern Nigeria, the rising tide of insecurity in the country, high unemployment rates, and police brutality are all symptoms of a country urgently needing a way out of the woods. Although young people have borne the brunt of these ills which have plagued Nigeria, with 60 percent of the population being younger than twenty-four, they also hold the key to the transformational leadership the country so sorely needs. The voice of Nigeria's youth was heard at the EndSars protests and through the emergence of Paystack and Flutterwave, which were a breath of fresh air in an otherwise foul news climate around Nigeria. These companies foreshadow greater opportunities for the nation's development and can be the change Nigeria needs.