Tunisia: On the Road to Nowhere
Some observations while traveling through Tunisia.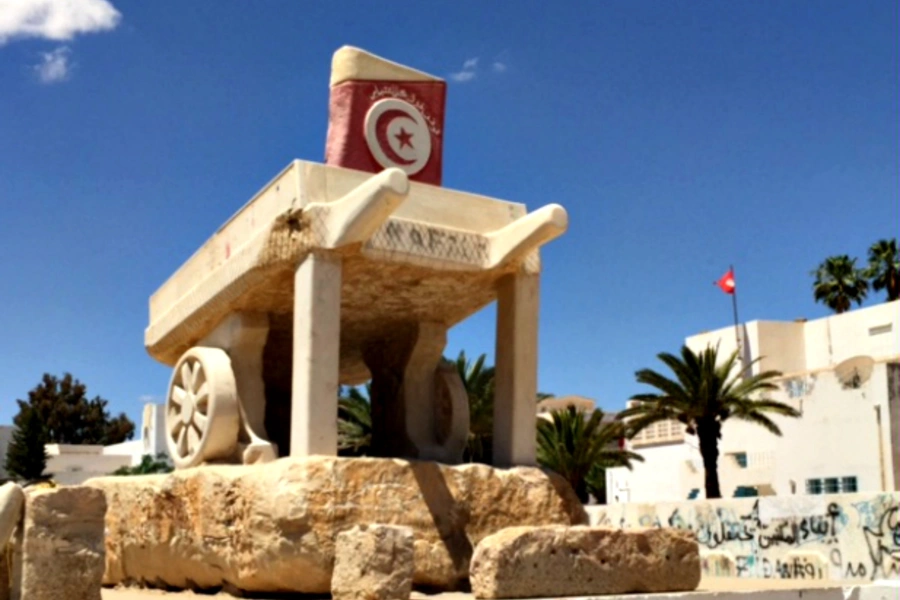 "The only things [that have] changed are the names of the streets. They used to be [called] November 7, now they are [called] December 17."
A young Tunisian said this to me in Sidi Bouzid on Sunday. For those less familiar with Tunisian history, on November 7, 1987, Zine al-Abidine Ben Ali pushed the country's founder, Habib Bourguiba, from power in a palace coup, and December 17, 2010, is the day when Mohammed al-Bouazizi set himself on fire in front of the governorate building in Sidi Bouzid—an act of desperation that began the Tunisian uprising that deposed Ben Ali almost a month later. The quote is a simple and powerful rebuke to the oft-repeated phrase that Tunisia is "the one Arab Spring success story." The country is not yet a success, but it also is not a failure.
I haven't been here long enough to get beyond the impressions and anecdotes, but it is hard not to notice an undercurrent of disappointment, frustration, and cynicism. Even the officials and politicians who are supposed to tell people like me that all is well and that I do not know the whole story because I am only talking to the disgruntled few are themselves frustrated. All in all, people paint a fairly grim picture of a place where Tunisians are generally enjoying expanded political and personal rights (a good thing), but under a political system that is unable to cope effectively with a variety of serious challenges—an anemic economy, the underdevelopment of inland communities heaving under the weight of unemployed or underemployed young men, and extremist violence.
The Tunisian military has stepped up operations against terrorist groups—I saw a convoy of hummers with big guns attached to them on the road to Sidi Bouzid—and have had some success, but the government seems bereft of ideas about how to deal with the other problems, which, everyone here agrees, contributes to the appeal of the self-proclaimed Islamic State. Tunisia has also undertaken some important economic reforms with the help of the International Monetary Fund (IMF), which has relaxed its generally stringent conditionality. In return for a bailout, lawmakers, for example, recently strengthened the independence of the Central Bank of Tunisia, and the government created a debt management agency. Under an agreement with the IMF, the Tunisian government has also committed itself to developing a new and more equitable tax system as well as improving access to credit for small- and medium-sized businesses. This is all intended to improve investor confidence, but, so far, neither domestic nor foreign direct investment has shown up. Controversially, a draft law that will essentially grant amnesty to those guilty of financial crimes during the Ben Ali years is, according to one legislator, going to pass. It is a risky political move given that the people in charge now are connected to the Ben Ali era in various important ways, but the hope is that this get-out-of-jail-free card will encourage the corrupt to invest in the "new Tunisia," though there is no mechanism to compel them to do so.
The far bigger issue is the structural economic problems of Tunisia's periphery. The drive to Sidi Bouzid is stunning. Leaving Tunis along a six-lane highway takes you south along the country's east coast toward Hammamet. On either side are olive groves and grape orchards tucked away in lush valleys below craggy mountains and foothills. About an hour or so into the drive, the exit for Kairouan—a UNESCO World Heritage Site—puts you on a two-lane road for the remaining two and a half hours. The grapes disappear in favor of miles of olive and almond groves. The towns in between the exit and Kairouan and between Kairouan and Sidi Bouzid are squalid. Rows of empty cafes, makeshift roadside grills specializing in lamb—which made for a delicious lunch—and idle young men line the highways. Behind high walls along the roadway is a paper mill and, still further, a pharmaceutical plant, but very little else. Sidi Bouzid is the capital of the governorate that bears the same name and, as a result, is more built up, but life in this hardscrabble place is grim. There are many Mohammed al-Bouazizis still in Sidi Bouzid. Some of them push carts of fruit like him, but many others just hang out. If they don't work for the government or attend school, these young men do not seem to do much. In Sidi Bouzid and other places like it in inland Tunisia, there is no opportunity and very few ideas on how to fix the situation. Current thinking has settled on "decentralization," which would give local officials the opportunity to develop their own economic development plans. It makes sense to let those who know conditions within each governorate best make economic development policy, but no one has answered the following question: Why would anyone invest in the Tunisian periphery? There are lots of people who are willing to work, but it is entirely unclear what a "Sidi Bouzid Economic Development Authority" would have them do. I am not sure anyone knows, but they seem alarmed because, by most socioeconomic measures, inland Tunisians are worse off than they were in December 2010 when they kicked off the Arab uprisings.
Decentralization also requires the herculean task of tearing down the traditional Arab republican system and undermining the well-developed vested interests in its maintenance. Take, for example, Tunisia's 750,000 strong bureaucracy, which makes up 7.5 percent of Tunisia's population. That's almost the same ratio as Egypt in a country one-tenth the size. Politicians complain that bureaucrats—who allegedly liked the status quo under Ben Ali—have gummed up the machinery of government, making reform more difficult than necessary. This may be nothing more than blame-shifting for parties and their leaders who have proven to be incompetent at leading, but it does suggest something about the country's trajectory.
Tunisia does not fall neatly into any of the "post–Arab Spring" categories—it is neither success nor failure; it doesn't have a civil war, but it does have a terrorism problem; authoritarianism is not resurgent, but it is far from being a consolidated democracy; it is polarized (identity politics are alive and well here), but the salient issue is the relationship between center and periphery. Tunisia's problem is not that it will end up looking like Libya or Egypt, but rather it will drift along, existing in an odd post-uprising state that is sort of democratic, but not entirely. In the meantime, everyone holds their breath, hoping the day of reckoning when Sidi Bouzid and other places rise up once more in anger never comes.