Women This Week: Pakistani Activists Call for Domestic Violence Law
Welcome to "Women Around the World: This Week," a series that highlights noteworthy news related to women and U.S. foreign policy. This week's post covers August 3 to August 11.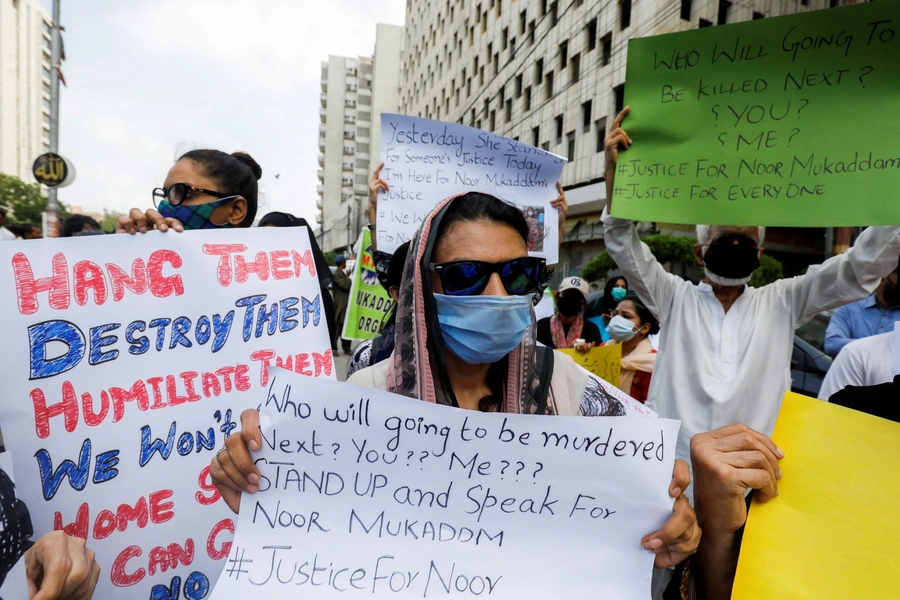 Spate of Murders in Pakistan Leads to Renewed Push for Domestic Violence Law
Activists in Pakistan renewed their call for a law against domestic violence following the high-profile murder of Noor Mukadam, the daughter of a Pakistani diplomat. Last week, a judge denied bail for the parents of the accused, who allegedly assisted their son with covering up the murder. Pakistani lawmakers had made some progress toward a domestic violence law earlier this summer, but after the law passed the Senate, the Council of Islamic Ideology halted the legislation in order to conduct a review to ensure the proposed law aligned with Islam. Notably, no women serve on the Council of Islamic Ideology. The murders of Mukadam, Saima Ali, Keghad Baloch, and Quratulain, have sparked a massive outcry among activists in the country, who warn that domestic violence has accelerated during the COVID-19 pandemic.
Argentina Makes Large Strides Toward Gender Equality Through New Pension Program
The Argentine government launched a new program that increases pension contributions for women over the age of sixty with previous childcare responsibilities. According to the Argentine government, over three hundred thousand women aged fifty-nine to sixty-four cannot afford retirement due to unequal caregiving responsibilities that excluded them from the formal workforce. While women's rights advocates in Argentina say that this new program is an important step, they also argue that the policy does not go far enough in eradicating gender inequality in caregiving duties. In addition to this new program, the government of Argentina recently implemented new policies concerning gender equality, including establishing a one percent quota for transgender Argentines to hold positions in the public sector and formally recognizing a non-binary gender identity on national identification documents.
Ghanaian Parliament Considering New Anti-LGBTQ+ Law
Ghana's parliament conducted its first reading of a new bill that would criminalize anyone who identifies as LGBTQ+; if passed, the law would also criminalize anyone who advocates for LGBTQ+ rights. In addition to imposing harsh penalties for LGBTQ+ people and their allies, the proposed law encourages the use of conversion therapy. Some Ghanaian lawmakers have criticized the U.S. government for its advocacy for LGBTQ+ rights in Ghana and internationally. In May, Ghanaian authorities arrested twenty-one people on charges of unlawful assembly after those arrested had gathered to discuss LGBTQ+ rights. This past Thursday, a Ghanaian court acquitted the activists.