Abortion in the Time of COVID-19
Responses to COVID-19 mean women and girls are now more likely to face challenges accessing quality reproductive health care, especially in rural or marginalized communities.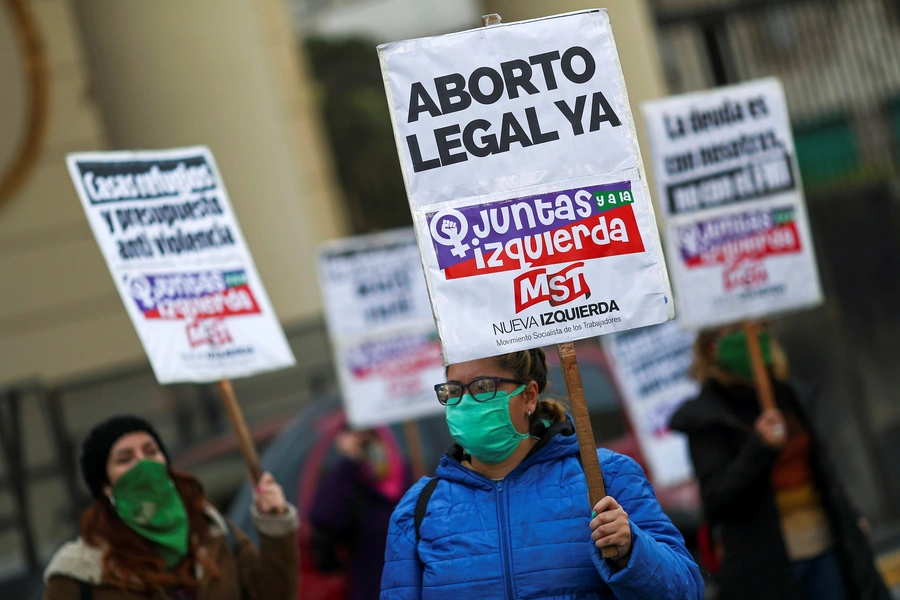 Voices from the Field features contributions from scholars and practitioners highlighting new research, thinking, and approaches to development, diplomacy and security challenges. This post is authored by Gabriela Saenz, Research Intern at the Council on Foreign Relations, and Natalia Cote-Muñoz, Research Associate for Latin America Studies at the Council on Foreign Relations.
From rising domestic violence to limited women's health services, government responses to COVID-19 are creating barriers to the continued progress of women's rights, which may have a lasting impact on women globally by exacerbating gender inequalities.
In particular, the pandemic has heightened difficulties in getting access to reproductive health care and birth control. According to the UN, women and girls are now more likely to face challenges accessing quality reproductive health care, especially in rural or marginalized communities. Clinics may be under-equipped and under-staffed as resources are being relocated to meet other needs, forcing providers to suspend reproductive and sexual health services. In addition, the crisis has highly impacted the supply chain of contraceptive commodities as a result of manufacturing impediments and transportation delays. Around the world, clinics are closing, decreasing women's access to safe reproductive health services. Meanwhile, COVID-19 has prompted some conservative leaders to situationally exploit the pandemic to roll back abortion rights. 
Restricted services are likely to disproportionately affect certain socio-demographic groups that are more vulnerable than others. The UN estimates that in the Latin American and Caribbean region, an additional 18 million women will lose access to modern contraceptives. Approximately 20 million women in the United States live in areas known as 'contraceptive deserts' where access to health centers that provide a full range of services is unattainable. Given the pandemic, traveling to pharmacies or other areas seeking for services is not an option for these women, particularly any who may have underlying medical conditions or live with someone considered high risk. With a 10 percent decline in access to care, 49 million women will experience an unmet need for contraception.
Data has shown that lockdown measures have caused a global surge in domestic violence, exacerbated by economic and social tensions, as women are forced to quarantine with abusive partners. The increase in sexual violence at home, as well as decreased access to birth control increases the likelihood of unintended pregnancies. A study conducted by the Guttmacher Institute revealed that the pandemic could result in up to 15 million unintended pregnancies, 3 million of which will end in unsafe abortions, and an additional 1,000 maternal deaths due to unsafe abortions. COVID-19 lockdown measures have made access to abortion even more difficult as most women do not have the necessary technology to request care remotely, or are in quarantine with partners or family members who may oppose abortions, placing them in greater risk. Despite the gravity of this situation, 5,633 clinics have been closed since the outbreak of COVID-19 and those that remain open have been obliged  to significantly reduce contraceptive services and availability to abortion care, amongst other services.
Typically, abortions are conducted in two ways: medication abortion and surgical abortion. Contrary to surgical procedures which require both the practitioner and the patient to be in the same room, medication abortions just require the patient to take two pills. As access to clinics decreases, patients traveling across state borders to seek medical abortions increases. In times of social distancing, medical experts are advocating for telemedicine abortion, as the procedure can be conducted at home, while practitioners supervise patients through videoconferences or telephone consultations, and has been proven to be safe.
In the United States, states such as Texas have tried to ban abortions on the pretext that procedures are non-essential. After the 5th Circuit Court of Appeals upheld  Governor Abbott's ban, stating that "people don't have a right to choose the method of abortion and that some delays are permissible, especially during this epidemic... therefore the ban on medical abortion can take effect," only surgical abortion procedures for patients past the 22-week legal limit will be permitted. 
In Colombia, the Minister of Health announced that under COVID-19 preventive measures, access to contraceptives and reproductive services will remain available, yet the International Planned Parenthood Federation noted that among the most affected countries by clinic closures is Colombia, alongside El Salvador and Germany—all of which have closed more than 100 clinics and/or community-based service outlets, highly impacting women's access to sexual and reproductive health services. Additionally, health care workers must legally respond to abortion requests within five days but workers have been delaying this procedure, treating abortions as non-essential despite their time-sensitive nature.
Countries must find alternate ways to ensure the safety of their citizens, while protecting their rights. Some governments are already leading by example. In the UK, England, Wales, and Scotland have temporarily changed their regulations allowing for telemedicine abortion in light of COVID-19. The Spanish government has declared abortion procedures to be time-sensitive and are considered essential, thus clinics will remain open following COVID-19 protective measures. Despite a restrictive law on abortion—only conducted in life-threatening cases, or rape—the Health Minister of Argentina announced the procedure, and access to birth control, will remain essential during the pandemic.
At the moment, limited options may mean that many of those with unintended pregnancies will risk their health and safety to carry out unsafe abortions on their own.