After the Big Win, Mahathir Faces Reality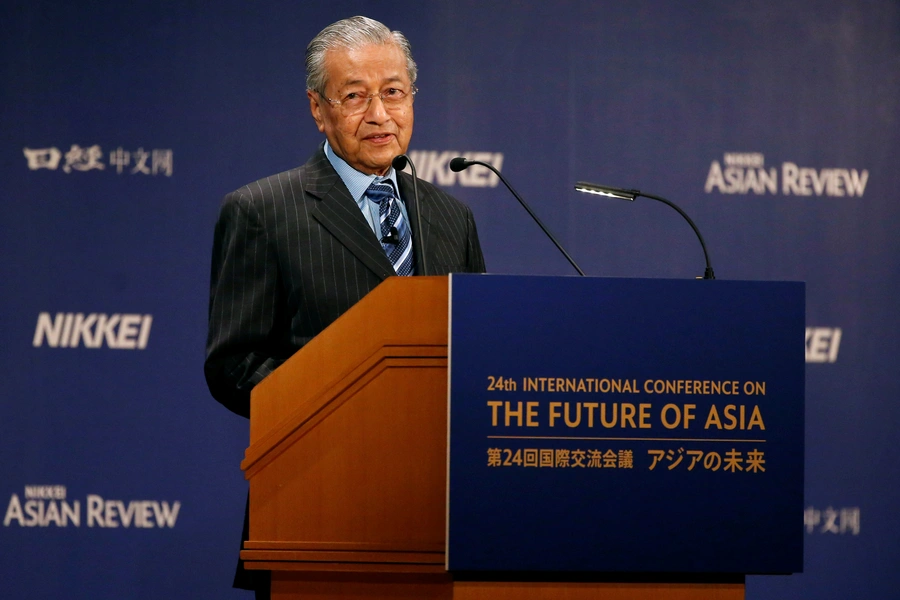 Following the surprise victory by Malaysia's (former) opposition coalition in national elections in May, a spirit of jubilation erupted in much of the country, at least in regions not won by UMNO, the former key party in the ruling coalition. The once-docile state press, which had basically avoided coverage of the allegedly enormous 1MDB state fund scandal, began to report on investigations into 1MDB, allegations against former Prime Minister Najib tun Razak, and next steps in possible government actions against Najib. Prime Minister Mohamad Mahathir, as well as the new finance minister, Lim Guan Eng, moved quickly to try to get to the bottom of how much money had allegedly been taken from the state, both in the 1MDB scandal and also in numerous other projects. The prime minister told virtually any media outlet that would listen that his administration would be committed to reform—reform in government to reduce graft, reform in politics to restore the rule of law (possibly by creating new limits on the length of time ministers could serve), and reforms in the investment environment that would make Malaysia more attractive to foreign investors.

Former Prime Minister Najib and his wife reportedly are being held in Malaysia, possibly so that they can be charged in a criminal inquiry. Former opposition leader Anwar Ibrahim, meanwhile, is out of jail and appears ready to reassert a major role in politics, perhaps in preparation for assuming the job as prime minister two or three years from now. Although Mahathir was hardly known for his kind treatment of free expression during his previous stint as prime minister, prominent critics of the former government, like famous cartoonist Zunar, seem to have had some restrictions on them lifted.

But after the initial euphoria, Mahathir and his government now confront major challenges on nearly all fronts. For one, as the finance minister and other officials have repeatedly admitted, the new government was shocked by how little information they got in the transition period—papers were shredded at the finance ministry and computers locked—and the Mahathir government is still struggling to completely ascertain how much money was stolen in the previous era, and how much greater Malaysia's debts are than was previously assumed. Mahathir's government has even turned to crowdfunding to pay some government debts, a strategy unlikely to make a major dent in the debt burden.

In addition, Mahathir continues to struggle to put together his cabinet, which needs to draw upon the diverse political parties in the somewhat-unwieldy coalition that won the May elections. Mahathir has called for a much smaller cabinet than Najib had—perhaps to reduce government excess and perhaps to give Mahathir more control—but horse trading over many cabinet posts has gone on for weeks, and threatens to continue on for weeks more. The prime minister already has given some top posts to key allies—people who did not come from Anwar's party, which is the biggest part of the coalition—and the tussle over cabinet posts could signal that the government will struggle, in the long run, to reconcile the fact that Mahathir is the prime minister but that he has to rely on Anwar's party for his support.

Despite the promises of reform, too, some members of Malaysian civil society are not totally willing to believe that Mahathir, once a longtime autocrat, is willing to really alter the deep-rooted nature of the Malaysian state, including laws and practices that suppress free speech. As the New York Times noted in a recent piece on Mahathir's approach to speech and expression, although some writers and cartoonists like Zunar seem to have had restrictions lifted, Mahathir has yet to jettison laws on sedition dating back to the colonial era, and laws restricting online speech, although he has promised to abolish an anti–fake news law passed in the waning days of the Najib government.

Mahathir also faces major challenges on two other fronts, which will be examined in the subsequent post: How to rebalance Malaysia's external economic relations, which he has promised to do, and how to reconcile the desire, among major parts of his coalition, to reform the country's affirmative action laws benefitting ethnic Malays, with Mahathir's own Malay base.