Duterte Woos Russia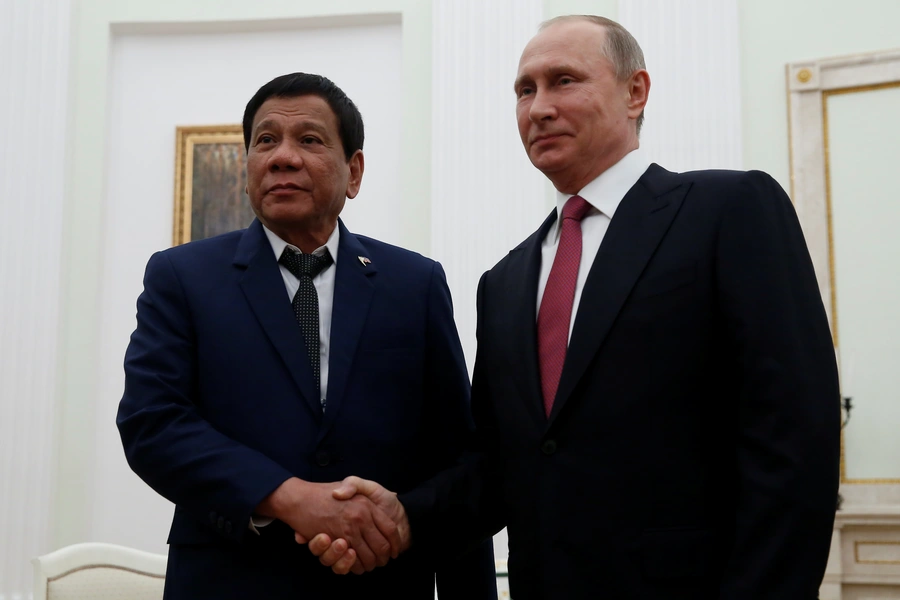 Richard Javad Heydarian is a Manila-based academic and author of Asia's New Battlefield: U.S., China, and the Struggle for the Western Pacific. His forthcoming book is Duterte's Rise.

Shortly after Philippine President Rodrigo Duterte embarked on a high-profile visit to Russia earlier this month, a self-proclaimed Islamic State affiliate group launched a surprise attack on Marawi City on the southern island of Mindanao. As the situation deteriorated, Duterte cut short his five-day trip to Moscow, where he managed to hold an earlier-than-scheduled meeting with Russian President Vladimir Putin, who Duterte has described as his "favorite hero."

The visit to Russia came only a week after Duterte's second trip to China in less than a year. During this visit to Beijing, Duterte secured a $500 million long term soft loan to purchase Chinese defense equipment for the Philippine military, which has traditionally relied on U.S.-made and donated hardware.

Duterte's back-to-back visits to China and Russia was part of his broader strategy of diversifying Manila's strategic relations, as the Philippines pursues what Duterte calls an "independent" foreign policy that would make it less reliant upon the United States. In the past, despite Russia's desire to boost its ties to Southeast Asian nations and sell arms to countries in the region, governments in Manila usually shunned closer relations with Russia either in deference to the United States or simply out of fear of displeasing Washington.

In contrast, Duterte apparently believes East Asia is entering a post-United States international order, where smaller powers such as the Philippines should reach out to alternative poles of influence in the region, such as China and Russia. Duterte also may prefer boosting ties with Beijing and Moscow since they have few concerns about his record on rights and democracy issues, such as the war on drugs and the recent declaration of martial law in Mindanao. 

In the past year, rights issues became a major stumbling block between Duterte and the United States, although it remains unclear whether the new U.S. administration will continue to push Duterte on rights. Disturbed by Duterte's drug war, the Obama administration deferred deployment of firearms to the Philippine National Police (PNP), while postponing renewal of the $434 million Millennium Challenge Corporation aid package. For Duterte, Russia, a leading arms exporter in the world, could be an alternative source of weapons, from light firearms to tanks, drones, helicopters, submarines and other major military hardware. Duterte also sees Russia and China, which have permanent seats on the United Nations Security Council, as potential sources of diplomatic support at international organizations, in light of growing international pressure and scrutiny of Duterte's administration, including by the International Criminal Court (ICC).

Despite Duterte's premature departure from Russia, he left key cabinet secretaries in Moscow to oversee the signing of ten major agreements between Russia and the Philippines. Of particular importance was an Agreement on Defense Cooperation (ADC), which paves the way for institutionalized military-to-military exchanges, including training, intelligence-sharing, and, down the road, even joint exercises between the two countries. Specifically, the Philippines is looking at joint naval drills with Russia in the South China Sea or possibly even in the Sulu and Celebes Sea, where Islamic State-affiliate groups like Abu Sayyaf have been conducting piracy operations. The two countries also signed an agreement to promote bilateral intelligence sharing, with a particular focus on counterterrorism cooperation. During his meeting with Putin, Duterte expressly sought greater Russian assistance in dealing with extremist groups. Moscow, which is closely monitoring Islamic State members hailing from Caucasus and Central Asia and returning to Russia, could provide valuable intelligence to the Philippines on how to deal with foreign fighters coming to Mindanao. The Philippine government has reported the possible presence of fighters from Chechnya among the group of militants fighting in Marawi. Russia could potentially provide information on Chechens and others of Russian citizenry who are traveling to Mindanao. 

Buoyed by his budding strategic partnership with Putin, Duterte declared martial law across Mindanao, which has faced conflicts for nearly half a century. "It [the martial law] will not be any different from what [former president Ferdinand] Marcos did," Duterte warned shortly before departing Moscow. 

The militants who attacked in Marawi may have been emboldened to strike by the fact that Duterte and the bulk of his key cabinet members, including Duterte's national security adviser, were thousands of miles away in Russia. Whatever the spark for the fighting, as the 2013 siege on Zamboanga shows, it will likely take weeks before the Philippine government will return things to a semblance of normality in Marawi, with tens of thousands of citizens fleeing for safety.

If the militants continue to strike hard in Mindanao, Duterte may be forced to rebuild his ties with the United States. Whether Duterte wants to admit it or not, only Washington has a long history of interoperability with the Philippine military, which has relied heavily on U.S. assistance to develop counterterrorism skills and launch counterterror operations. Neither Russia nor China, which have had limited success in dealing with Islamist insurgencies in their own backyards, can provide as effective assistance as the U.S. military. 

In addition, if Duterte wants to purchase weapons from alternative suppliers like Russia, Manila will have to also take into consideration factors that come along with the arms, including the necessity for long-term training on them, quality and maintenance concerns, and compatibility of Russian technology with the Philippines' mostly U.S.-supplied weapon systems. As the crisis in Mindanao festers, Duterte will have to contemplate patching up differences with Washington. So far, Duterte appears highly encouraged by the Trump administration's seemingly sympathetic position on the Philippines' war on drugs and limited interest in human rights issues in the Philippines. And there are plans for a Duterte-Trump summit in the coming months, whether in the White House or during the East Asia Summit in Manila in November. Perhaps, a diplomatic reset between the two allies is in the offing, as counterterrorism begins to dominate Duterte's policy agenda.