Ethiopia: External Leverage to Stop Conflict in Short Supply
The United States and other outside actors face long odds in their attempts to bring the warring parties in Ethiopia's conflict to the negotiating table.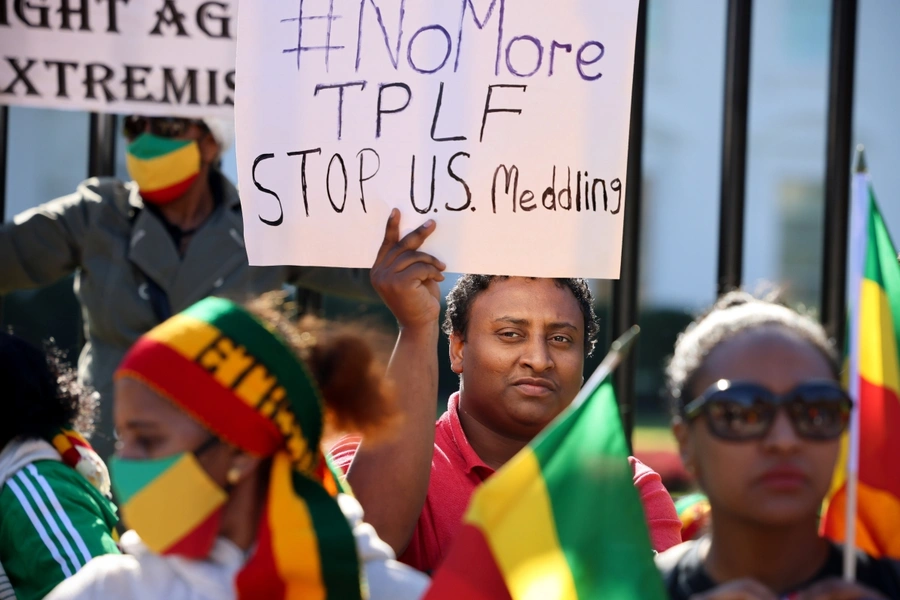 When U.S. Secretary of State Antony Blinken traveled to Kenya, Nigeria, and Senegal last week, he made a point of emphasizing U.S. concern about Ethiopia's conflict. Blinken stressed that "it is imperative that the fighting stops" and that the United States fully supports former Nigerian President Olusegun Obasanjo, the High Representative for the Horn of Africa for the African Union (AU), in his diplomatic efforts to broker a ceasefire that leads to political negotiations. Monday's statement from Ethiopian Prime Minister Abiy Ahmed promising to personally "mobilize to the front to lead the defense forces" suggests those efforts are far from succeeding.
The Ethiopian government's intensifying vilification of independent media outlets and external powers, including the United States, suggests an abiding commitment to conspiratorial narratives and a delusional belief that some glorious vindication is in the offing if the country only doubles down on its current course. Having methodically constructed a media environment in which these ideas thrive, the Ethiopian government has now heightened the political risks of climbing down from its position. Among Abiy's significant domestic support base and in diaspora communities that have been mobilizing to show their support for his government, the conflict—a horrific campaign that is costing Ethiopian lives, causing famine, and reversing economic gains—is being portrayed as a noble expression of Ethiopian sovereignty and resilience. Alarming reports of mass arrests of Ethiopian citizens of Tigrayan descent point toward the danger of further atrocities. None of the observable trends are pointing in the direction of peace.
Efforts to change minds in Addis by clarifying some costs of continued conflict—including the looming suspension of Ethiopia's African Growth and Opportunity Act (AGOA) trade benefits and the threat of targeted financial sanctions on individuals and entities most responsible for the crisis—have not had the desired effect of dissuading leaders from their current course. While continuing to support AU diplomatic efforts, U.S. officials are urging Americans to leave the country while there are still safe flights out. Presumably they are also contingency planning for deteriorating security conditions and their transboundary consequences, reaching out to Beijing to find areas of common ground in crisis response, and consulting with AU officials on worst case scenarios in Addis Ababa that have the potential to discredit a vitally important regional organization. If the worst occurs, there will be no excuse for being unprepared. No one will be able to say they did not see it coming.