Happy 247th Birthday to the United States Marine Corps!
The United States Marine Corps marks 247 years of service.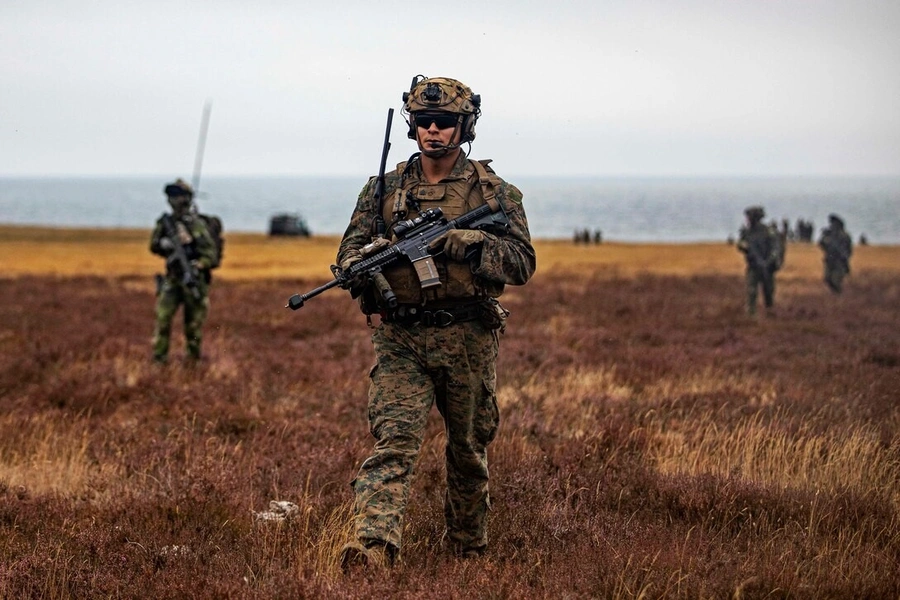 The U.S. Marine Corps turns 247 years-old today. On November 10, 1775, the Continental Congress adopted a resolution to create a Marine force composed of two battalions. Since then, the Marines have been "from the halls of Montezuma to the shores of Tripoli" and many other places as well.
You probably know that the Marines' motto is Semper Fidelis, or Semper Fi for short. It means "always faithful" in Latin. It signifies a Marine's loyalty both to the U.S. Marine Corps and to the United States. However, Semper Fi didn't become the Marines' motto until 1883. During its first century of existence, the Marines had a few unofficial mottos. These included "to the shores of Tripoli," which commemorates the Marines' service in the First Barbary War, Fortitudine (meaning "with courage"), and Per Mare, Per Terram ("by sea and by land"), which the Marines borrowed from the British Royal Marines.
No Marine has ever become president, but several have made it in politics. Former Secretary of Defense James Mattis and former White House Chief of Staff John F. Kelly were both U.S. Marine Corps generals. U.S. Secretaries of State James A. Baker and George P. Shultz, Senator John Glenn (who first gained fame as an astronaut), and legendary political consultant James Carville also served in the Marines. Several baseball hall-of-famers are veterans of the Marines, including Rod Carew, Roberto Clemente, Eddie Collins, Bill Veeck, and Ted Williams. Marines who made it in Hollywood include Adam Driver, Gene Hackman, Harvey Keitel, Lee Marvin, Ed McMahon, Steve McQueen, and George C. Scott. Comedians Drew Carey and Rob Riggle were Marines, as was the late, great Jonathan Winters. If you are old enough to remember Captain Kangaroo (Bob Keeshan), he was a Marine. Several famous musicians served in the Marines, including country legend George Jones, hip-hop artist Shaggy, and "The March King," John Philip Sousa. Marines who made it in the business world include Tom Bell (Taco Bell), Tom Monaghan (Dominos), Bob Parsons (GoDaddy.com), and Fred Smith (FedEx).
The Marines are the smallest of the four U.S. armed services in the U.S. Department of Defense, with over 174,000 active-duty personnel stationed or deployed around the world. To put the size of the Marine Corps in perspective, the U.S. Army is more than two-and-a-half times larger with 465,000 troops. But compared to most of the world's militaries the Marines are a giant. Countries that have armies smaller than the Marines include France, Germany, Great Britain, Italy, and Japan.
I asked Colonel Alison J. Thompson, a Marine Corps officer spending a year as a visiting military fellow in CFR's David Rockefeller Studies Program, to recommend reading for those wanting to learn more about the Marines. Here are Col. Thompson's suggestions:
Col. Thomas J. Gordon, USMC (Ret.), Marine Maxims: Turning Leadership Principles into Practice (2021). Col. Gordon was a visiting military fellow at CFR in 2016-2017. He writes that "Leadership is easy. Being a leader is hard," a comment that sets the tone for a book in which he shares his successes, and also his shortcomings. Marine Maxims uses fifty practical maxims that teach the art of enlightened and informed leadership. The simplicity and logic of the book is its strength. Readers will find leadership do's and don'ts to facilitate learning and avoid the most common leadership pitfalls. Col. Gordon closes each chapter with "Saved Rounds–Thoughts and Tips" and "Recommended Reading."  His genuine empathy and humility come through with clarity. While written with a very Marine Corps flavor and culture, the book is universally appealing and applicable.
Kyle Carpenter and Don Yaeger,  You Are Worth It: Building a Life Worth Fighting For (2020). This national bestseller is written by and about the youngest living Medal of Honor recipient. General Mattis called it a memoir that "will inspire every reader." You Are Worth It is the story of how one man willingly risked his life for his brother-in-arms in Afghanistan—and equally, a story of how he battled back and forged a new life of purpose, regardless of the hurdles that blocked his way. As Carpenter's Medal of Honor citation reads, this extraordinary leader "reflected great credit upon himself and upheld the highest traditions of the Marine Corps and the United States Naval Service."
Col. Thompson also recommended one film and two visits:
Rules of Engagement (2000). Col. Terry Childers (Samuel L. Jackson) is a decorated thirty-year Marine officer with combat experience in Vietnam, Beirut, and Operation Desert Storm. However, he is court-martialed after men under his command kill civilians in an embassy evacuation gone wrong in Yemen. Childers chooses a comrade-in-arms, Col. Hays Hodges (Tommy Lee Jones), to be his attorney. The movie underscores the fog of war and the tactical decisions, with potential strategic consequences, that military members must make under duress. It also highlights the Marine Corps' esprit de corps and leadership ethos.
National Museum of the Marine Corps, Triangle, Virginia. The National Museum of the Marine Corps is a tribute to U.S. Marines—past, present, and future. Situated on a 135-acre site adjacent to Marine Corps Base Quantico, and under the command of Marine Corps University, the museum's soaring design evokes the image of the flag-raisers of Iwo Jima and beckons visitors to its 120,000-square-foot structure. World-class interactive exhibits combine irreplaceable artifacts with innovative technology to immerse visitors in the sights and sounds of Marines in action. Opened on November 10, 2006, the National Museum of the Marines Corps is now one of the top tourist attractions in Virginia, drawing over 500,000 people annually.
Evening Parade at the Marine Barracks, Washington, D.C. The Evening Parade, held every Friday evening during the summer, has become a universal symbol of the professionalism, discipline, and esprit de corps of the United States Marines. Since its inception, the Evening Parade has become a unique patriotic tradition of the "Oldest Post of the Corps." The parade's heritage is entwined with former military rituals such as tattoo, retreat, and lowering of the colors ceremonies. The Evening Parade is offered solely to express the dignity and pride that represents more than two centuries of heritage for all Americans. Always listed as one of the top ten things to do in D.C., the Evening Parade makes you proud to be an American.  
If you want to know what all Marines are required to read, the U.S. Marine Corps has posted its reading list online. Marines.com also has a great timeline of the history of the Marines.
A tip of the cap to all the men and women who have worn the uniform of the U.S. Marine Corps.
Sinet Adous assisted in the preparation of this post.