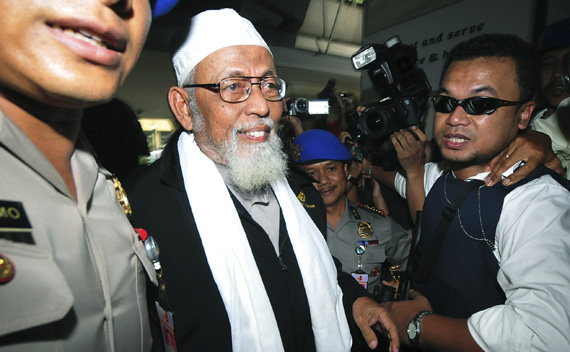 Last week, Indonesia arrested Abu Bakir Basyir, the most prominent militant cleric in the country, and a man believed to be the spiritual leader of Jemaah Islamiah and its offshoots. The government had arrested Abu Bakir before, in 2002, and then several years later, but he served only light sentences, and this time the Indonesian government believes it has much more serious evidence against him, evidence that clearly links him to the planning and running of a terrorist training program in Aceh. The Indonesian police broke up that training program, in another major success story, and in the process captured or killed at least one hundred militants.
All of this is being treated, in Jakarta and Washington, as a major triumph. And without a doubt, the government of Susilo Bambang Yudhoyono has amassed a strong record in fighting terrorism. Detachment 88, the elite police force that has received training from the US, has become a model for counterterrorism, rolling up informants, infiltrating militant cells far more effectively than most Western intelligence agencies, and taking Jemaah Islamiah apart, so that it is a shadow of its presence of five or ten years ago.
But even as the Yudhoyono government wins against terrorism, it has proven strikingly mealy-mouthed and ineffective against intolerance. The government mostly says nothing as radical groups have attacked Christians throughout the archipelago and harassed and even attacked secular Indonesians partying at bars in Jakarta. In the past, Yudhoyono has hardly fought back when hardliners have changed laws to discriminate against minority Muslim sects, like the Ahmadiyah, and he seems basically unwilling to take a tough line against the Islamic Defenders Front, a leading vigilante group that tries to enforce its hardline version of Islam, and that is mutating into smaller, more thuggish cells, according to a recent investigation by the Jakarta Post.
Yet in the long run, the Indonesian government cannot carry out such a schizophrenic policy. Yudhoyono, a conciliatory and slow-moving politician, moves cautiously, so as not to alienate more religious political allies. But creating the kind of democracy in which public opinion will not accept such intolerance – and thus, public opinion will back the government if it needs to crack down on violent militants – means speaking out publicly against vigilante justice, attacks on Christians, and other affronts. Otherwise, groups like Detachment 88 are just fighting battles, without any context. And in a climate of intolerance, militants will generate new cells as quickly as the government can arrest them.
(Photo: Stringer Indonesia/courtesy Reuters)