Inspiration in the Ranks
Legal immigrants and noncitizens—service members enriching the U.S. military since the American Revolution.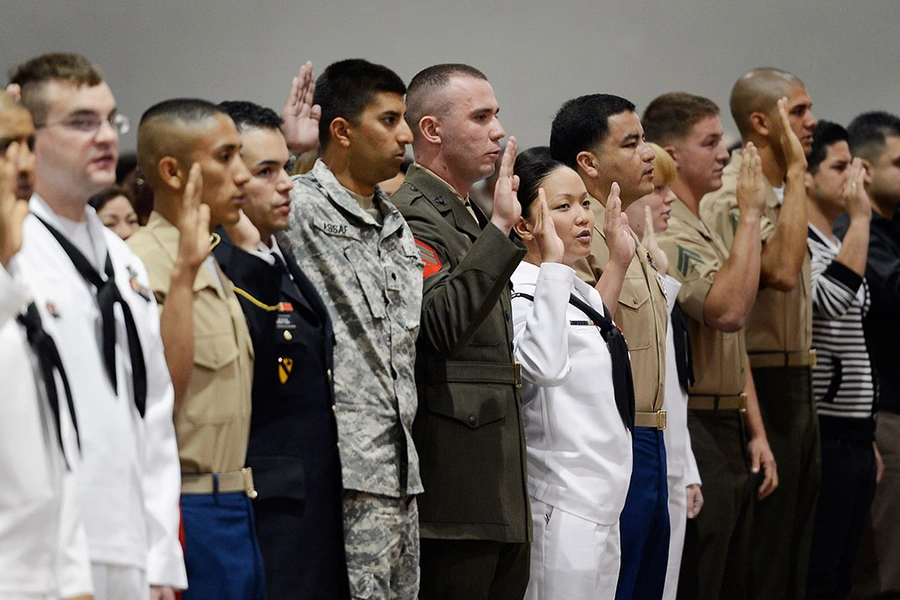 The propensity of America's youth to serve in the military has been unreliable over the past fifty years of the all-volunteer force. Patriotism and societal values vacillate with current events, altering the sense of collective responsibility and social duty to serve. The ideal of the contribution of self, of paying into society, fades in times of relative peace and economic security and military recruiters face a comfortably disengaged youth. But one element within American society is more constant, a subset with a unique and deep appreciation of freedom and opportunity: the United States' young immigrants.
The recently released 2022 retention and recruitment figures for the military services offer stark numbers on waning enlistment. These figures portray a trending lack of domestic cultural emphasis on military service. In an economy of low unemployment, eligible Americans find few reasons to serve. In the absence of conflict, there is no catalyst—no defined mission—to inspire young men and women to join the ranks.
Young legal immigrants, on the other hand, continue to find cause to serve, from individual and familial values not stemming from American societal ones. Where society and the services may fail to provide a sufficient "why" to inspire young Americans to enlist, immigrants are often self-inspired—by gratitude, a need to give back, and a sense of pride in the act of service to the United States.
Many American enlisted service members tell a similar story when asked why they join. They graduated high school and didn't know what else to do, they wanted out of their neighborhoods or away from difficult situations at home, they lacked the means for or interest in further education, they wanted to travel, they had a family member who had served. While service for those reasons is by no means less deserving of recognition, the answer is usually much different when an immigrant or noncitizen is asked.
One was a refugee from Vietnam; he and his parents were boat people picked up by the U.S. Navy, and he later joined that navy as a way to say, "thank you." One fled on foot from war in Eritrea; he enlisted a few years after arriving in the United States and continues to serve today, twenty-three years and counting. One was an officer in the Afghan Army who escaped with American assistance. He insists he will serve and become an American citizen, to repay the United States for welcoming his family. One is from the Dominican Republic; after arriving in America, he felt obligated and excited to serve, to be an ambassador to the world. After over twenty years of service, he comments, "I believed, and still believe, in a greater cause.... God bless America!" His brother served alongside him, for twenty-four years and seven deployments from Afghanistan and Iraq to Korea and the Balkans. These motives are not the exception; they are the rule.
Immigrants have served alongside Americans during every conflict in U.S. history—roughly 35,000 noncitizens serve on active duty today. Over the past five years, 5,898 requests for naturalization from service members were approved annually, with women accounting for 24 percent. But honorable service does not guarantee citizenship. Annual naturalization approvals vary, with service members typically approved at rates just above those of their civilian counterparts, but this is not always the case. In fiscal year 2019, for example, military applicants for naturalization were denied at twice the rate of civilians.
The path to citizenship through military service is certainly one of sacrifice. Non-citizen service members serve in limited career specialties due to security clearance restrictions, and they may serve only in the enlisted ranks. They serve on the front line as infantrymen, or in garrisons and aboard ships as machinists, electricians, and metal workers; they serve as culinary specialists, medical assistants and photographers.  Despite limited career paths and reenlistment and promotion restrictions, they remain inspired to give back, in whatever role the military services allow.
Whether or not they seek naturalization, young immigrants and noncitizens have experienced a unique life and, through that perspective, many believe they owe the United States an enduring debt. American youth join only to have one in every three depart after the initial obligation. Legal immigrants and noncitizens remain in service longer, with only one in five leaving upon completion of an initial obligation. Increased attention to the recruitment of these men and women and improvement of the nationalization process for service members are not the only answers to meeting military recruitment and retention goals, but their propensity to serve deserves notice. 
Having served alongside them for two and a half decades, I am continually inspired by their awareness of what an honor it is to give back to America, in times of peace and economic security and in times of war. These tens of thousands of men and women who immigrated as strangers contribute languages, cultural skills, and unique resourcefulness to the U.S. armed forces.  But more than that, their pride in the United States and deep appreciation of her freedoms and opportunities contributes to the broader culture of the nation and is assuredly deserving of recognition.
The opinions expressed are those of the author and do not reflect those of the U.S. Navy or Department of Defense.