Myanmar Moves Toward Civil War, Failed State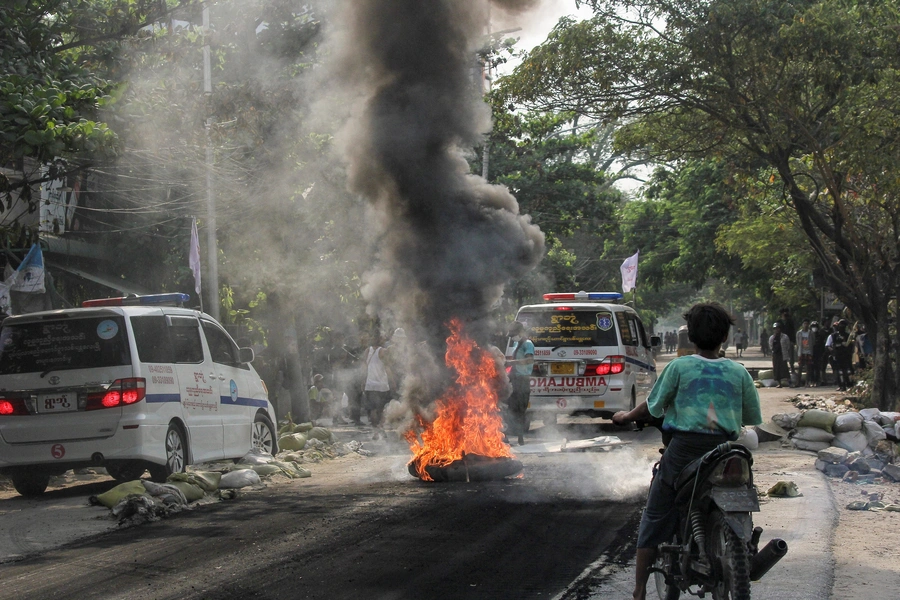 In the initial days after the Myanmar armed forces launched a coup on February 1, deposing an elected government, the military may have hoped it would be able to pull off the putsch with minimal bloodshed. It would create a faux transition to democracy, and retain its power by eventually creating an election in which military parties and their allies would win—and then neighboring states and possibly even leading democracies would recognize that government. Indeed, in the first few days after the coup, as protest movements began to break out in the streets of many Myanmar cities and towns, the military responded with crowd control efforts, but did not immediately turn to widespread deadly force. The junta also tried to woo armed ethnic groups, many of whom had signed ceasefire agreements.
But over the past two months, the resiliency and growing anger of the protest movement has made clear that the demonstrations are not going to stop. In response, the Myanmar military has stepped up its patterns of violence, shooting protestors and bystanders with live ammunition, arresting scores of people, killing children, and committing a wide range of other atrocities. In response, demonstrators, who had started by primarily yelling slogans, trying to pressure the military, and using civil disobedience to cripple the functioning of the state, have begun in some places to fight back, albeit mostly with makeshift weapons that are no match the for the military's arms. Meanwhile, rather than aligning with the military, nearly all the armed ethnic organizations, some of which possess considerable numbers of men under arms, have united against the coup, and are beginning themselves to launch attacks against the armed forces. Two of the most powerful armed organizations, the Kachin Independence Army and the Karen National Union, have attacked military posts.
The violence, and the continuing disintegration of state functioning, seems to have no clear endpoint, raising the possibility that all of Myanmar will become a failed state. For more on Myanmar's potential disintegration into widespread civil strife, and a possible failed state, see my new World Politics Review article.