Nigeria Security Tracker Weekly Update: November 7-13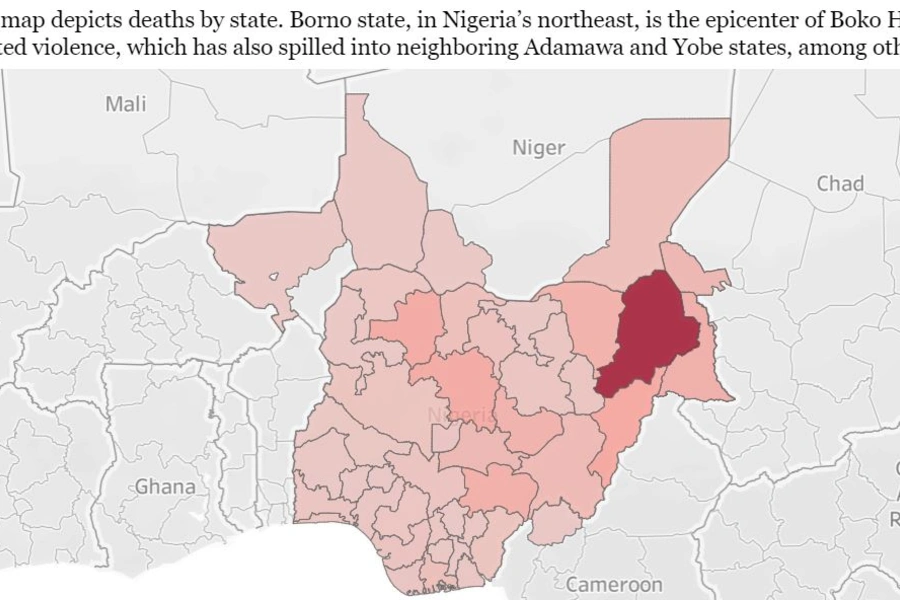 Below is a visualization and description of some of the most significant incidents of political violence in Nigeria from November 7 to November 13, 2020. This update also represents violence related to Boko Haram in Cameroon, Chad, and Niger. These incidents are included in the Nigeria Security Tracker.
November 7: Airstrikes killed "several" (estimated at ten) bandits in Kuzo, Kaduna (Local Government Area unknown).
November 7: Kidnappers abducted six in Chikun, Kaduna.
November 8: Boko Haram militants attacked Gwoza, Borno but were repelled by Nigerian troops who killed one would-be Boko Haram suicide bomber.
November 8: Airstrikes killed "several" (estimated at ten) ISWA militants in Abadam, Borno.
November 8: Troops killed five Boko Haram militants in Gujba, Yobe.
November 8: Troops killed two bandits in Tsafe, Zamfara.
November 8: Bandits killed three and kidnapped thirteen in Sabuwa, Katsina.
November 9: Gunmen killed two police officers and one other in Igueben, Edo.
November 10: Airstrikes killed "several" (estimated at ten) Boko Haram militants in Gwoza, Borno.
November 11: Police officers killed four bandits in Mashegu, Niger State.
November 11: Bandits killed one and abducted approximately three in Anka, Zamfara.
November 11: Troops killed two Boko Haram militants in Ladantar, Borno (LGA unknown).
November 12: Cultists killed two in Ikpoba-Okha LGA and two in Egor LGA in Edo.
November 12: Troops killed "several" bandits in Birnin-Gwari, Kaduna.
November 13: Cultists killed seven in Oredo LGA and one assistant commissioner of police in Ikpoba-Okha LGA in Edo.
November 13: Troops killed one bandit in Faskari, Katsina.