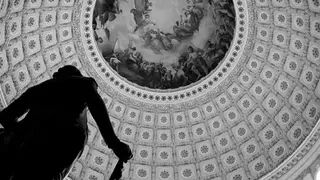 Research & Analysis
The David Rockefeller Studies Program—CFR's think tank—analyzes pressing global challenges and offers actionable steps that policymakers and citizens can take to address them. The more than eighty full-time and adjunct fellows in Studies cover all the world's major regions and significant foreign policy issues. In addition to producing books, articles, op-eds, blogs, podcasts, and interactives, the Studies Program administers twelve fellowship programs.
Podcasts
Important provisions of the U.S. President's Emergency Plan for AIDS Relief (PEPFAR) could expire due to partisan divisions, threatening a widely successful initiative; libraries take part in U.S. Banned Books Week in the face of a rising censorship movement; Slovakia holds an early parliamentary election amid concerns that pro-Russia parties will gain power; and Chinese President Xi Jinping and Syrian President ​​Bashar al-Assad announce a partnership.
Blogs
Africa in Transition
Michelle Gavin, Ebenezer Obadare, and other experts track political and security developments across sub-Saharan Africa.
Asia Unbound
CFR fellows and other experts assess the latest issues emerging in Asia today.
Follow the Money
Brad Setser tracks cross-border flows, with a bit of macroeconomics thrown in.