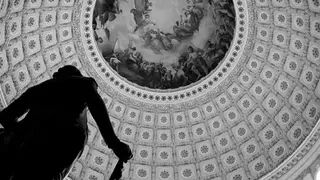 Research & Analysis
The David Rockefeller Studies Program—CFR's think tank—analyzes pressing global challenges and offers actionable steps that policymakers and citizens can take to address them. The more than seventy full-time and adjunct fellows in Studies cover all the world's major regions and significant foreign policy issues. In addition to producing books, articles, op-eds, blogs, podcasts, and interactives, the Studies Program administers eleven fellowship programs.
Podcasts
Julie Dorf, co-chair of the Council for Global Equality, sits down with James M. Lindsay to discuss what the United States has done and could do to advance LGBTQI+ rights around the world.
Blogs
Africa in Transition
Michelle Gavin, Ebenezer Obadare, and other experts track political and security developments across sub-Saharan Africa.
Asia Unbound
CFR fellows and other experts assess the latest issues emerging in Asia today.
Follow the Money
Brad Setser tracks cross-border flows, with a bit of macroeconomics thrown in.
Contact Us