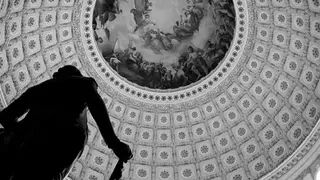 Research & Analysis
The David Rockefeller Studies Program—CFR's think tank—analyzes pressing global challenges and offers actionable steps that policymakers and citizens can take to address them. The more than seventy full-time and adjunct fellows in Studies cover all the world's major regions and significant foreign policy issues. In addition to producing books, articles, op-eds, blogs, podcasts, and interactives, the Studies Program administers eleven fellowship programs.
Podcasts
The UN General Assembly is set to vote on a resolution condemning Russia's illegal annexation of Ukrainian territory; thousands of participants gather in Reykjavik, Iceland, for the Arctic Circle Assembly; and the United Nations marks the tenth anniversary of the International Day of the Girl Child.
Blogs
Africa in Transition
Michelle Gavin, Ebenezer Obadare, and other experts track political and security developments across sub-Saharan Africa.
Asia Unbound
CFR fellows and other experts assess the latest issues emerging in Asia today.
Follow the Money
Brad Setser tracks cross-border flows, with a bit of macroeconomics thrown in.