Nigerian Security Forces and the Dangers of a Violence-First Approach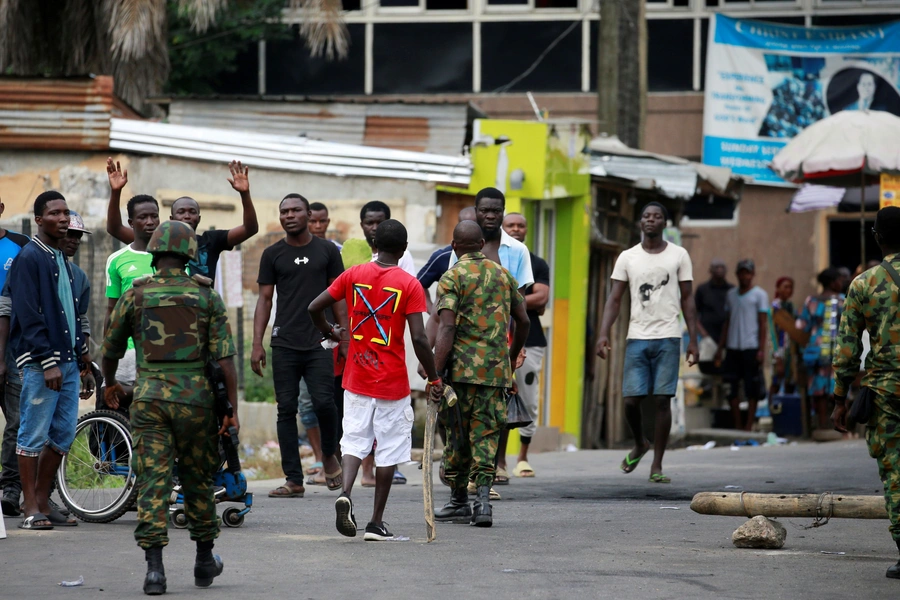 Nkasi Wodu is a lawyer, peacebuilding practitioner, and development expert based in Port Harcourt, Nigeria.
On October 20, 2020, Nigerians watched in horror on social media as men suspected to be members of the military opened fire on peaceful #EndSARS protesters—a movement responding to a litany of abuses by the Special Anti-Robbery Squad (SARS), a special police unit—in Lagos, Nigeria's largest city. For more than a decade, Nigerian civil society groups have trained members of public security forces regarding the inviolability of human rights. Despite such training, Nigerian security agencies still follow the all-too-familiar path of perpetrating violence against the very people they have sworn to protect.
Nigeria has had a complex existence since its independence from British colonial rule in 1960—a complexity perhaps more pronounced than in other countries considering the country's highly diverse population of over two hundred million. Consequently, governing the strikingly heterogeneous country—and addressing the deep-seated grievances of its many groups—can be difficult. Unfortunately, a recurring theme throughout Nigeria's postcolonial history has been security forces' propensity to use force to suppress unrest. Deployment of security forces to deescalate potential or actual violent situations is not in itself a wrong practice; preventing the destruction of lives and properties is a prerequisite for a functioning state. In the case of Nigeria, however, security forces routinely use disproportionate force on civilians in gross violations of human rights, such as in Odi, Gbaramatu, Zaria, Zaki Biam, and other instances.
This "shoot first, ask questions later" approach poses various dangers to the Nigerian state. First, it does not address the initial cause of escalating violence and is ultimately counterproductive. In many instances, it reinforces the positions of aggrieved groups and improves public perceptions of those groups.  This pattern is currently playing out across Nigeria, as many conflicts have persisted despite—or perhaps because of—the deployment of security officials. For example, Biafran separatist groups, such as the Indigenous People of Biafra (IPOB), continue to command a large following in the South East region after the civil war fought more than fifty years ago. Various military exercises and the Nigerian government's designation of IPOB as a terrorist group have done little to diminish its influence.
Another danger of the violence-first approach is that it encourages a violent response from already aggrieved groups, especially in the absence of platforms for peaceful, constructive dialogue. This has led to increasing radicalization of individuals and groups who see violence as the only means to get the government's attention. For example, in the Niger Delta, years of nonviolent agitations led by prominent activists such as Ken Saro-Wiwa were met with repression from the Nigerian military. This pushed many young men in the region toward a violent insurgency featuring attacks on oil and gas facilities, resulting in billions of dollars in lost revenue for the government. To stop the violence, the federal government declared an amnesty program, offering stipends to repentant militants in exchange for peace. Similarly, many scholars focused on Boko Haram agree that the group's radicalization—it previously proselytized through largely non-violent means—followed a government clampdown in 2009, in which some eight hundred of its members were killed. The group's leader, Mohammed Yusuf, was later killed in police custody. Returning to a familiar playbook, the government has commenced a controversial amnesty program for repentant Boko Haram members, effectively sending a message that violence pays.
The Nigerian government needs to change its approach of immediately responding to conflict with military might. One fundamental shift should be to understand conflict as the evidence of a struggle against systemic oppression. When viewed from this lens, conflict becomes an opportunity for the government to understand the myriad structural issues bedeviling its people and work together with aggrieved groups to address those issues. This sort of understanding also lessens the temptation to escalate tensions each and every time grievances arise, or to resort to paying for peace without addressing the origins of unrest.
The Nigerian government should also set a standard of accountability for security officials and use it to pursue those involved in human rights violations. To date, no one has been held responsible for atrocities committed in Odi, Zaria, and Gbaramatu; with the Nigerian army denying much of what unfolded at Lekki Toll Gate on October 20, it appears this pattern of impunity is set to continue. As long as security officials involved in human rights violations are not held accountable, they will continue to perpetrate violence on those they are called to protect.