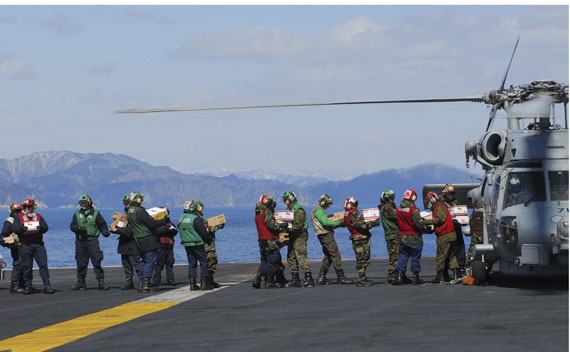 [Click here for information on how to locate friends and family in Japan, and here for how you can help]  
Last week, I discussed the front line role of Japan's Self Defense Force, and received many emails from Japanese friends in Tokyo asking that I do the same for the U.S. government personnel, uniformed and civilian, that are providing much needed assistance to Japan.  
Operation Tomodachi—a broad disaster relief operation in support of Japan's response to the triple crises—is growing by the day, and is a remarkable testament to the full throttle U.S. government effort to help the Japanese people. From the beginning the U.S. military was quickly on the scene; the U.S. Forces Japan stationed in country organized themselves for immediate support and Pacific Command forces outside Japan regrouped to lend assistance. An aircraft carrier task force, led by the USS Ronald Reagan, headed immediately for Japan, followed by eight other ships stocked with emergency relief equipment and supplies. 
Emma Chanlett-Avery at the Congressional Research Service has done an excellent job of chronicling the burgeoning U.S. military effort to assist Japan. So let me quote her aggregation of the U.S. military effort at the moment:  
On March 18, one week after the quake struck, U.S. and Japanese forces began to transition from a search and rescue effort to a relief mission for the survivors. DOD officials report that as of the morning of March 22, 20 U.S. naval ships, 140 aircraft, and 19,703 sailors and marines are now involved in humanitarian assistance and disaster relief efforts in and around Japan, delivering 227 tons of relief supplies to date. U.S. Army and Air Force units are also delivering humanitarian supplies and providing other services as required. All search and rescue assets from Okinawa, the southernmost part of Japan, were first moved to Yokota Air base outside of Tokyo and then deployed to the north...On March 21, Admiral Robert Willard, commander of the U.S. Pacific Command, visited the Defense Ministry for consultations with SDF Chief of Staff Ryoichi Oriki and other officers, reinforcing the commitment to coordinate relief efforts.
Tomodachi, meaning friend in Japanese, is just what Japan needs right now, and the outpouring of American support reflects just how deeply Japan's pain is felt here. President Obama himself, within hours of the earthquake-tsunami on March 11, promised Japan "The United States stands ready to help the Japanese people in this time of great trial. The friendship and alliance between our two nations is unshakeable, and only strengthens our resolve to stand with the people of Japan as they overcome this tragedy." He reiterated that promise in the midst of considerable anxiety last week over the Fukushima Daiichi nuclear plant's difficulties, and he demonstrated the depth of his concern when he visited the Japanese Embassy in Washington, DC on March 17 to sign the book of condolences there. Secretary of State Hillary Clinton also visited the embassy to personally extend her condolences for the victims of Japan's natural disaster.   
On the ground in Japan, the U.S. military mobilized quickly, and has been expanding its efforts to assist in search and rescue, and relief operations to the devastated northeastern region. Misawa Air Base in the north has been the nexus of the supply delivery efforts now burgeoning over difficult terrain. Even oil and gas supplies are being provided by our forces as the government and non-governmental relief teams are confronted by shortages. 
Leading our overall American government response team in Japan is Ambassador John Roos and his staff at the U.S. Embassy in Tokyo, who has been tireless in his effort to support Japan's government as well as in communicating clearly with U.S. citizens about the U.S. government's support for those living in Japan. The USAID Disaster and Response Team (DART) that joined him in Tokyo the day following the earthquake included officials from USAID, the Department of Energy (DOE), and the Nuclear Regulatory Commission (NRC). Today, there are 39 DOE and 11 NRC experts working with their Japanese counterparts on the effort to contain the impacts of damage to the Fukushima Daiichi nuclear plant's reactors. 
I will add more later about the various non-governmental efforts to raise money and send volunteers to Japan, but for now I would like our U.S. Embassy staff in Tokyo and our U.S. Forces Japan and beyond to know what a difference they are making in the disaster relief effort. Like in the 2004 tsunami relief effort, and again in other disasters around Asia, they have demonstrated that they are there for the people of Asia when needed the most.