The Second Trump-Kim Summit Is Set, But Is Trump Ready?
Trump must put his affairs in order to strengthen his hand going into a second meeting with Kim Jong-un.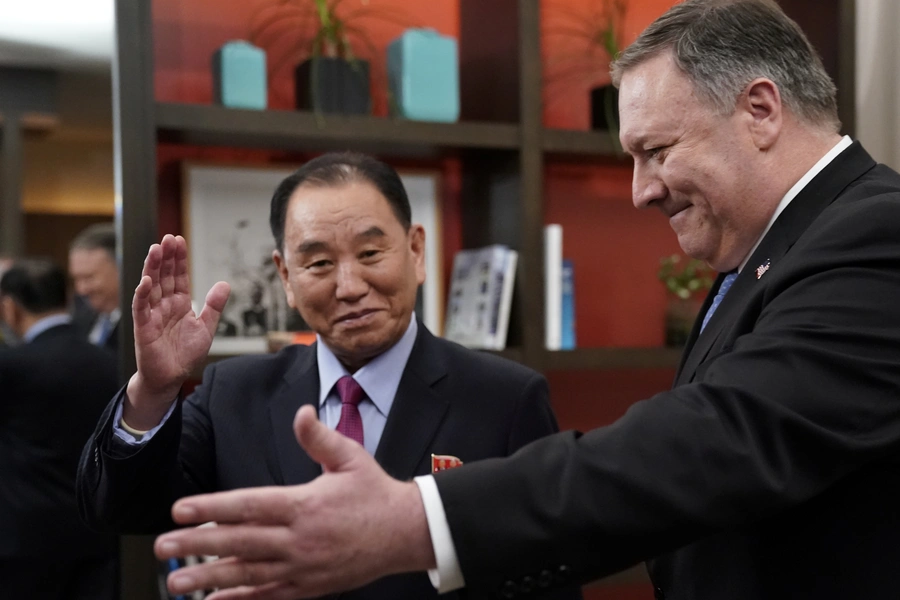 The White House announcement of a second summit with Kim Jong-un to be held in late February does not come as a surprise. Kim Jong-un's preparations for a second summit have been evident for weeks, despite the seeming lack of strategy toward North Korea in Washington. Kim's "love letters" to Trump, New Year's Day speech dedicating an unusual amount of time to discussing prospects for improved relations with the U.S., and meeting with Xi Jinping in Beijing on his 35th birthday revealed his hand. And now, senior intelligence official Kim Yong-chul's visit to Washington has served as the predictable reveal.
The most serious concern surrounding the announcement of the second Trump-Kim summit is that Trump has not matched Kim in taking the preparatory steps necessary to strengthen his hand in advance of another meeting. But while Kim compared notes with Xi to enhance perceptions of North Korea's strategic depth, Trump doubled down on his controversial request that South Korea dramatically increase its level of support for U.S. Forces Korea, and bitterness between Japan and South Korea over historical legacies has continued to fester.
Historically, the alliance with South Korea and strong trilateral U.S.-Japan-South Korea alliance coordination have served as the backbone undergirding the U.S. position on North Korea. Trump must put his affairs in order to strengthen his hand going into a second meeting with Kim Jong-un, hopefully by stopping in Tokyo and Seoul to shore up the U.S.-ROK-Japan alliance en route to his rendezvous with Kim in Southeast Asia.
It is easy to understand why Kim Jong-un would be tempted to focus on negotiations with Trump, and Trump's instinct that one must meet the decision-maker to get the deal is correct. However, visible progress-to-date does not seem to justify Trump's decision to agree to a second summit.
If Trump failed to seal the deal with Kim in Singapore, he has not yet presented a case for how the outcome will differ the second time around. A public love affair between Trump and Kim will not change the trajectory of the U.S.-North Korea relationship without institutional buy-in and cooperation between the bureaucracies on both sides.
Thus, the sole silver lining of the apparent stalemate in dialogue is that Kim Yong-chul's planned visit last November, which was postponed by North Korea amid protestations that the Singapore Summit had not met Kim's expectations for tension-easing and sanctions-reduction, has now taken place. It is possible that Kim Jong-un has realized that the way forward with the U.S. will involve the choice to sacrifice some portion of his nuclear and missile arsenal to achieve economic objectives. It is also possible that he has instead settled on one more gamble designed to maneuver Trump into accepting North Korea as a nuclear state, with the assurance that Kim's nuclear arsenal will point elsewhere.
The Kim Yong-chul visit finally opened the way for working-level negotiations in Sweden between Special Representative Biegun and North Korean Vice Minister Choi. One possible starting point for those negotiations might be to follow up on inter-Korean progress from the Pyongyang Declaration of last September. In that declaration, North Korea pledged to allow international inspections of North Korean nuclear and missile facilities at Yongbyun and Tongchang-ri in return for corresponding measures from the U.S. This sort of trade-off would allow both sides to make a start in the right direction, even if it defers the question of how to achieve "complete denuclearization."
In early December 2018, National Security Advisor John Bolton curiously argued that President Trump believes a second summit will likely be productive in spite of, or perhaps thanks to, North Korea's initial failure to live up to its commitments. The case for continued U.S.-DPRK summitry suggests that expectations for tangible progress should rise with each successive Trump-Kim meeting. Without evidence that a deal has been made or that trade-offs have been identified, however, the risk that a second summit could lead to either a bad deal or no deal will increase.
This post originally appeared on Forbes.