South Africa: Julius Malema Out of the ANC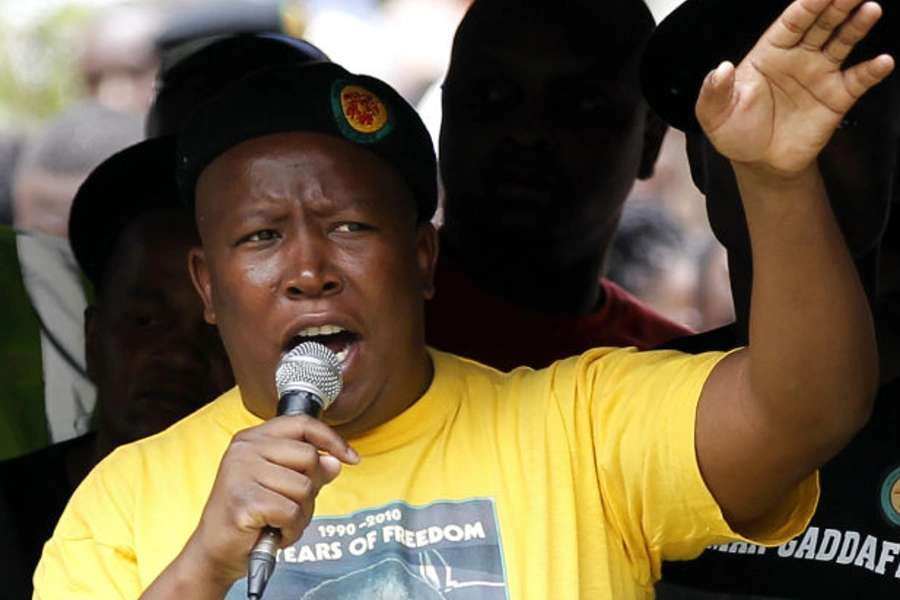 On February 4, the appeals committee of the African National Congress (ANC) upheld the previous convictions by the National Disciplinary Committee of youth league leader Julius Malema and his closest associates. Malema's only recourse now is to appeal for mitigation of his sentence that strips him of party membership and his position within the ANC Youth League. In an official statement, the ANC has welcomed the decision.
Malema had, among other things, called for the seizure of white-owned land without compensation, the nationalization of the mines, and 'regime change' in peaceful Botswana. His model for South Africa owed much to Robert Mugabe's Zimbabwe. But, his positions (with the exception of Botswana) resonated in the townships and among the very poor, who see little improvement in their situation over the past decade.
His behavior was also a stick in the eye of two of the ANC's central principles: that the organization is non-racial and that it is disciplined. The ANC is likely to be particularly sensitive on the last point as it appears to be riddled with rivalries and infighting during the run-up to the 2012 party convention that will determine whether Jacob Zuma remains party head and president of South Africa.
Malema's positions have caused anxiety among whites and those of all races involved in the modern, capitalist economy in South Africa. They widely welcome his departure. As Stephen Grootes writes, "This weekend, things somehow look a little brighter."
Eighteen years after the drama of the end of apartheid and the establishment of non-racial democracy, and thirteen years after Nelson Mandela left office as president (unlike most African heads of state, he refused to run for a second term), Americans pay too little attention to South Africa. In my view, too few American investors take advantage of the opportunities available in Africa's largest economy in a country characterized by the rule of law. But Malema's incendiary comments were noticed in New York, and probably further discouraged American interest. In those terms, Malema's departure must be welcomed. But South Africa's poor will be looking for another spokesman, another leader. That person, when found, may have political skills more developed than those of the quixotic Malema. That could be a significant challenge for the ANC.