UN Peacekeeping: A New Leader for the Blue Helmets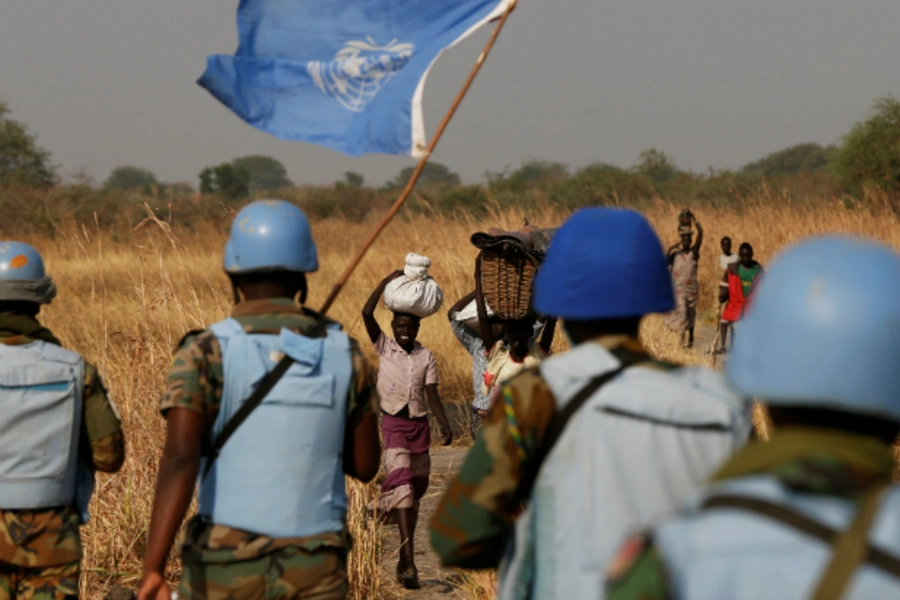 The following is a guest post by Megan Roberts, associate director of the International Institutions and Global Governance program at the Council on Foreign Relations.
On Monday, French diplomat Jean-Pierre Lacroix takes charge of the UN's department of peacekeeping operations (DPKO), the UN's most daunting assignment. Lacroix will manage more than ninety thousand "blue helmets" deployed across sixteen missions around the world. And he will do so at a difficult time, as a new secretary-general in New York is considering major peacekeeping reforms and a new president in Washington pushes for big cuts to the UN's flagship enterprise.
Although peacekeeping is not mentioned in the UN Charter, it has become the UN's most visible and arduous assignment. Over the past fifteen years, the number of deployed UN peacekeepers has grown nearly fivefold. Besides ending violence, peace operations reduce the risk that countries will relapse into conflict—and at modest cost. But peacekeepers are increasingly asked to do more, particularly in situations active warfare. Today, more than 97 percent of UN troops are deployed with the mandate to protect civilians, including in environments where there is no peace to keep.
Lacroix will take over from Hervé Ladsous, who has led the department since 2011, and will be the fifth consecutive Frenchman to hold the post. China had been rumored to be interested in the position, in part based on its increased peacekeeping investment. Beijing currently has nearly 2,600 hundred uniformed personnel deployed to peacekeeping operations, while France has just under 1,000 (making them by far the largest contributors among the Security Council's permanent members). Lacroix's appointment means France gets at least one more year in the position it has held since 1996, when Kofi Annan reportedly offered the post in exchange for French support for his secretary-general candidacy.
Lacroix assumes the role at an inflection point for the organization. Just three weeks after António Guterres took office as the UN's ninth secretary-general, Donald J. Trump moved into the White House, ushering in what could potentially become the most contentious era yet in the turbulent U.S.-UN relationship. The Trump administration has already proposed deep cuts to U.S. international funding, including reducing the annual U.S. assessment to the UN's 8 billion per year peacekeeping budget from more than 28 percent to 25 percent. Its full budget proposal, expected in mid-May, could slash funds even further. Some experts anticipate that cuts to UN peacekeeping could reach one billion dollars–or half of what the United States currently contributes. (Any such proposal would likely face congressional resistance).
Trump's UN envoy Nikki Haley recommended against such drastic slash-and-burn cuts in her confirmation hearing, and she confirmed at a March 29 event at the Council on Foreign Relations that her recently launched mission-by-mission review was aimed to achieve not just cheaper but also more effective peace operations. She plans to use the month-long U.S. presidency of the Security Council, which begins April 1, to consider whether ongoing peacekeeping missions reflect political realities in the countries in which they are deployed, whether they can achieve their mandates, and, if not, what changes should be made.
In his own first three months in office, Gutteres has sought to demonstrate his reformist credentials, launching initiatives to strengthen the organization and cut costs. He has announced structural changes to how the UN addresses peace and security challenges and launched an internal review to assess proposals for further changes designed to reorient the organization towards preventing, rather than reacting to, crises.
Heading the UN's peacekeeping department is a difficult task at the best of times. Lacroix faces a much tougher context, given the combination of a skeptical and penny-pinching U.S. administration and several precarious missions (not least in South Sudan). Though the UN has begun to draw down several of its operations, including longstanding missions in Haiti, Ivory Coast, and Liberia, the United States—by far the largest funder—is pressing for more ambitious cutbacks.
Over the past several weeks, Haley pushed for significant reductions to the UN's mission in the Democratic Republic of Congo, the UN's largest and most expensive mission, but ultimately agreed to smaller reductions in the force levels. The timing is hardly auspicious. In the run-up to elections planned for later this year, the UN mission warns of a "rapidly deteriorating security situation across the country, which is exacerbated by the prevailing political uncertainty." Recently, the conference of Catholic bishops withdrew from its important mediation role in DRC, citing a "lack of sincere political will" between the government and opposition to implement the elections as agreed. More troubling news this week showed how combustible the country remained: After going missing two weeks ago, two UN experts investigating a recent uprising in central DRC were found dead.
It's not yet clear whether the United States will also push for reductions to the peacekeeping mission in South Sudan, the UN's second most expensive operation. Haley recently argued that the time had come to rethink the mission's mandate and identify a political path forward, in the face of a moribund peace agreement. From its hopeful birth in 2011, the nation has descended into despair. A famine already affects one hundred thousand people and threatens the lives of one million more. Still, more people are dying in these areas from conflict-related violence than hunger. Meanwhile, government and rebel forces regularly obstruct the UN mission, as it struggles to protect hundreds of thousands of civilians. A regional protection force approved in August 2016 is set to begin deploying shortly, after months of government delays, but the government of South Sudan still rejects part of the force's mandate, setting the stage for more confrontation between peacekeepers and government forces.
In the end, Security Council members will decide how to adjust the structure and composition of these and other missions. Given the growth and cost of these far-flung operations, the time is indeed ripe to review UN peacekeeping with fresh eyes. But the exercise must be guided by an honest effort to bring into alignment aspirations and resources. Too often, member states have asked UN peacekeepers to fulfill ambitious mandates, without providing the political backing, resources, logistics, and rules of engagement that might permit them to succeed. The United States and other Security Council members would also do well to remember the central finding of a 2015 review of peacekeeping—namely, that all peace operations must be accompanied by a dogged political strategy. Too often, as Richard Gowan points out, Security Council discussions of peacekeeping degenerate into "diplomatic pit-fighting."
For his part, Lacroix will need to remain attuned both to diplomatic landmines in New York and Washington and to simmering security risks in the field. Otherwise, a rapidly unfolding crisis in a mission already in U.S. crosshairs could make dramatic drawdown of UN peacekeeping inevitable.