The Unsung Success after 9/11: Multilateral Cooperation
CFR's International Institutions and Global Governance program traces the unprecedented global cooperation in the wake of the horrific 9/11 attacks.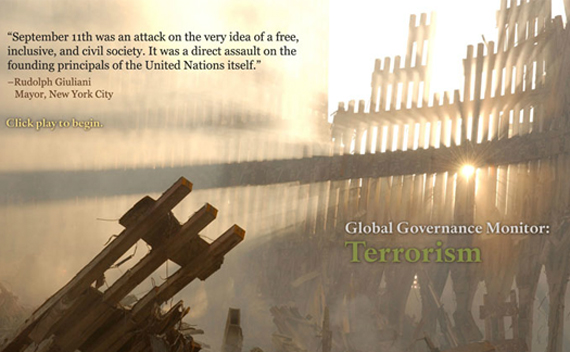 As the world reflects on the horrific attacks of 9/11, we have an opportunity to reassess the global community's response to terrorism. CFR's International Institutions and Global Governance program just released its latest interactive component on the global fight against terrorism, which traces the unprecedented global cooperation in the wake of the horrific 9/11 attacks. It also analyzes the complex and myriad transnational strategies to combat the threat, ranging from intelligence sharing to UN Security Council action against terrorist financing—and outlines remaining gaps in international prevention and response that continue to leave citizens exposed to terrorism.
First launched in 2009, the Global Governance Monitor tracks multilateral efforts to address global challenges. Similar to the guide's six other issue-specific components assessing the nonproliferation, finance, oceans governance, climate change, armed conflict, and the public health regimes, the new chapter on terrorism includes:
 A brief video explaining the challenges presented by terrorism and the urgency of improving global counterterrorism efforts.
 A graphic timeline tracing the history of terrorism as well as counterterrorism initiatives, from 1881 through the present.
An issue brief summarizing the status of the multilateral terrorism prevention and response regime, with steps the United States can take to address gaps in the regime.
A matrix cataloging international agreements, institutions, and organizations related to terrorism, including their coverage, strengths, and shortcomings.
An interactive map detailing flashpoints in the fight against terrorism as well as the international agencies that attempt to manage these challenges.
A list of resources, including foundational texts, essential documents, recent articles, and CFR scholars on the subject.
As I noted two weeks ago, the issue brief concludes with five core policy recommendations for the international community to address the threat:
 

 

 

 

 

 

 

 

 

 

 

 

 

 

 

 

Build capacity in developing countries: The U.S. and other UNSC members should provide vulnerable countries with nonmilitary security funding that often falls into the gap between traditional development assistance, on the one hand, and military spending that does not adequately combat terrorism (and often lands in corrupt pockets), on the other. The Counterterrorism Committee (CTC) must also move aggressively to refer to the Security Council countries that don't comply with their obligations to fight terrorism. Finally, the CTC needs additional resources to be able to deploy experts to developing countries to evaluate and advise on counterterror efforts.
Support international technological cooperation among law enforcement agencies: INTERPOL has an international database that facilitates international intelligence sharing for counterterrorism, but developing nations cannot join it without updated local facilities—which will require external resources. The Global Counterterrorism Forum, announced at the Deauville G8 summit, must monitor implementation of law enforcement and border security standards.
Link human rights and counterterrorism: The United States and other Security Council members should encourage the UN General Assembly and Human Rights Council to designate terrorism as a violation of human rights, given the threat it poses to human life and dignity, to freedom from fear, and to civilian immunity from deadly force.
Strengthen nuclear security to prevent terrorist access: UN Security Council Resolution 1540 requires UN states to take "appropriate effective measures" to safeguard nuclear material, but the standard remains vague and lacks provisions for effective monitoring.  U.S. officials should propose a consensus interpretation of this passage to mean: "adequate to defend against demonstrated threats from terrorists and criminals." It should then push for regular UN reports, peer reviews, and International Atomic Energy Agency inspections to ensure compliance.
Fortify compliance and enforcement: The Security Council should instruct the CTC's Counterterror Executive Directorate (CTED) to monitor enforcement of counterterror laws, so that UN member states cannot ignore legislation they have enacted. The United States should also seek to establish a UN body to investigate states' compliance with their commitments, and publish reports of their findings that can be made publicly available. Such published reviews would give more weight to the biannual review of the UN Global Counterterrorism Strategy. Additionally, as demonstrated by the success of FATF's blacklist of Non-Cooperative Countries or Territories (NCCT), the "name and shame game" can motivate countries to fight terrorism more effectively.