What Is Behind The War Of Words Between Donald Trump And Kim Jong Un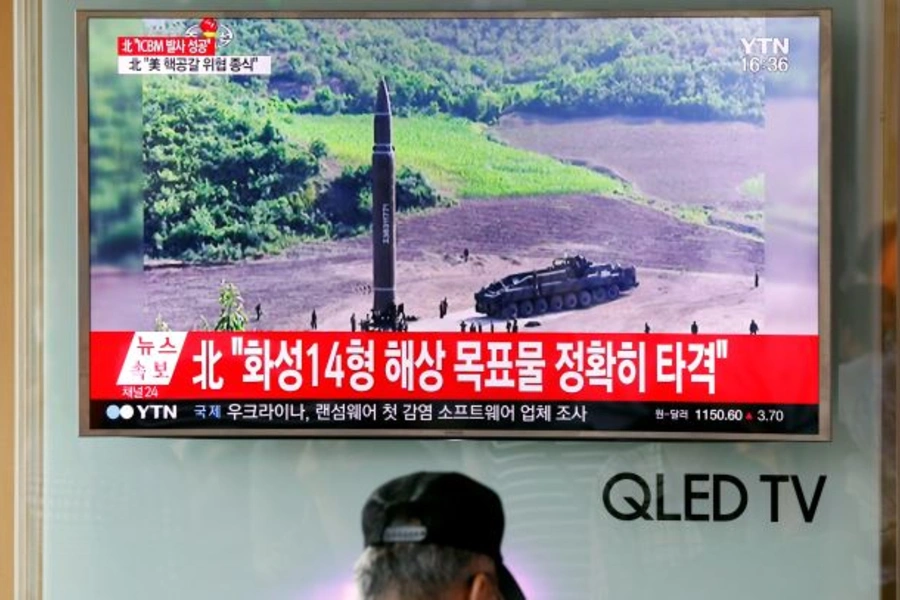 North Korea has accelerated the timeline for its missile development with two ICBM tests in July. Then the United States engineered a UN Security Council resolution designed to shut down North Korea's coal, iron and seafood exports and pressure Kim Jong Un to give up his nuclear program. North Korea responded by threatening to take "physical action" -- in the past 24 hours state-run news agency KCNA said its military was "examining the operational plan" to strike the U.S. island of Guam in the Pacific.  
President Donald Trump had warned that if North Korea makes further threats against the United States, "they will be met with fire and fury like the world has never seen." It seems like a good time to take a deep breath and review the stakes, interests and strategies of both sides.
The war of words underscores both the American rejection of the idea of vulnerability to a nuclear-armed Kim and the increasing dangers of miscalculation that would accompany a North Korean capability to follow through on its past offensive threats to strike the United States with a nuclear weapon. The intensity of the rhetorical escalation underscores the fact that North Korea is on a trajectory of confrontation with Washington that Defense Secretary James Mattis characterized as "catastrophic."
Level playing field
Keenly aware of both internal and external vulnerabilities and North Korea's relative weakness, Kim has grasped that nothing short of a nuclear capability will be sufficient to ensure his survival, and he has embedded himself in the global supply chain while increasing his political isolation. Having learned the lessons of Iran, Iraq and Libya, the young leader wants North Korea to be too nuclear to fail. 
North Korea also wants to level the playing field with the United States after having lived with the threat of nuclear annihilation since the U.S. threatened nuclear use during the Korean War. For Kim, nuclear weapons are a "treasured sword" and a silver bullet capable of keeping domestic and international enemies at bay. Kim cannot give up nuclear weapons without attaining equivalent and ironclad assurances of regime survival. Without such an arsenal, Kim has no means of drawing in the U.S.
Sanctions
Washington wants to use pressure through international economic sanctions to drive Kim back to the negotiating table and to denuclearization. Secretary of State Rex Tillerson has issued assurances that the United States does not seek regime change, collapse of North Korea, rapid Korean reunification, or to move U.S. troops into North Korea while trying to crank up the pressure dial to force Kim back to talks.
Each North Korean physical demonstration of its expanded nuclear and missile capability affirms that the regime is inherently destabilizing and that the Kim dynasty poses a direct risk to Chinese national interests. It underscores that the United States is right to employ economic sanctions to cut the umbilical cord to the global economy that has enabled Kim to expand his threat. 
But China has its hand on the pressure dial and the U.S. hand is on China's hand, limiting U.S. ability to threaten North Korea's economic collapse. The U.S. wants North Korea's denuclearization and a halt to the North's expanding nuclear threats. But North Korea cannot show weakness in the face of U.S. pressure, and redoubles its efforts to shape American strategic choices by expanding its missile and nuclear testing. The more the crisis escalates, the greater the dangers of miscalculation, and the harder it will be for either side to find an exit ramp from a high-stakes crisis.
This post originally appeared on Forbes.